The Crown, season 3, has an all new cast but the same royal family we enjoyed getting to know in previous seasons. The switch to older actors in the royal roles is hardly an awareness blip as the new cast takes over with brilliant work all round.
I finished season 3 with the same feeling I had about the first 2 seasons. Being royalty in England is a lonely, terrible position.
Season 3 begins in 1964. Queen Elizabeth II (Olivia Colman) and Philip, Duke of Edinburgh (Tobias Menzies) have reached a point of steadiness in their marriage.
The Queen welcomes a new Prime Minister Harold Wilson (Jason Watkins) to his job.
The country is in financial trouble – a theme running throughout the 60s – and PM Wilson wants a loan from the US. President Lyndon Johnson (Clancy Brown), who is blocking the deal. Since Johnson's snubbing the Queen, Princess Margaret (Helena Bonham Carter) and her husband Lord Snowdon (Ben Daniels) are dispatched to Washington to bring him round.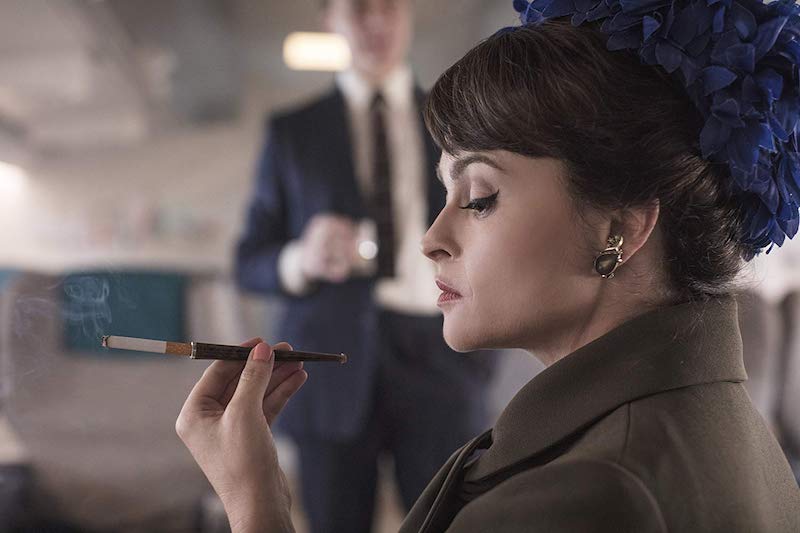 Princess Margaret charms Lyndon Johnson. All the while Helena Bonham Carter was impressing me with her outstanding performance. She gets a shot at center stage again in a couple of episodes near the end of the season and impressed me all over again. Unfortunately, the later episodes were about the breakup of her marriage.
Some of the external events that happen during season 3 include a mining disaster in the Welsh town of Aberfan, a revolution in Greece that brought Phillip's mother Princess Alice of Greece (Jane Lapotaire) to England, a general strike by miners, and the 1969 moon landing.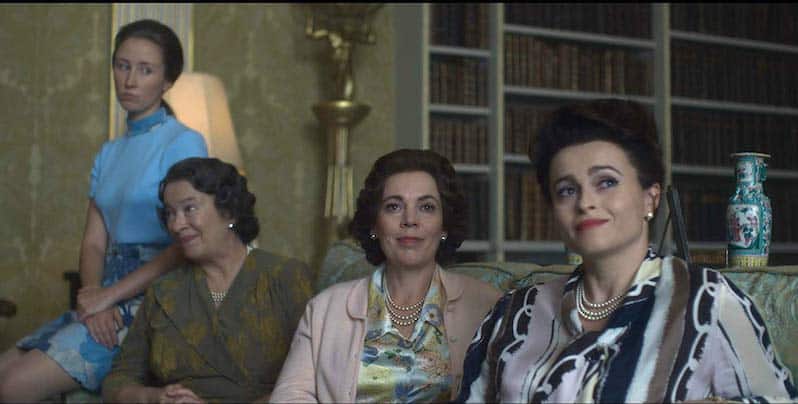 Besides the events in the political realm, and the world at large, there were many personal family stories in season 3.
Prince Charles (Josh O'Connor) is sent to Wales to learn Welsh in preparation for being crowned the Prince of Wales. Later, Prince Charles meets and falls in love with Camilla Parker Bowles (Emerald Fennell). The family – particularly the Queen's cousin Lord Mountbatten (Charles Dance) – go to great lengths to keep him from marrying her.
Charles goes to France to visit the Duke of Windsor (Derek Jacobi) and his wife Wallis Simpson (Geraldine Chaplin). Because of his love for Camilla, Charles identifies with his uncle's courage and independence. His visits and letters there prompt the Queen to pay the Duke of Windsor a visit as well, just before his death.
Prince Phillip establishes a center for spiritual growth and philosophy, almost by accident. He dismisses the idea of faith, but he lets a priest use an empty building to start a center. Phillip's obsessed with the adventure and heroism of the moon landing. When the astronauts come to visit Buckingham Palace and he has a private meeting with the 3 of them, he's struck by how dull they are. They're reliable, dedicated, order-following officers rather like the queen. It puts Phillip into a funk. He resolves it by talking to the priests at his center!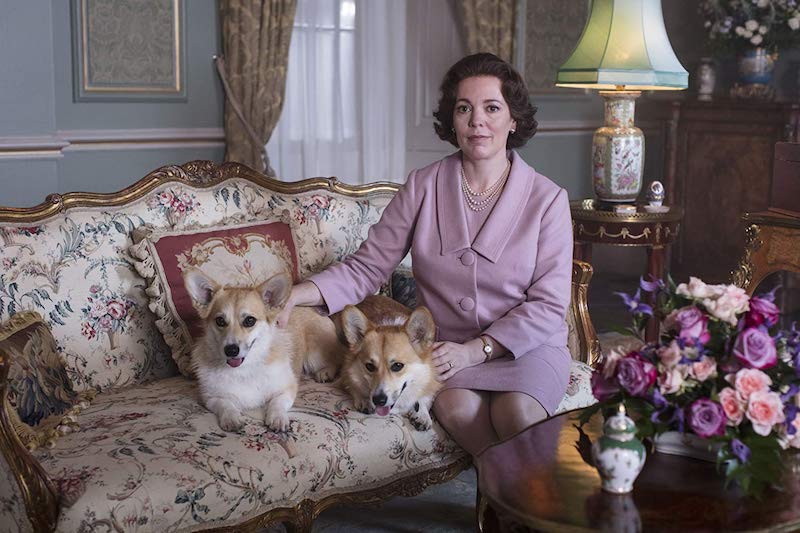 Elizabeth goes to France and America to figure out why her horses aren't winning any races. She comes back and makes big changes in her horse training. One of her most vulnerable and touching scenes is in the episode "Coup", where she talks about how she'd be a horsewoman and nothing else if the choice were hers.
That's also the episode where Lord Mountbatten and a group of bankers want Queen Elizabeth to help them stage a coup to take over the government and oust Harold Wilson. Elizabeth's leadership skills and mature understanding of government and The Crown are displayed in several episodes, but her put down of Lord Mountbatten is a great example of that depth of character and strength of will.
The season ends with the celebration of Elizabeth II's Silver Jubilee and the arrival of the 1970s.
Overall Thoughts on The Crown, season 3
I remember so much of what happened in the 1960s. It was interesting seeing it from this perspective. I was absolutely mesmerized by the space program and the moon landing. It's still amazing that everyone, everywhere, was watching at the same time.
My main thought in many, many scenes in the 10 episodes of season 3 was how exquisitely wonderful the performances were. Everyone in the main cast had their moment and they made it brilliant.
The scenes between Elizabeth and Margaret, as siblings, as older and younger sister, were so human and touching. It personalized Elizabeth when she often had to behave according to an external set of rules. Margaret became equally human and vulnerable.
The Crown looked fantastic. The lighting, the silhouettes walking in hallways or at windows, the loneliness amid the opulence, it was framed and photographed beautifully.
Are you looking for something to pin (if you are, thank you!). Here's a nice poster to pin.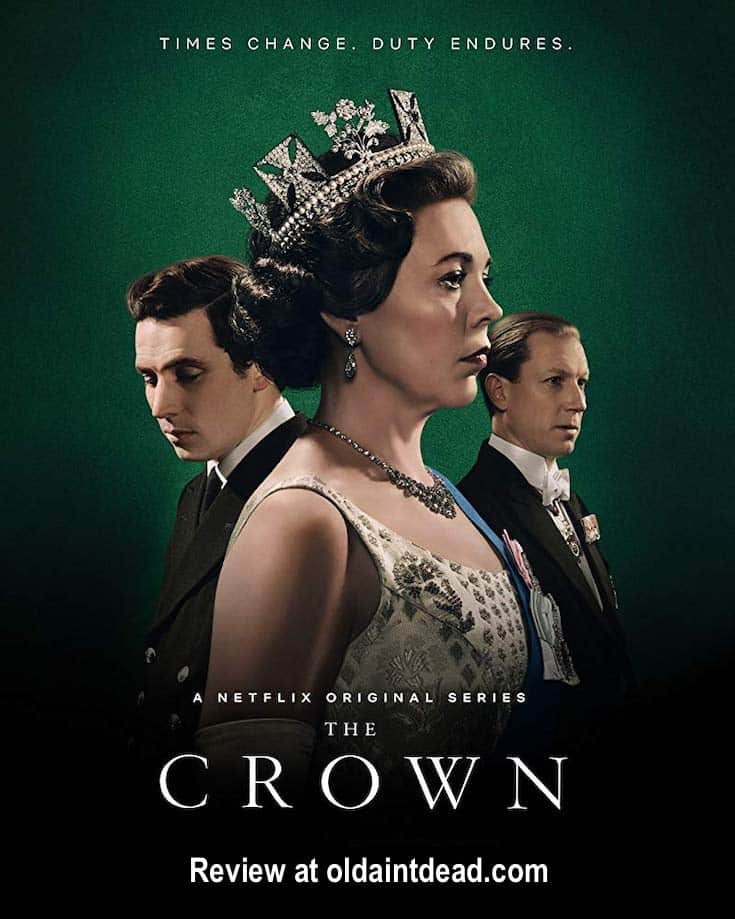 The Facebook page for the series has many photos and videos.
Have you watched season 3 of The Crown yet? What did you think of it?