There are many forms of cruelty. The self-righteous Christian cruelty that spouts slogans like "Jesus loves you" while making you hate yourself for being yourself is the topic of The Miseducation of Cameron Post.
Teen Cameron Post (Chloë Grace Moretz) is caught making out with a girl by her male date on prom night. She's sent to a gay conversion camp to be fixed. This is 1993. No point in thinking that gay conversion therapy is a thing of the past, however. Just ask Vice-President Mike Pence what he thinks should be done with LGBTQ individuals.
Secluded in the woods, the students at the camp are at the mercies of Reverend Rick (John Gallagher Jr.) and his Christian enforcer sister (Jennifer Ehle). She's the counselor who will help you in your quest to become straight as God intended. Or something like that.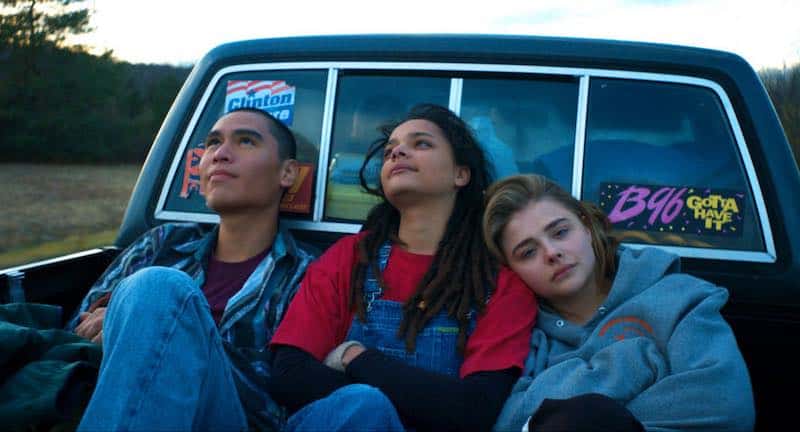 Cameron befriends Jane (Sasha Lane) and Adam (Forrest Goodluck) as well as several others at the camp. These three figure out how to talk the talk well enough to be convincing. But they sneak off into the woods to grow pot and secretly support each other just as they are.
Things reach a danger point when the counselor shaves off all of Adam's hair. He's a native American male. You don't shave his head.
Then a student named Mark (Owen Campbell) has a breakdown. During part of it, the counselor literally pins him to the floor with her foot in the middle of his back.
Keeping the Faith
While Reverend Rick was a gay man struggling to seem straight to please his wrath-of-God sister, the sister was the embodiment of everything that's wrong with judgemental Christianity. The clients at the conversion camp were the terrified targets of that wrath. Making judgements about other people based on faith never turns out well.
You can tell I had a very personal and emotional response to this film. I wanted to send all those kids home and tell them it was okay to be themselves. I wanted to save them from their "saviors."
My powerful response speaks well of the impact of the film. It hits you. It moves you. Director Desiree Akhavan (who also co-wrote the film) captured a meaningful truth in The Miseducation of Cameron Post.
The Acting Talent
I've been impressed with Chloë Grace Moretz for quite some time. She's very good. She's particularly good in this. She doesn't have a lot of dialog to work with. She uses her eyes, subtle expressions. Desiree Akhavan uses close camera work to help Moretz get the points across.
Akhavan treats her young actors gently. They show who they are in many nonverbal ways while attempting to cover and hide their natural selves with Christian verbiage.
None of the actors have much dialog, except for the religious speechifying they do to prove how well their conversions are going. What can they say? They're speechless at what's happening to them. Every actor does an excellent job. Two other performances worth praising for their perfection come from Owen Campbell and Jennifer Ehle.
Watch The Miseducation of Cameron Post on Amazon Video, YouTube, and other places.