The Netflix original To All the Boys I've Loved Before leads us on a journey we haven't taken before. Not because the story is unusual. Because the cast is unusual. There are spoilers ahead.
The key character in this romantic comedy/coming of age tale is an Asian American 16 year old. Lana Condor plays Lara Jean. Lara Jean has never had a boyfriend. She's had crushes. Intense crushes. She deals with it by writing passionate letters  to the object of her desire in the style of the bodice rippers she's fond of reading. Then she hides the letter in a hat box in her closet and never mails it. She has 5 such letters. One of them was written in 5th grade.
Her older sister Margot (Janel Parrish) is leaving for college in Scotland. Who on earth goes to Scotland for college? Anyway, Margot dumps her boyfriend before heading off. Her boyfriend is the boy next door Josh (Israel Broussard).
Josh and Lara Jean were childhood playmates and best friends. When Josh started dating Margot, Lara Jean became enamored as well and wrote him one of her letters.
The rest of Lara Jean's family is her 11 year old sister Kitty (Anna Cathcart) and her widowed father, played with good-natured warmth by John Corbett. Madeleine Arthur gives a great performance as Lara Jean's best friend Chris.
Kitty thinks Lara Jean should have a boyfriend. She decides to mail the letters. Yeah. Disaster, right?
One of the recipients is now gay. One moved away. Josh gets his. Peter (Noah Centineo) gets his. Peter is a boy Lara Jean kissed in 7th grade playing spin the bottle. Now he's tall and handsome. He's just been dumped by mean girl Gen (Emilija Baranac).
When Lara Jean sees that Peter has her letter, and sees Josh approaching with his, she faints. When she recovers she plants a kiss on Peter to scare off Josh. That leads to a pact between Peter and Lara Jean to pretend to be dating (no kissing) so as to make Josh and Gen jealous and snag the people they really want to be dating.
They pretend to be dating for several months! Months! There's no pressure to actually be boyfriend and girlfriend in private so they are honest and open with each other. They have deep conversations, especially about their missing parents. (Peter's dad left them for a younger woman.)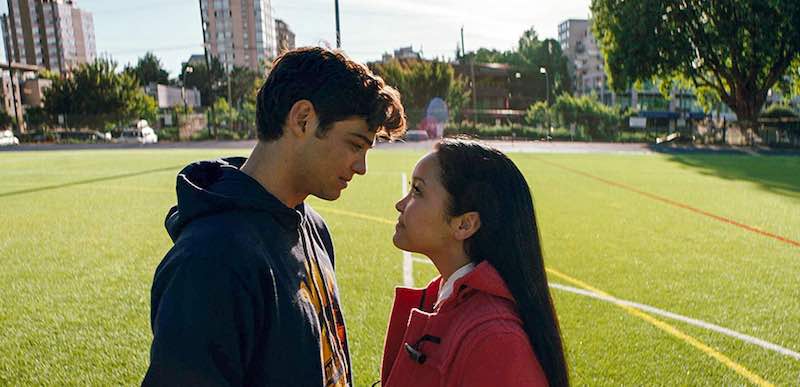 Of course, you knew it was coming, they start liking each other as boyfriend and girlfriend and give up their charade of pretend dating.
Asian American Representation
The remarkable talking point about this predictable teen romance was the use of Asian American actors. The original novel by Jenny Han featured Asian characters, but Hollywood doesn't have a good record of translating books like that to the screen with Asian actors.
It was wonderful to see Asians representing three sisters who were so close to each other and in such a good relationship with their father. Seeing Asian characters portray a happy, functional, American family is an important contribution to American culture from To All the Boys I've Loved Before.
The film was warm and enjoyable. Heartwarming even. But its real strength and the reason it will become a classic is because of Lana Condor and Janel Parrish. Well done, Netflix!
Directed by Susan Johnson, To All the Boys I've Loved Before was written by Sofia Alvarez.
What did you think of To All the Boys I've Loved Before? Did it have any special resonance with you?