Under the Vines is a dramedy about a couple of city people who inherit a vineyard in New Zealand. It's on Acorn TV and is one of their many light, bright, and cheerful offerings. The wonderful Rebecca Gibney stars. There are a couple of spoilers ahead.
Under the Vines throws two strangers together and explores their interactions. Daisy (Rebecca Gibney) is the step-daughter of the deceased vineyard owner. She's an unattached older woman who likes designer clothes and expensive living. She's been living off her step-father's generosity for years. Her best friend is a well-known closeted actor named Griff (Dean O'Gorman).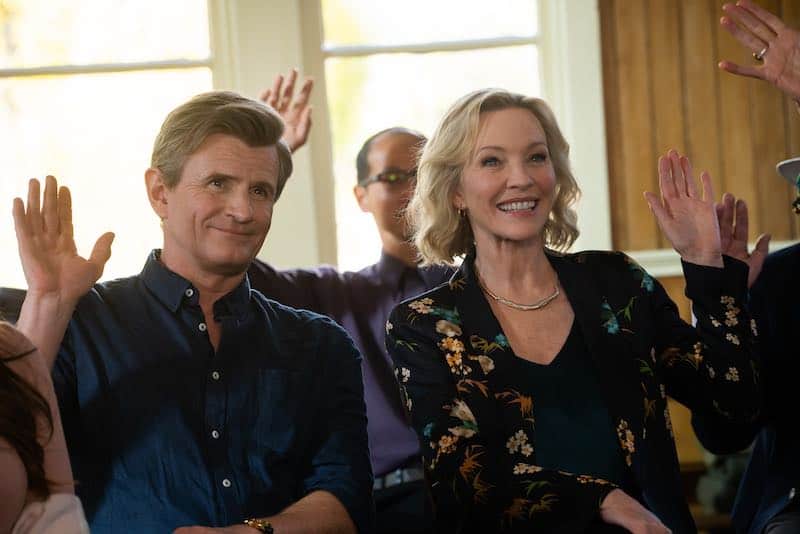 Louis (Charles Edwards) is a disbarred London lawyer, the deceased vineyard owner's nephew. He drinks too much and his marriage is falling apart. He has a 13 year old son (Sam Gardner). His wife and son pay a visit and his son turns out to love it there.
When they learn they share ownership of the vineyard they go to investigate. It's in bad shape. There's no money. Louis wants to sell immediately. Daisy argues to improve the place and make it better. Neither knows anything about what they are doing.
Two people work at the vineyard. Tippy (Trae Te Wiki) has a real gift for making wine. The wines Daisy finds already bottled are either BT (before Tippy) or AT (after Tippy). An AT vintage wins first place at a contest soon after they arrive, which is what convinces Daisy to keep going with the vineyard.
The other employee is Gus (Simon Mead). He often works shirtless and is a real hunk, but somehow Daisy doesn't notice that he's gay until Griff comes to visit.
One reason Daisy isn't paying attention to the shirtless Gus is Ben (Matt Whelan). But, spoiler alert, Ben is the son of the reigning king and queen of wine making in the area: Don (John Bach) and Marissa (Sarah Peirse). They do not welcome competition from Daisy and Louis and their wonderful Tippy.
Other characters in the area add quirks and flavor to the subplots as Louis and Daisy learn to work together, even respect each other, in the effort to revive the vineyard.
Erin White created the series and directed several episodes. Overall the series is cheerful and upbeat with messed-up but likable characters. It's feel good television. If you give it a watch, let me know what you think of it.
If you love it, good news. The series has been renewed for a second season.