I watched 2005's An Unfinished Life years ago and remember liking it. When I saw it on Netflix, I thought Why not give it another try? It's crazy hard to find anything with a good lead female character on Netflix, and here was An Unfinished Life with Jennifer Lopez just waiting.
Jennifer Lopez isn't the only attraction. The film also features Robert Redford, Morgan Freeman, Josh Lucas, Damian Lewis, Camryn Manheim, and young Becca Gardner.
The theme is grief. The different characters experience grief in their own ways, cling to it in their own ways, and ultimately work through it in their own ways.
The basic plot: Jean Gilkyson (Lopez) and her 8 year old daughter Griff (Gardner) live with Gary, an abusive boyfriend (Lewis). When he beats up Jean yet again, Griff reminds her mother that the last time it happened she promised. Apparently the promise was to leave Gary, because mother and daughter packed their belongings and drove off in a clunker of a car.
The car broke down in the middle of nowhere. A motorcyclist offered them a ride. They abandoned the car and everything in it except what they could stuff in plastic bags.
Out of desperation, Jean takes her daughter to her father-in-law Einar's (Redford) tumbledown wreck of a ranch in Wyoming. The first thing he says when he sees the two of them walking up is, "I don't want you here."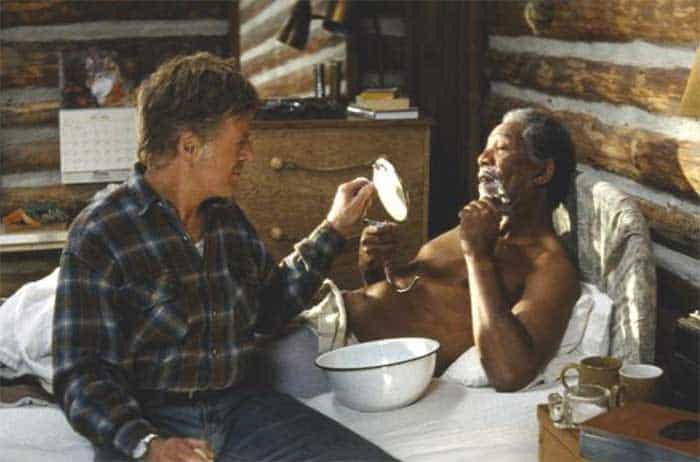 Einar and his ranch hand of many years Mitch (Freeman) are living out their days with one milk cow, one horse, a pickup truck that runs only sometimes, and the need to care daily for Mitch who was mauled by a bear about a year ago.
And the bear is back.
Einar blames Jean for the death of his son. She was driving when they had a wreck that killed his son. He didn't even know he had a grandchild who looks just like her dad.
Jean promises to be gone in a month. She goes into town and gets a waitress job from Nina (Manheim).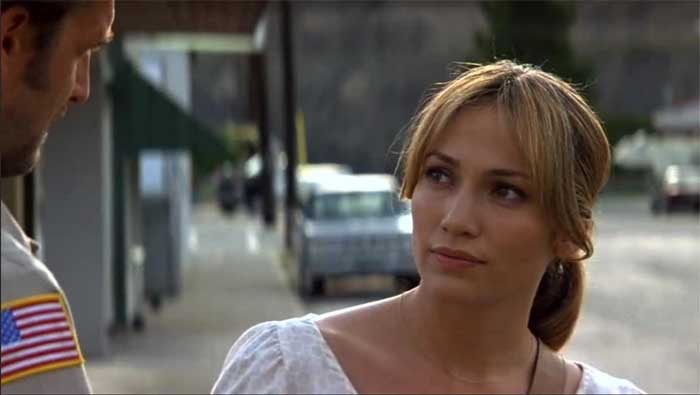 Everyone in town remembers Jean, remembers the wreck that killed her husband. The handsome sheriff (Lucas) promises to be on the lookout for Gary the abuser, who indeed does show up. Mean as a snake, that Gary. Meanwhile, the sheriff takes Jean up on her offer of commitment-free sex.
That was a long plot setup for what follows as Jean works at Nina's cafe and saves enough money to go somewhere else. The passing days bring changes to every one of characters as they explore their grief and pain face to face, get to know each other, and have adventures with bears.
The acting was superlative, as you would expect from a stellar cast like this one. The film was shot in Canada, but the ranch and surrounding hills look enough like Wyoming to be convincing.
I liked the film as much the second time as I did the first. Stories about grief and forgiveness are so real, so human, so universal. The particulars of this one made it interesting to experience because the characters and circumstances are well-drawn and well-played.
Lasse Hallström directed An Unfinished Life.