Yes, God, Yes puts innocent Catholic school girl Alice (Natalia Dyer) up against her entire world. It isn't so much a battle of good vs. evil as a battle of truth vs. lies.
If you survived a Catholic education, Yes, God, Yes may speak straight to your heart.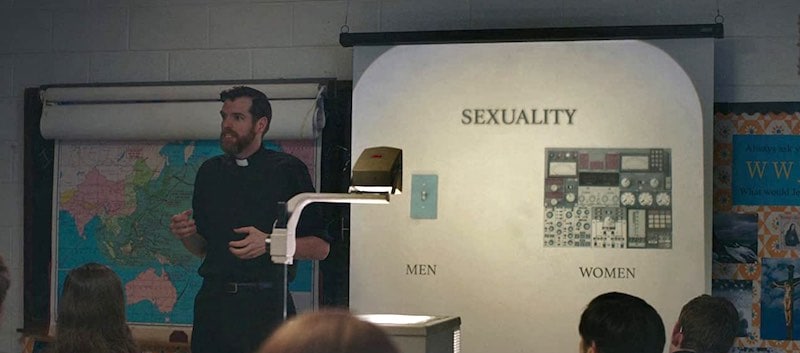 Alice is a Junior at her Catholic High School, where dress codes are strictly enforced. Father Murphy (Timothy Simons) explains sexuality by saying men are like microwaves (instantly on) and women are like conventional ovens (they need warm up time). The rest of the lecture on sexuality is that sex before marriage is a sin and if you indulge in anything in that department you'll burn in hell forever.
This terrifying bit of news is scary for Alice. She is beginning to feel things – or want to feel things, if you get my drift. She is beginning to notice things like boys bodies and the hairy arms on the football hero, Chris (Wolfgang Novogratz).
Much of the humor in the film comes because Alice is accused of being a fast girl. The kids gossip about her. Her best friend Laura (Francesca Reale) buys into the whole round of gossip. Laura admires the pious seeming Nina (Alisha Boe) instead.
Alice doesn't even understand what she's accused of doing and goes to an AOL chatroom to get answers. That gets her in a lot of trouble.
Father Murphy organizes 4 day weekend retreats for select students. They go there to confess their sins and commit themselves to Jesus. Chris and Nina are among the counselors at the camp and seem the most dedicated to a sin free life. Meanwhile, Alice can't wait to do anything but sin.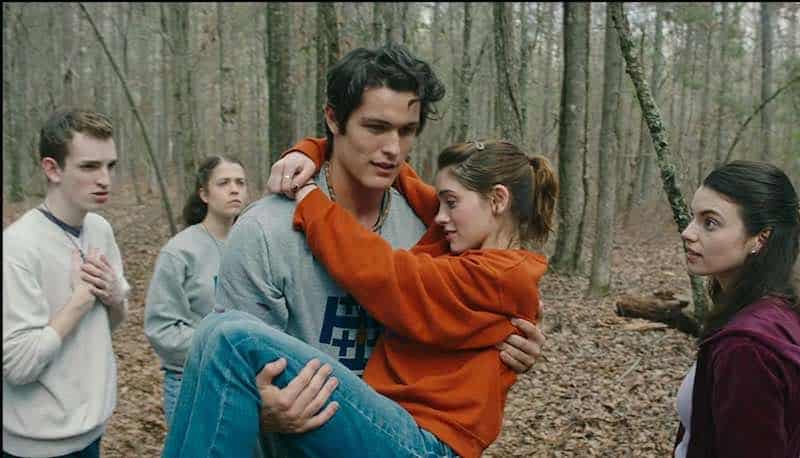 She fakes an injury so the hairy armed Chris will carry her to the nurse. Father Murphy hears the gossip about her and sets her to work cleaning the dining room and kitchen. Being alone at her cleaning chores gives her the opportunity to discover who the hypocrites are. There are so many hypocrites among this crowd of Jesus lovers it makes Alice's head spin. And it sets her on a new path.
I don't want to reveal what happens next, but it's definitely a poetic justice moment of education for Alice.
I thought Natalia Dyer was terrific – her facial expressions alone were worth the whole film. A favorite of mine, Donna Lynne Champlin from Crazy Ex-Girlfriend, had a part as a pregnant teacher.
The film was written and directed by Karen Maine, who wasted not one second or one joke as she brought human nature face to face with Catholic doctrine.
I watched this movie on Netflix, but I think several streamers have it.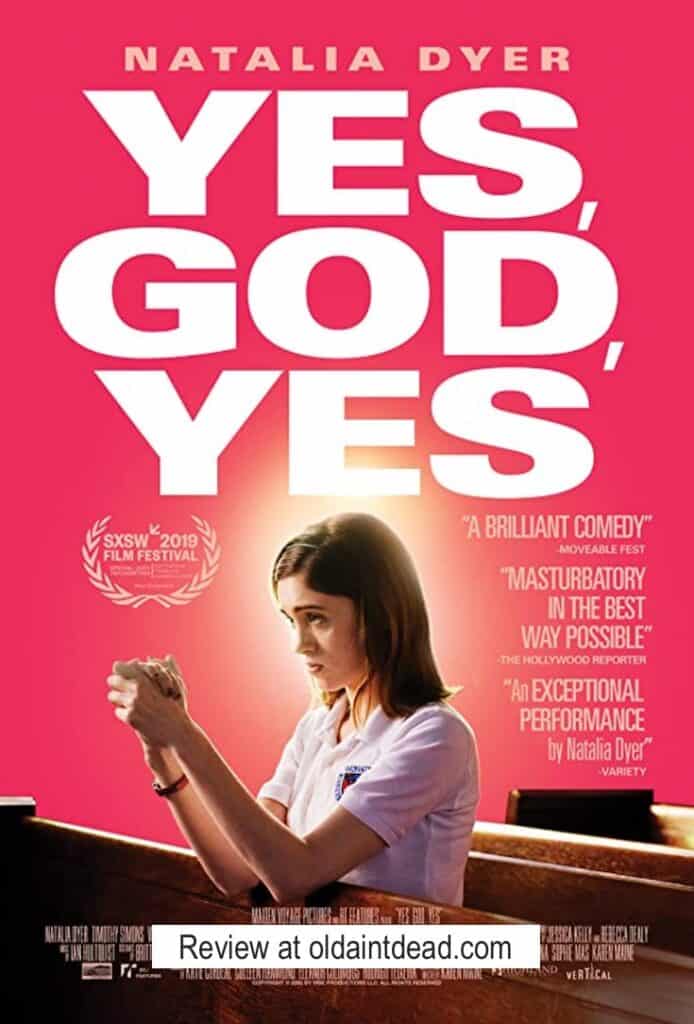 Here's the trailer.
What do you think? Are you going to give another coming of age story a shot with Yes, God, Yes?