Stumptown is a comic book adaptation on ABC. Cobie Smulders stars. It's my favorite new TV series and I have reasons!
Cobie Smulders has always been a favorite of mine since way, way back. In Stumptown she plays Dex Parios, a vet with PTSD. She's hard-drinker and not exactly a 9 to 5 kind of gal. By episode 2 of the series she figures out that her drinking talents and fisticuffs talents are perfectly suited to being a P.I.
She's quick and funny and smart. She's plagued with flashbacks from her service and prone to using her fists to settle things. She's a one-night-stand kind of woman and isn't looking for love.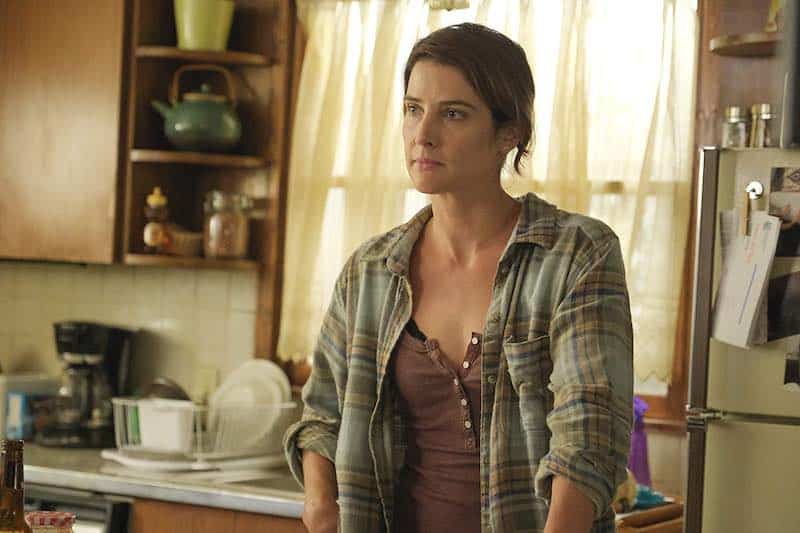 I like that she looks like a natural woman and not a perfectly made up and coiffed beauty.
This series is written by a man; two episodes in all the writers and directors have been male. Letting Cobie Smulders look like an ordinary human is not what you'd expect from the male gaze. She does fight as well as a man, however, a characteristic aimed at the male gaze.
Dex lives in Portland, Oregon. She looks after her brother Ansel (Cole Sibus). Sibus is a man with Down Syndrome and an excellent actor. I like that Sibus has a role in this series.
Her best friend is bar owner Grey (Jake Johnson), a fellow she hooked up with once years ago. It's from a flashback with Grey that we learn that the lost love of Dex's life was a woman. I like that the lead character in a new show is bisexual.
In further inclusive good news, the local casino owner Sue Lynn Blackbird is played by another favorite actor, Native woman Tantoo Cardinal.
Bisexual woman in the lead, inclusive casting – but there's more.
Dex interacts with the local cops quite often. She does stir up a lot of trouble. Detective Miles Hoffman (Michael Ealy) and Lieutenant Cosgrove (Camryn Manheim) are further proof of perfect casting in this series.
Finally, I love Dex's car. It's an old beater with a cassette tape stuck in the tape deck. The tape plays an appropriate song for every scene. It makes the car into a character.
Are you watching Stumptown? What do you think of it?