Switched at Birth on ABC Family is a terrific series. The announcement came this week that it's renewed for a 3rd season. I originally watched because I'm a Marlee Matlin fan and like shows that feature sign language, but I quickly got caught up in the story and interested in the characters.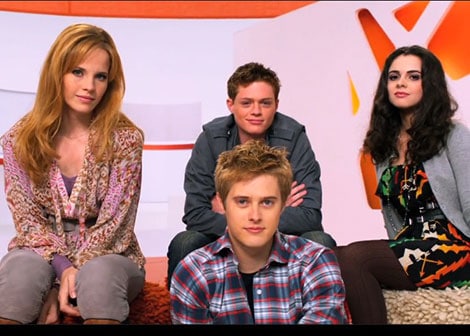 The story involves Bay Kennish (Vanessa Marano) who should have been a Vasquez, and Daphne Vasquez (Katie Leclerc) who should have been a Kennish. Instead they got switched at birth and went home from the hospital with the wrong families. The story begins when the two girls are in high school and the truth is revealed to the families and the world at large because Bay does a science project involving DNA.
The Kennish family is wealthy and privileged. D.W. Moffett plays John Kennish, the father. Lea Thompson is Kathryn Kennish, the mother. Lea Thompson and Katie Leclerc could be biologically related – they look that much alike. Lucas Grabeel is Toby Kennish, who is Daphne's biological brother but regards Bay as his sister.
Constance Marie plays Regina Vasquez, who raised Daphne as a single mom. An alcoholic single mom. Single because Daphne's father, Angelo, who we don't meet into well into the series, took off. He's played by Gilles Marini. He may have taken off because Daphne got sick and went deaf or because of issues around Regina's drinking. Anyway, he was an absent father.
Associated with these characters from the start are Emmett (Sean Berdy) a deaf friend of Regina and Daphne's and Emmett's mother Melody (Marlee Matlin) who is also deaf.
A recurring conflict in the series is what happens when the deaf community comes up against the hearing community. When the Kennish family meet Daphne, they all learn some sign language. But there are conflicts around this culture clash in many episodes. In one episode the deaf students at the school that both Bay and Daphne attend stage a strike to try to keep the school from going 50% hearing / 50% deaf. Since Bay is hearing, this adds to the many conflicts between Bay and Daphne.
Incidentally, the school strike episode was almost completely done in sign, a first for any TV series.
Bay and Daphne face conflicts over boyfriends and schools. There are jealousies over access to parents and acceptance by parents both biological and by upbringing. The girls face their identity crises in completely different ways.
Everyone in both families consider the parents who raised each girl to be the parents. The parents with the last word, so to speak. The newly discovered birth parents are referred to as "biological" parents. Soon enough, however, both girls effectively have two sets of parents because they all live together in the Kennish compound, which includes a guest house.
Another recurring storyline of conflict involves who knew what and when. Turns out Regina knew early on that the babies had been switched and had been keeping an eye on Bay all along. Boy, was John Kennish mad when he found out that secret.
ABC Family put together a couple of videos that will help you see a little of this in action.
Beginners Guide to Switched at Birth, Part 1
Beginners Guide to Switched at Birth, Part 2
ABC Family can add this to its list of other series that look at the question of what makes a family, most notably The Fosters. In both The Fosters and Switched at Birth, there are themes around whether family is biology, or love, or some other combination of factors that mix with biology and love.
If you aren't already a fan of Switched at Birth, I hope you'll give your consideration. It's worth it.