The Silent Twins tells the true story of two young Black twins growing up in Wales who refused to talk to anyone but each other. Learning more about their case sounds interesting, but the film left too much out for me to give it high marks.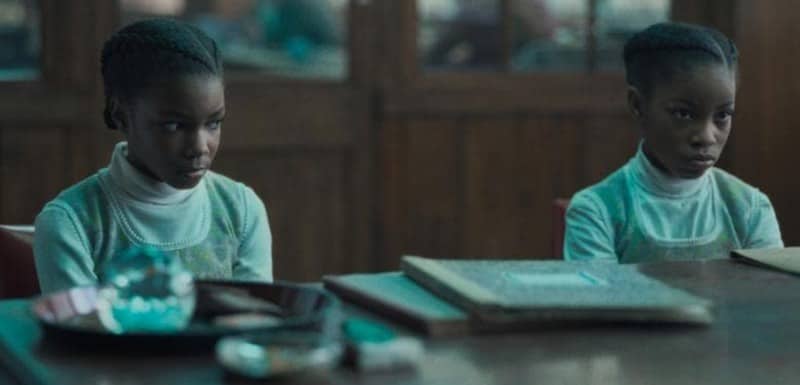 The Silent Twins stars Letitia Wright and Leah Mondesir-Simmonds as June. Jennifer was played by Tamara Lawrance and Eva-Arianna Baxter. The two young actors as well as the grown women did an excellent job with the physical parts of the story. The girls moved in sync, had a number of knock down physical fights, communicated through glances when not alone.
The thing that interested me was never explained, and is the reason why I feel the film was inadequate. WHY? Why did they behave this way? It was hinted at: perhaps because of Jennifer's slight speech impediment, or perhaps because of the neighborhood bullies.
And why did they persist with it for so long? They were separated, sent to psychiatrists, arrested, put in a mental institution. They could have saved themselves from all of that if they'd only talked. The girls made decisions that hurt them, were bad for them. They stuck with their choices through sheer force of will. I wanted to know more about that.
As girls, the twins had a rich imaginative life. They wrote stories. Their imaginations came to life in the film with animations. The dolls, dogs, birds and other props used in the animations were hideous, another unexplained choice. As teens, Jennifer managed to sell some of her stories.
As teens, they wanted to get out of the house. They wanted adventure. They found a boy, Wayne (Jack Bandeira), who treated them as equals. He offered them drugs, sex, danger, crime. They talked to him!
After they'd been placed in a mental institution, they met Marjorie Wallace (Jodhi May). Wallace was a journalist. She wrote a book about the twins that this movie is based on. Finally, finally, they talked. They shared their writing with her.
When they were released from the mental institution, the ending was a tragic one. Another event in the film that had no explanation as to WHY.
The Silent Twins was directed by Agnieszka Smoczynska. The choices she made with the colors used for both the interior and exterior details of the twins world were excellent. I just wish there had been more in the script to help viewers understand these two girls who lived as one.