To Leslie takes a painfully realistic look at an alcoholic mother who makes a big mess of her life after winning the lottery. Andrea Riseborough plays Leslie in a brilliantly convincing performance as the ruined mother.
To Leslie is based on a true story. It's the kind of story you know from the start will have a redemptive arc for the main character. That doesn't happen for a very long time in this near two hour film. The details of Leslie getting to the point of that redemption are specific and perfectly executed. Once she starts pulling herself together, the details of that struggle are also well done.
I lived with an alcoholic for many years of my life, and I can promise you the emotion and behavior shown here are absolutely real. Not just for Leslie, but for the people around her who either throw her out or stick by her.
Desperate and broke, Leslie slithers from place to place. She visits her adult son James (Owen Teague). He makes her leave. She goes back to her home town to stay with Dutch (Stephen Root) and Nancy (Allison Janney). Nancy is especially hard and unforgiving and chases Leslie off.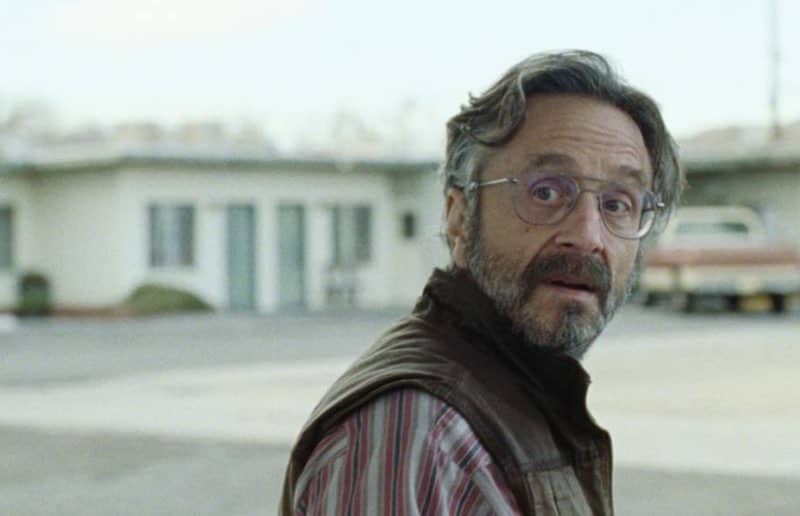 She spends a night sleeping outside a motel run by Sweeney (Marc Maron) and Royal (Andre Royo). Sweeney is a compassionate softie, which is actually what Leslie needs. He finagles her into a maid job, gives her a motel room to sleep in, and watches out for her.
Leslie closes down the local bar every night. One night as everyone is going home, Willie Nelson plays. The song is about looking around at the place and the people where you are and asking if that is where you want to live your life. It's a remarkable scene focusing in on Leslie's face as she actually hears and processes the ideas in the lyrics. She decides to sober up.
When Leslie is working to stay sober, but complaining about how everyone treats her so badly, Sweeney says, "You're living, right? I'm sorry it ain't a fairytale. We all should have done things differently. But you're what's wrong with you. Not anyone else." It takes a while, but it gets through to her.
Sober, Leslie is clever and funny. She has ideas for her future. She wants to make repairs to the damage she's done in the past. It's a bit of a tearjerker ending, but it demonstrates what changes getting sober has made in so many lives.
This is not a feel good movie. It's serious business. Addiction is not simple or easy. But the film is worth watching and Andrea Riseborough gives a stunning performance.