House of Cards season 4 comes down to Underwood vs. Underwood in this trailer. Kevin Spacey and Robin Wright are back as Frank and Claire Underwood in this political drama set in the world's most ruthless centers of power.
At the end of season 3, Claire Underwood left Frank and the White House because she wasn't given the power and position she was promised. The relationship between these two characters has always been at the center of House of Cards. In spite of their infidelities and betrayals, they always stuck together in their ambition and quest for power. The dynamic has changed for season 4, because they are now warring each other.
I saw a few new faces in the trailer. Things went by awfully fast, but I did identify Neve Campbell and Ellen Burstyn. Neve's apparently a regular, but I don't know about Ellen Burstyn. Joel Kinnaman will reportedly be in the cast. I spotted Kim Dickens, though she was never a regular it's good to see her show up again. Regular Michael Kelly as Doug Stamper is back in his role as Frank's right hand man.
We see glimpses of sex and possibly murder (blood, anyway) in the trailer, which is in keeping with the first 3 seasons of this series.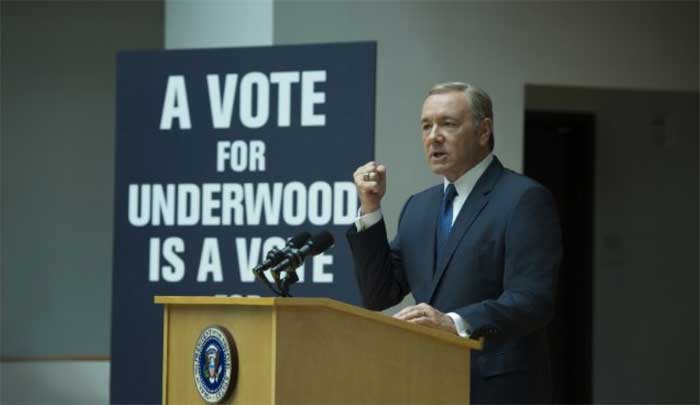 In season 4, Frank Underwood has to manage to get himself well and truly re-elected President. I don't expect he'll do it honestly, but he does have to put himself in jeopardy by letting the voters have their say.
Beau Willimon is still writing the series. He created House of Cards, but has said this will be his last season on the series. In spite of that, Netflix has already ordered a 5th season.
The season premiers on Netflix on Friday, March 4.
I'm a fan of this series. Are you? I expect I'll binge watch it the first weekend in March and then be impatient with the long wait for more.