The Marvelous Mrs. Maisel on Amazon Prime video returns for season 2 with Midge finding work as a comedian in the Catskills. She had trouble finding the self-discipline to actually develop and stick to an act in season 1. We'll see if she's learning her craft in season 2.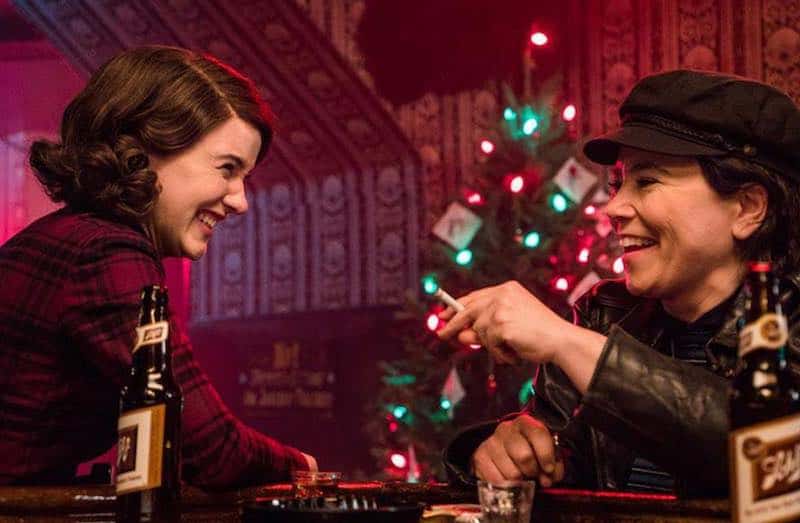 Rachel Brosnahan plays Midge Maisel, the spurned housewife turned stand up comic. In the trailer we see Midge and her manager Susie (Alex Borstein) head upstate from NYC to peddle Midge's particular brand of comedy.
Also featured in season 2 are Tony Shalhoub and Marin Hinkle as Midge's parents. Michael Zegen plays her ex-husband. Matilda Szydagis returns as Zelda, the scene-stealing maid.
When I reviewed season 1, I wrote, "Rachel Brosnahan is sheer genius in her part. She delivers jokes with perfect timing. Her interactions with her friends, her coworkers, and her family are realistic and easy looking. Brosnahan nails the Jewish princess in Manhattan voice and the swagger of wealth. She does the 50s look with grace."
Deadline ran an excellent interview with the show's costume designer Donna Zakowska. It's worth a read.
The Marvelous Mrs. Maisel is written and directed by Amy Sherman-Palladino. Season 1 earned 14 Emmy nominations, including Outstanding Comedy Series, Outstanding Lead Actress in a Comedy Series for Rachel Brosnahan, Outstanding Supporting Actor in a Comedy Series for Tony Shalhoub, and Outstanding Supporting Actress in a Comedy Series for Alex Borstein. Fans of Amy Sherman-Palladino's The Gilmore Girls may recognize Alex Borstein as the harp player from that series.
The series has already been renewed for a 3rd season. Amazon still has "coming soon" on season 2, but since they released a trailer I imagine it will be released this fall.