Jessica Chastain stars in Miss Sloane, a political drama about a powerful Washington lobbyist. The story deals with gun control lobbying, a topic the creators thought would be important in the election. The election turned out differently from what anyone expected, but that's no reason to stop celebrating what looks like a boffo performance from the women in Miss Sloane.
In an article at Deadline producer Kris Thykier said, "All of the significant characters in this movie who affect and shape the way the story is told are women, and that's not an accident. That was on the fore of what we were trying to do."
In addition to Chastain in the lead role, the film also features Gugu Mbatha-Raw, John Lithgow, Sam Waterston, Mark Strong, David Wilson Barnes, Ennis Esmer, Alison Pill, Noah Robbins, Grace Lynn Kung, Douglas Smith, Al Mukadam and Jake Lacy. John Madden directed.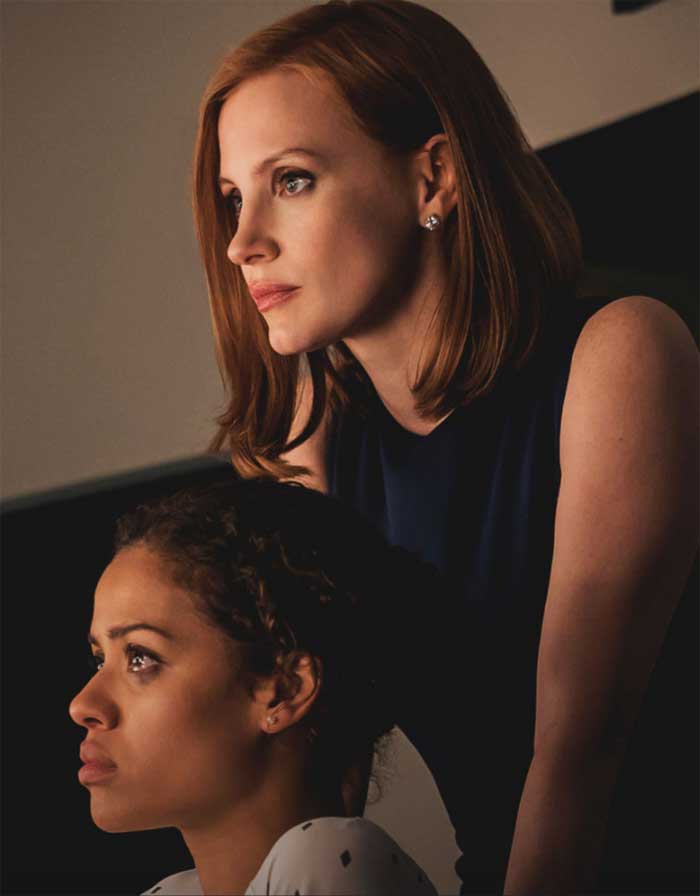 While Chastain's character is a ruthless political strategist, Mbatha-Raw plays the film's conscience or heart. I'm a big fan of Gugu Mbatha-Raw, and am not impressed by the way she is costumed, by her hair, or by the way Jessica Chastain looms over her in this image. Fingers crossed that I'm not disappointed by what the filmmakers to with her in Miss Sloane.
Variety quoted Jessica Chastain's remarks at the film's premier, which was the day after the election. "It's a nightmare," said the film's lead actress Jessica Chastain of this week in politics. "Right here, talking about this right now, this week, it's not the best experience, but it's good when it's a movie that has the message this movie does."
Miss Sloane will be in most theaters starting December 9.