Not long before #kalindasharma will unzip the boots and hang up the leather jacket.Thnx for all the lovely messages:) pic.twitter.com/UCqYItB1p2

— Archie Panjabi (@PanjabiArchie) March 25, 2015
Archie Panjabi sounds ready to hang it up in this tweet.
If I were Archie Panjabi, I'd have mixed emotions about leaving The Good Wife. Archie's had a landmark role on a great show. Her character Kalinda Sharma on The Good Wife was a cultural pioneer in many ways. Yet Archie Panjabi is making news because she's leaving The Good Wife before its run is finished.
Lately Kalinda has been stuck away in a minor plot line where she plays a terrified baby sitter for Lamond Bishop (Mike Colter). If she's left in this powerless spot, she will just fade away. Kalinda can't just fade away.
Here are my 3 top reasons why she deserves a great send off when she leaves the show at the end of season 6.
1. Kalinda brings the diversity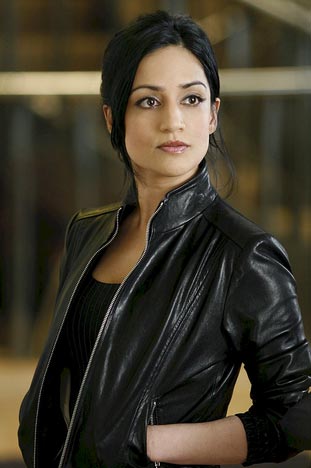 Before everyone was trying to score diversity points by having a woman of color in their cast, Archie Panjabi was bringing diversity to The Good Wife. This award winning actress wasn't stereotyped as some ridiculous ethnic character, she was the investigator for a law firm, a multi-layered, complex woman.
Before Shonda Rhimes had 3 shows, before Orange is the New Black brought a rainbow of characters into stardom, Kalinda was there.
2. Kalinda is bisexual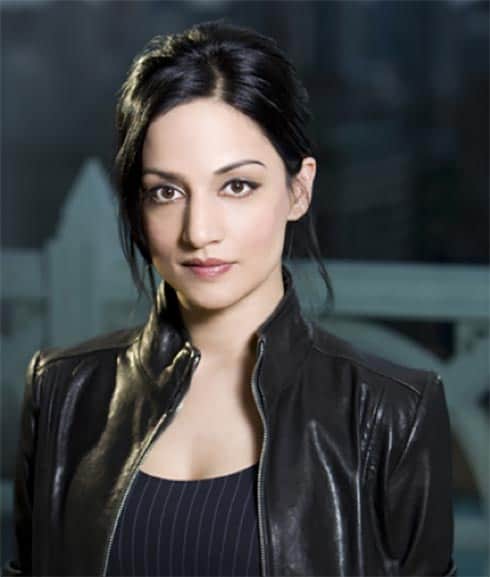 Kalinda was one of very few bisexual characters on TV for a time, and it was no big deal. It was simply Kalinda. She broke ground for other bi characters to follow.
3. Kalinda is THE MOST BADASS
In a cast full of amazing women including her bosses, one of whom was Alicia Florrick (Julianna Margulies), Kalinda takes the badass prize every time.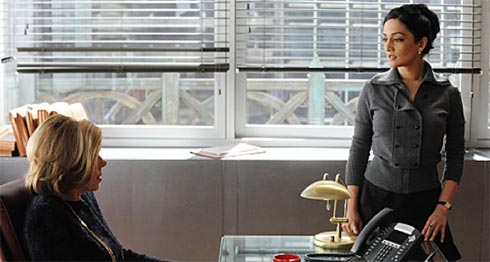 Kalinda can out-badass her other badass boss, Diane Lockhart (Christine Baranski).
Kalinda can find any answer, solve any problem, crack any case in the service of her lawyer bosses. She is brilliant at badass.
And then there's her badass wardrobe. The leather, the boots. Kalinda Sharma in leather is the iconic badass look. Before Bo (Anna Silk) took leather to sexy heights in Lost Girl, there was Kalinda looking professionally dangerous in leather. Kalinda could stand beside Alicia or Diane in their couture suits and dresses and look like she belonged in an office. She belonged in the office, but she was different: sexier, more dangerous, mysterious. Archie Panjabi owned that leather with her posture, her attitude, her dark-eyed stare.
The Send Off
Creators Michelle King and Robert King have written brilliantly on The Good Wife with an array of complicated characters and pointed plots. I'm hoping they've figured out a fantastic way for us to say goodbye to Kalinda – a way that makes us happy she's leaving and lets the cast give her a lot of love along the way. I hope she has a show or two to take the lead, drive the plot, and finally take her leave for a logical reason.
Lately the names Mulder and Scully have been in the news. Nobody has to explain those names. Everyone knows them. We know who Buffy Summers is. We know who Bette Porter is. We know who Thelma and Louise are. Through some magic of writing and casting, some characters become icons. Archie Panjabi created Kalinda Sharma with such power that she's reached iconic. Kalinda Sharma is loved by many, and valued by many as a symbol. Kalinda Sharma will not be forgotten.
Many thanks to Michelle and Robert King for writing her to be the badass we love, and many millions of thanks to Archie Panjabi for bringing her to life as an unforgettable character.
She will be missed.