Anything's Possible is Billy Porter's first directing gig. The film is a mostly upbeat teen romance between a trans girl and the boy who likes her. Not everything is perfect, there are issues, but they are presented in an understanding and trans positive way.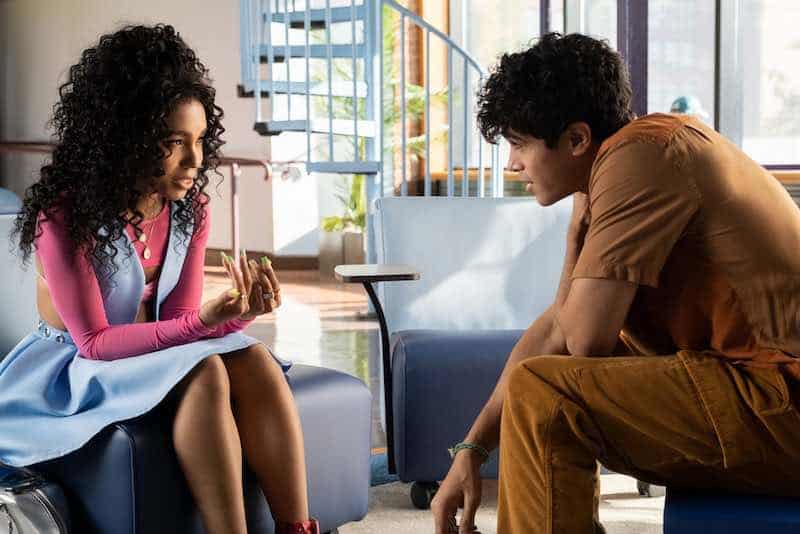 Kelsa (Eva Reign) and Khal (Abubakr Ali) are the couple in question. They are seniors in high school. Khal likes Kelsa. To him she's just a girl he likes, not a trans girl he likes. He accepts who she is and likes who she is.
Kelsa has a lot of supporters. Her mom (Renée Elise Goldsberry) is her biggest fan. When Kelsa's mom found out she had a YouTube channel where she talked about her transition, mom insisted she take it down. This conflict between mother and daughter caused a controversy among the filmmakers when they were making it – here's an interview about it.
Kelsa has two good friends, Em (Courtnee Carter) and Chris (Kelly Lamor Wilson). Khal's friends are less understanding. Luckily his mother (Miriam Laube) is supportive.
I thought the movie was a bit uneven and some of the actors were shouting their lines rather than sounding natural. But overall it worked in terms of what it was trying to say about trans people. There were colorful costumes and a big Bollywood style dance number at the end, but substantive material got worked into the story. The message was undeniably positive.
We need more stories like this: ordinary kids thinking about college, first loves, and high school drama when the ordinary kids are trans. With the brilliant Heartstopper out earlier this year, it's been a big year for trans teen romance. Give us more. Representation matters!
Anything's Possible is streaming on Prime Video.