Season 2 of the Danish hit series Dicte finally made its way to American Netflix. It was a very long wait. Dicte demanded binge watching and I complied. Here's my take on season 2. There are some spoilers ahead.
Based on novels by Danish author Elsebeth Egholm, Dicte stars Iben Hjejle as Dicte Svendsen, a divorced single mother and crime reporter for the Aarhus newspaper.
There are 10 episodes in season 2, with each individual mystery getting two episodes to tell its story. This makes the crimes, clues and cases more complex and more interesting. If you enjoyed season 1, you are going to love season 2. I think it is even better than the first season.
What Stayed the Same from Season 1?
The first thing we see is Dicte and Bo (Dar Salim) having sex. That's how we learn these two are still on. The fits and starts of their relationship carry us through all of season 2. They struggle to figure out how to fit together when Dicte can be a lot like a porcupine at times.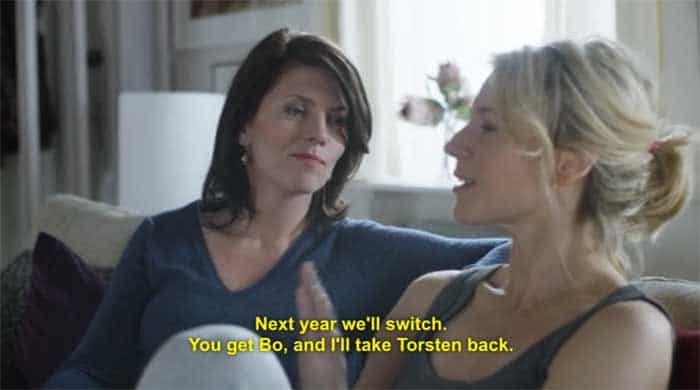 Anne (Lærke Winther Andersen) is still Dicte's best friend, although she is now dating Dicte's ex-husband Torsten (Lars Ranthe). Awkward.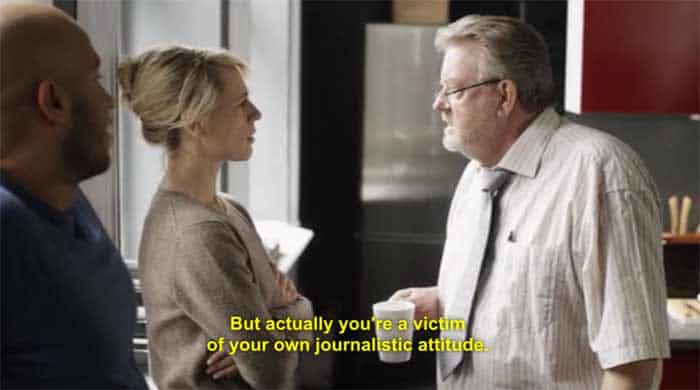 Dicte and Bo still work for Otto Kaiser (Peter Schrøder), the beleaguered, ill-tempered head of a dying newspaper.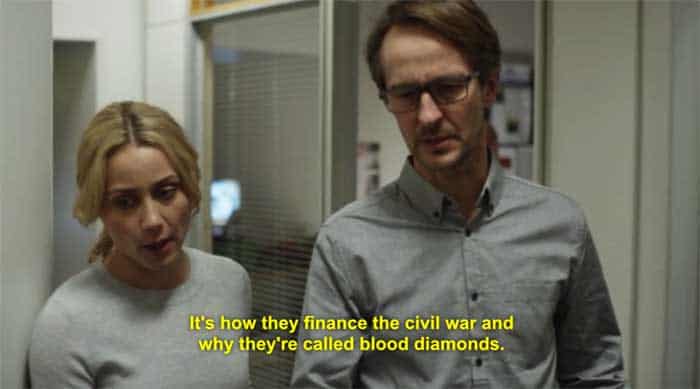 Bendtsen (Ditte Ylva Olsen) and Wagner (Lars Brygmann) still run the homicide department and work either for or against Dicte's efforts to beat everyone else to the solution to every crime and get a scoop for her newspaper.
As you know, the acting in season 1 was outstanding. It continues to be in season 2, particularly from Iben Hjejle who is brilliant in this part.
What's Changed in Season 2?
The opening credits have a very different feel to them in season 2 and it reflects in the pace and photography of the entire season. Season 2 has a slicker feel to it.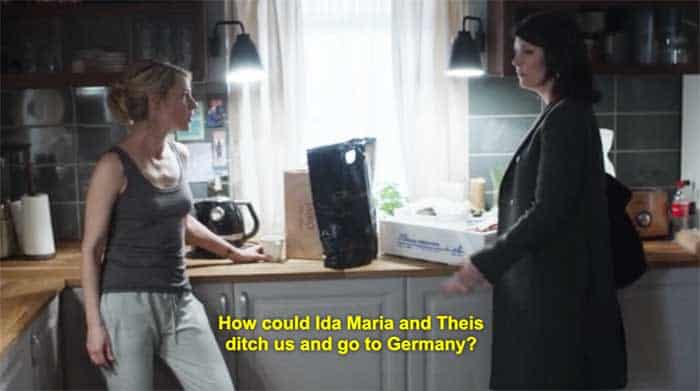 Ida Marie is gone. Even though season 1 ended with her wanting to divorce her husband and hook up with John Wagner, she is now off to Germany with her husband. Go figure.
Dicte's daughter Rose (Emilie Kruse) is now dating a famous football player named Jannik, played by Morten Vang Simonsen. Rita fans will recognize Simonsen, as he played Rita's eldest son in that series.
Dicte's relationship with her daughter Rose gets a lot of attention in season 2. There are many arguments and Dicte does not always get the things she so stubbornly wants.
Dicte's son is gone. Evaporated into thin air apparently. He is almost mentioned once when Dicte is talking to her father, who spends most of the season in a hospital bed.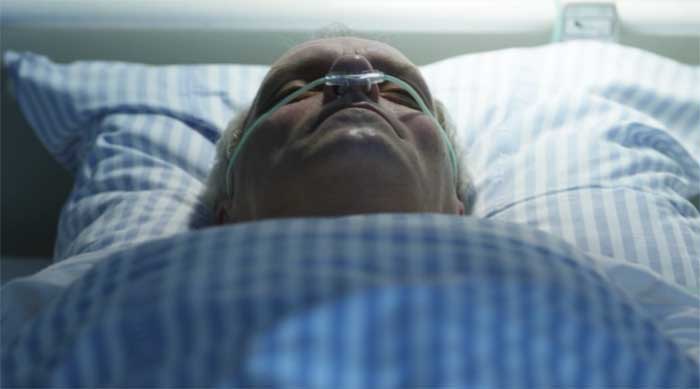 The season begins with Dicte's father (Rasmus Haxen) sending her a message that he wanted to talk with her and that it was important. Since Dicte has been estranged from her Jehovah's Witness parents for 20 years, this is a big moment. Unfortunately, he is hit by a car just as he is crossing a street to speak to Dicte. His time in a coma and in the hospital carry through many episodes.
Dicte's father dies before he gets a chance to tell her whatever was so important. We don't learn what his message was until the final episode of the season. It's a shocker. I won't tell you where he dies, but it's a special moment that will resonate with you. His death and Dicte's conflicts with her daughter Rose lead to a reconciliation of sorts with Dicte's mother (Ida Dwinger).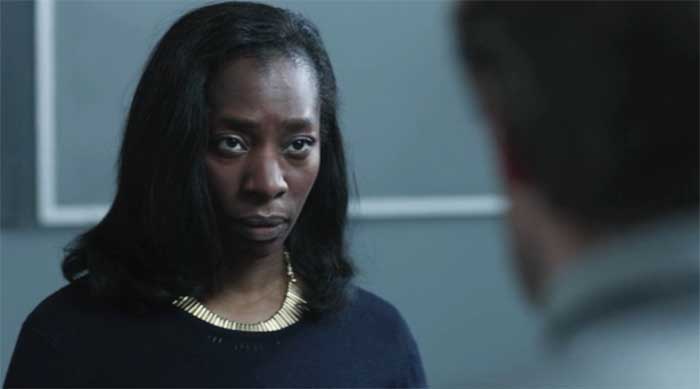 A new cast member, Grace (Tanya Moodie) joins the series. She was involved in a crime and was the driver of the car that hit Dicte's father. At first, Grace is a dignified woman, almost majestic in bearing, and I was completely taken with her. So was Wagner. After she was meant to be expelled from the country for the hit and run, he took her into his home illegally. Wagner and Grace carried out a rather awkward relationship that ended very badly for them both.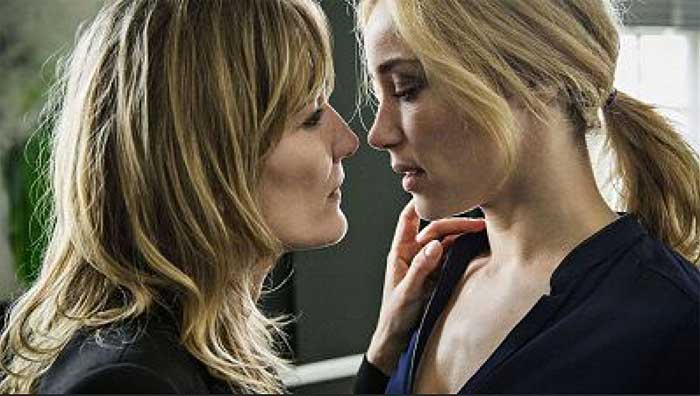 The lesbian in the cast gets a bit of action. Police commissioner Louise Holm (Andrea Vagn Jensen) is the head of the department Wagner and Bendtsen work in. Wagner continues his daily questioning of Bendtsen about her sexual adventures, as he did in season 1. After lots of hinting around about Bendtsen being involved with a married woman, we learn that it's Holm. Oh, oh. That has disaster written all over it.
One of the few laugh out loud things in this series is that Wagner thinks Holm keeps coming around because she likes him. Ehn – not so much, John.
The Crimes
This is a crime series, after all. The crimes involve diamond smuggling, a couple of murders, an abused and missing child, and hooliganism and game fixing in soccer. In the solving of these crimes, Wagner, Bendtsen and Dicte visit some of the seamier parts of town and talk to prostitutes, sex workers, gardeners, soccer stars, crime bosses, pimps, bad mothers, bookies and even a few law abiding citizens. Diamond smuggling is the crime Grace was involved in. Bits and pieces of that story carry through the entire season until Wagner gets into big trouble himself.
In season 1, Dicte was usually a couple of steps ahead of the police, but in season 2 they are more cooperative. Whoever learns something or finds a new lead first may be inclined to share it with the other. Dicte is free to do some things that police officers are not – and she will. She will do anything in pursuit of a story.
The crimes are well-plotted and take a lot of digging to solve. In season 1, many of the crimes were somehow connected to Dicte's past, but it season 2 we move beyond that. She is not so personally involved in any of the crimes, except the one with a missing 12 year-old. Her involvement in that one is present tense, because the child was with her daughter when she disappeared.
About half of the episodes were written by women writers. Although there was a female director for several episodes of season 1, there was no female director in season 2.
Here's my review of season 1.
Big News
Great news for fans of this Danish mystery series and its complex, well-written lead character. There will be a 3rd season, according to public broadcaster TV 2 Denmark. Season 3 began filming in October 2015 and will have 10 episodes. Joining the cast will be Danish stars Søren Malling and Stine Stengade. Let's hope Netflix US picks up season 3 faster than it did season 2.