I've been noticing a lot of what you might call grace notes in Gentleman Jack. Minor characters, casting choices, reasons to break the 4th wall. There are a few spoilers from episode 2 ahead.
Anne Lister (Suranne Jones) is busy waging a very smart and effective courtship of her rich and lovely neighbor Ann Walker (Sophie Rundle). Miss Walker is smitten, but she hasn't quite evolved into realizing or understanding that her attraction might have a sexual component. Anne Lister knows how to make that evolution happen.
While that's the main focus of episode 2, "I Just Went There to Study Anatomy," plenty more interesting things are going on.

At Shibden Hall
While Gentleman Jack is no Downton Abbey or Upstairs Downstairs, it's being written by Sally Wainwright with some attention to the minor characters in the Shibden Hall household.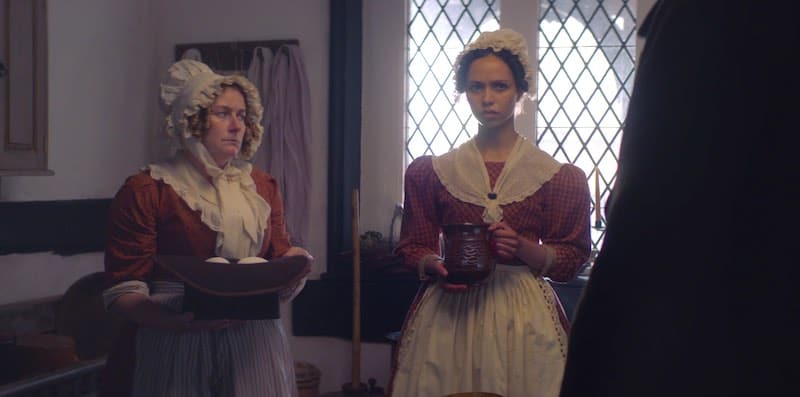 Elizabeth (Rosie Cavaliero) was drawn as rather judgemental of Anne Lister's lifestyle in episode 1. In episode 2, we see that she's rather too gossipy about Eugénie (Albane Courtois), the pregnant French ladies maid Miss Lister brought into the house.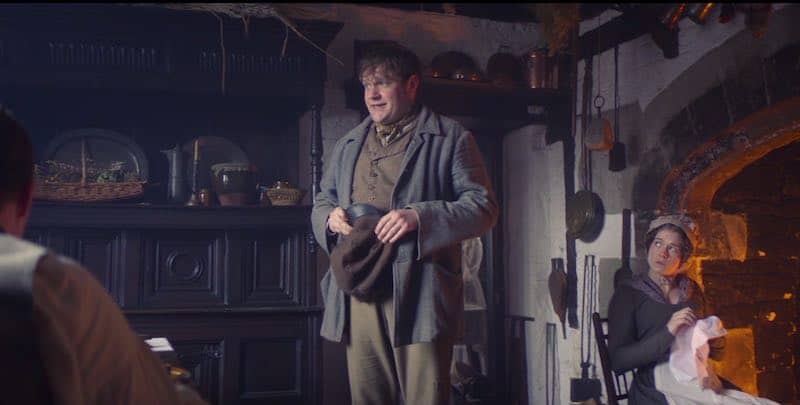 However, another household worker, John (Thomas Howes) is ready to marry Eugénie and take on raising her child.
His feelings for Eugénie might be love. Or it might be the three motherless daughters he already has at home. I'm looking forward to learning what Eugénie thinks about his plans.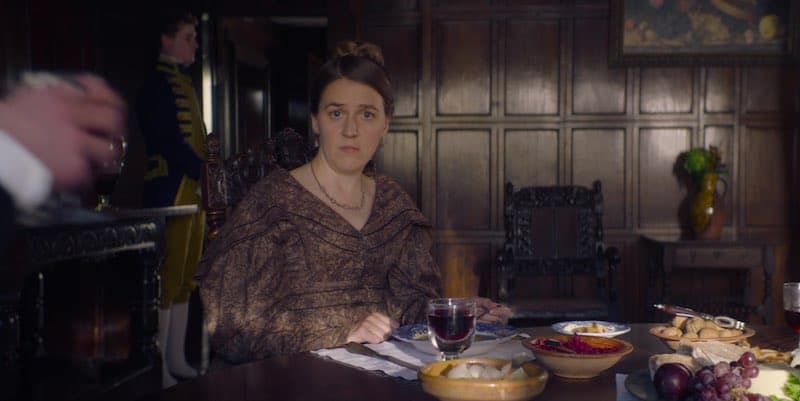 Gemma Whelan as Marian Lister got the funniest moment in episode 2, when she broke the 4th wall with an eyerolling "can you believe this BS" look at the camera. Her sister Anne was regaling the family with her plans to renovate Shibden Hall at that moment.
There's an occasional break in the 4th wall from Anne, as she keeps the viewers in on her exploits to woo Ann Walker. They show Anne Lister's supreme self-confidence and self-acceptance in a way that adds to the sense that you're part of the secrets revealed only in her diaries.
Digging Coal
Miriam was more impressed with her sister's plans when she saw her negotiating a price for the Lister coal with Jeremiah Rawson (Shaun Dooley). Anne blinded him with math. Jeremiah and his brother Christopher (Vincent Franklin) are sure they can outsmart Anne Lister in business. Ha!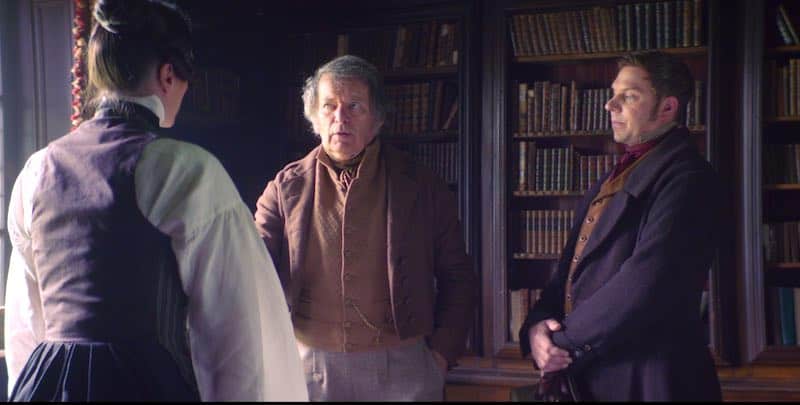 George Costigan and Joe Armstrong play advisors to Anne about coal mining. They know how much it costs and what is to be gained. Both think the Rawsons are stealing coal from her.
Gathering Background Info
As part of her campaign to learn all about Ann Walker in order to woo her into marriage, Anne goes to visit with Ann's aunt Eliza Priestley (Amelia Bullmore). Anne eats figs with finger licking enthusiasm as Eliza explains Miss Walker's financial naïveté and nonexistent physical "disability."
Discarding the Past
Anne Lister's previous love affair was with Vere (Jodhi May). Vere took the heartbreaking step of marrying a man in episode 2. This gave Anne some moments to realize it was time to move on and forget the past. Forget Vere! Miss Walker is ripe for the picking!
Being in Sally Wainwright's Top 5 (or maybe 10)
I'm sure you realize many of these actors have worked with writer and director Sally Wainwright before. For Gentleman Jack, her most important choice after Suranne Jones was Happy Valley's Sophie Rundle. She is so nuanced in opening up to Anne Lister's attentions. She's subtle yet transparent. She's excited by what she's feeling, but she's ignorant of what it is.
It's a lovely seduction, and the two actresses involved are doing a superb job with it. The camera closes in on them to frame eyes, lips, smiles, the tiniest twitch of an eyebrow. It's intimate and telling.
To summarize, I'm as enchanted by the small details of Gentleman Jack as I am by the overarching narrative about Anne Lister.