Fear The Walking Dead is a 9 episode prequel to The Walking Dead and currently showing on AMC prior to the opening of the new season of The Walking Dead. So far, there have been two episodes.
This series is set in Los Angeles at the beginning of the zombie apocalypse we've seen so much of in The Walking Dead. In Fear The Walking Dead people are just starting to think something big is happening. Only a few of them realize that the social order that they rely on is about to collapse, but some of them are getting a hint and starting to take measures.
We in the audience are in the know. We know what people should be doing but aren't. It's tense and nerve wracking because the audience knows what's coming the but characters don't.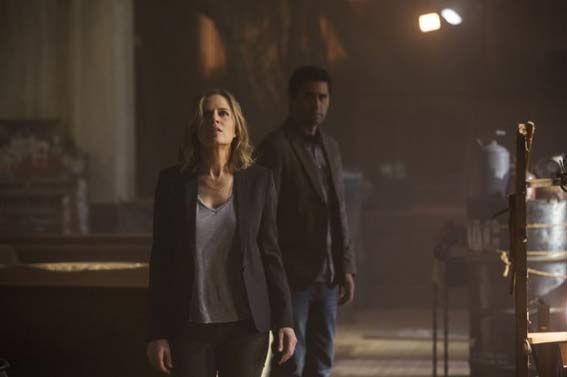 We are taken into the story with Madison Clark (Kim Dickens) and Travis Manawa (Cliff Curtis), educators on their way to work in a large high school. Madison has a teenaged daughter Alicia (Alycia Debnam-Carey) who goes to her high school. Madison also has a drug-addicted son Nick (Frank Dillane) who is one of the first to see and attempt to kill a zombie when he wakes up in an old church that drug addicts have taken over.
Kim Dickens' performance in the first episode as the parent of a drug-riddled child was so moving, I wanted to whole series to be about that.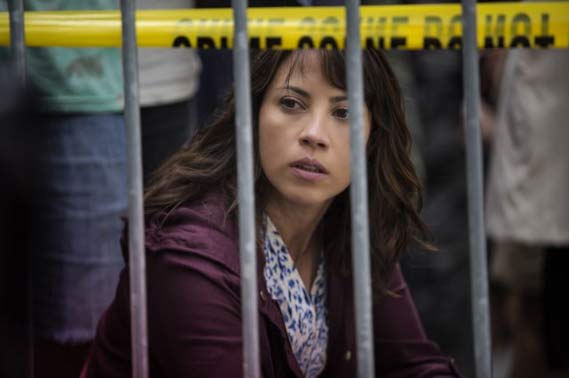 Travis has a son Chris (Lorenzo James Henrie) and an ex Liza (Elizabeth Rodriguez). This blended family group takes us through the first two episodes. In the beginning, their world consists of worry over work, Nick, and visitation arguments over Chris.
One of Madison's students, Tobias (Lincoln A. Castellanos) gets it. He tries to tell her that she needs to gather food and take action to protect herself because the world is about to change completely. She should have taken him with her and her family, because he is the smartest one around, but she doesn't.
By episode 2, Travis and Madison are getting the idea that something strange is happening. They want to get out of LA and head into the dessert. Several factors delay them. Nick is going through withdrawal and Madison has to find him some drugs.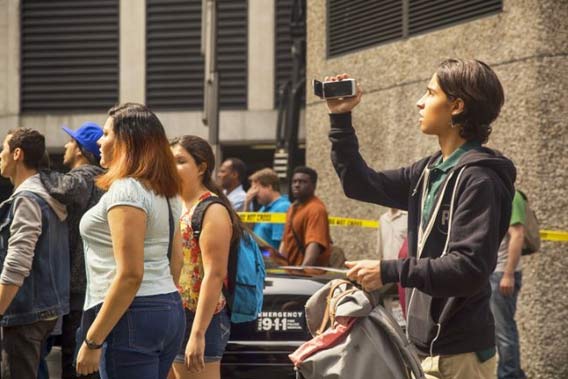 Chris is filming at a huge protest, which the protesters think is about police brutality. Chris thinks all is normal. Travis and Liza go in search of him. The protest turns into chaos and a riot when the police arrive en masse and zombies stagger into the scene.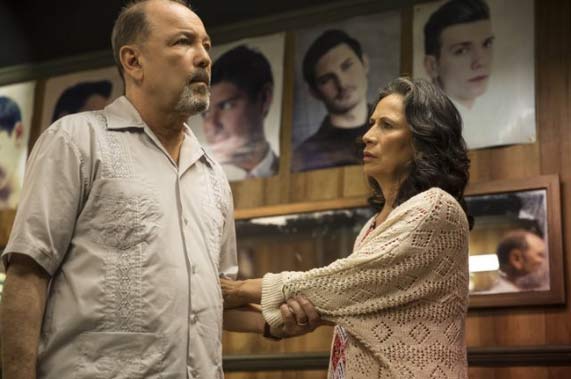 Travis, Liza and Chris manage to find refuge in a barber shop, just as the owner Daniel Salazar (Rubén Blades) is boarding up against the riot outside. His wife Grizelda (Patricia Reyes Spíndola) spends her time praying. The Salazars also have a grown daughter played by Mercedes Mason. It was hard to tell much about her yet but she looks like her health might be delicate.
This core group of characters, minus the much needed sage Tobias, will take us through the next episodes.
Fear The Walking Dead is less violent and grisly than what we've grown used to with The Walking Dead. It may turn violent, but after two episodes, the characters have the barest glimpse of the chaos that is in store for them. The characters are varied and compelling, each for their own reasons. The acting is excellent.
The large cast of characters promise all sorts of responses to the collapse of world order that is coming. It should make for interesting action in the next 7 episodes as we see them put to the test.
If you are a fan of The Walking Dead, I'm sure you are already watching this. What do you think of it so far?
Images © AMC Film Holdings LLC