What Maisie Knew is based on the Henry James novel of 1897. It stars Julianne Moore and Steve Coogan as Maisie's horrifyingly bad parents. Maisie is played by Onata Aprile.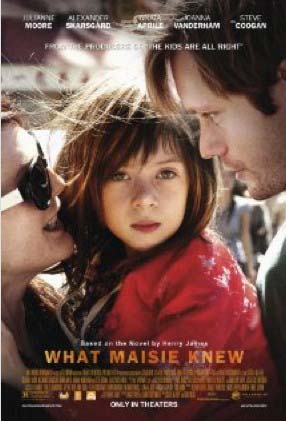 Alexander Skarsgård and Joanna Vanderham are also in the film. After Maisie's parents divorce, her father marries the former nanny (Joanna Vanderham). Her mother marries a convenient bartender (Alexander Skarsgård) and these two surrogate parents are left largely in charge of the neglected and forgotten Maisie.
Moore and Coogan do not sugar coat their performances as the unlikeable adults. They are as selfish and unfit as two people could possible be to fill their roles as parents.
Like the book, the film is told from Maisie's point of view. Onata Aprile is remarkable as Maisie. She's  natural and real, completely childlike rather than actory. It's hard to remember she's performing – saying lines, taking direction. She absolutely makes the film work. It breaks our hearts as we watch her trying to survive in her often awful situation.
Like all neglected children, Maisie loves her parents. But when she's with Margo, daddy's new wife, or Lincoln, mommie's new husband, Maisie recognizes that this is the way it's supposed to be. Lincoln bumbles his way into child care – he doesn't even know that you should hold a child's hand when you cross a Manhattan street. But he does naturally all the things her mother does not do. He listens to her, he plays with her, he makes sure she has something to eat.
If a film about something so depressing can be called beautiful, this is a beautiful film. The performances are outstanding, the way the camera follows Maisie and lives in her world is brilliant. The ending is emotionally satisfying even though it is unrealistic to expect Maisie's situation to be wrapped up in a red bow for any length of time.
The film was released on DVD in May 2013 and is available on most streaming services now.