Shirley is about Shirley Jackson and the year in her life when she wrote Hangsaman (1951). It paints her writing life as a Gothic tale of horror and madness similar to the novels and short stories she produced. Writing fiction is indeed a kind of madness as imagination takes over the writer's waking life. In this Shirley Jackson story, that statement is taken literally.
Shirley stars Elisabeth Moss as the famous writer. This is another role that places Moss firmly among the best actresses in America – a spot she could already claim without the need of more outstanding work. Frumpy in 50s housedresses, with wild hair and an intense gaze, Moss is brilliant.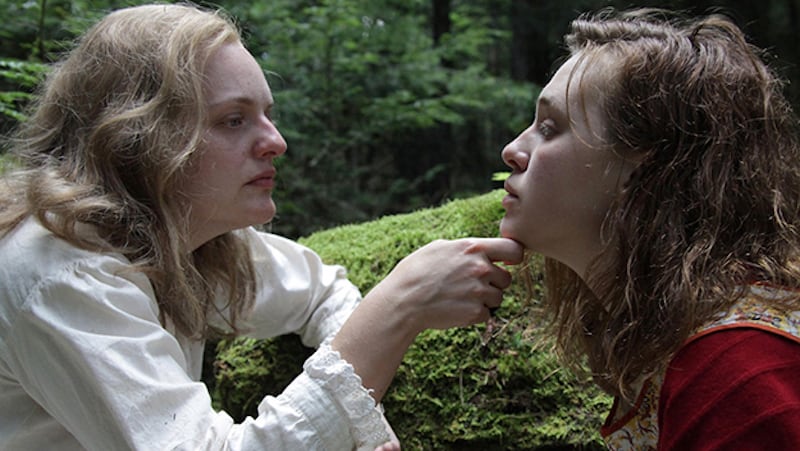 Odessa Young as the pregnant faculty wife Rose becomes servant girl, muse, and companion to the author who struggles for inspiration. Odessa Young stands up admirably under the blue-eyed glare of Elisabeth Moss as they portray a complex dance of reality and fantasy.
The plot is a hard-to-follow mix of fact and imagination. It begins when Fred (Logan Lerman) and Rose arrive at Bennington College. Fred will assist Shirley's professor husband Stanley (Michael Stuhlbarg) in the classroom. Stanley quickly invites them to stay in their home. He makes it clear that Rose will be doing the housework and cooking in exchange for room and board.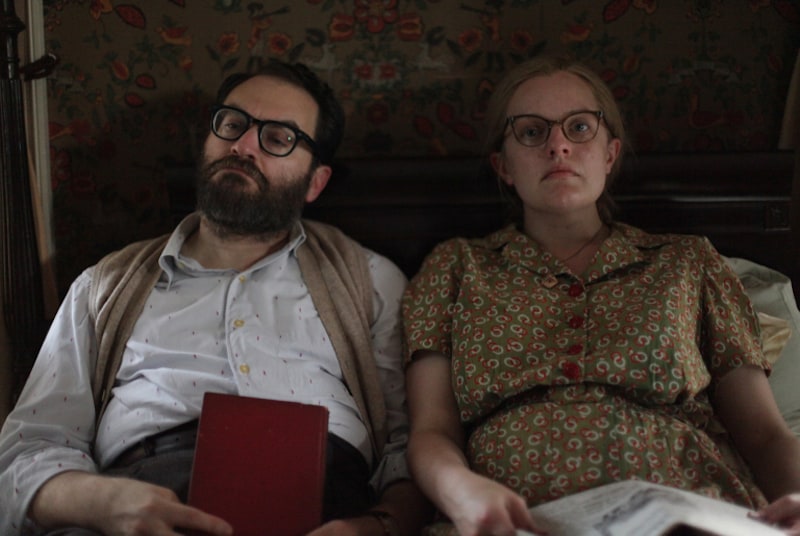 Shirley and Stanley are not nice people. Some of the things they do are horrible and unkind. She's agoraphobic (when she wants to be), depressed, and prone to inappropriate, irascible remarks. She uses people and discards them without a pang afterwards.
Jackson begins writing a novel about a real woman named Paula who disappeared at Bennington College. Jackson may be an unlikable person, but she does understand the plight of women in the 1950s.
Odessa Young plays both a real woman, living and pregnant, and a stylized, sexualized, mad representation of the missing Paula. Sometimes it's hard to tell if Rose is real or imagined as Jackson frantically types away at her book.
The film is directed by Josephine Decker, with a screenplay by Sarah Cubbins based on a novel by Susan Scarf Merrell. Decker has a way of using the camera to peer at things through cracks or against blurry backgrounds. She's fond of intimate closeups. She makes everything feel creepy and the people not quite right.
The film is slow and languid. It strolls. Yet as the end nears there's a sense of anticipation and eagerness. It's not brought on by movement on the screen; it comes from the propulsion of Jackson coming to the end of her writing project.
I found the film interesting and worth watching, but I think there will be people who feel put off by the slow movement and the confusing plot mix of reality and fantasy. In other words, your mileage may vary.
Here's the trailer. Shirley is streaming on Hulu and a couple of other streamers.
What do you think, Shirley Jackson fans? Are you going to give this one a try? I'd love to hear what you thought of it, if you've seen it.