I'll say it right off the mark: I didn't think season 2 of The Handmaid's Tale was as strong as season 1. I'm not sure I can pinpoint why, but I'll offer several theories as to why anyway. You can join in with a comment if you think you have a better sense of why. This review is fairly spoiler free.
Season 2 of The Handmaid's Tale remains strong, powerful, terrifying, and dark. The actors still gave their personal best, which is exceptionally good across the entire cast. Yvonne Strahovski in particular was just killing it this season.
So what went wrong? That's not the right question. Nothing was actually wrong. Why did I find season 2 to be less than season 1? That's a better question.
Here are a few ideas. I binge watched season 1 after getting access to Hulu when season 1 was over. For season 2, I watched week by week. Less powerful.
The political situation in the United States is too close to the dystopian "future" imagined by The Handmaid's Tale. It's hard to watch something you see happening in the real world all around you every day. It's not some imaginary person's freedom being taken away daily in our real world. It's our freedom!
Season 2 was all over the place. In season 2, we weren't inside Offred/June's (Elisabeth Moss) head so much. There were multiple points of entry. The various storylines were connected, of course, but they didn't feel as tightly strung together as they had been.
There were flashes of hope, often followed by something horrific. Early in the season, Offred/June escapes from the Waterford's house with Nick's (Max Minghella) help. She spends two months living alone in the deserted Boston Globe newspaper building. Reality check: 'fake' news organizations are maligned daily by the POTUS. Naturally the first thing to happen in Gilead would be the closing of newspapers.
On the other hand, wandering alone in the huge building, Elisabeth Moss gave some of her most moving performances of the whole season. Especially when she built a shrine for all the people whose personal bits – photos, toys, just stuff – were suddenly left behind.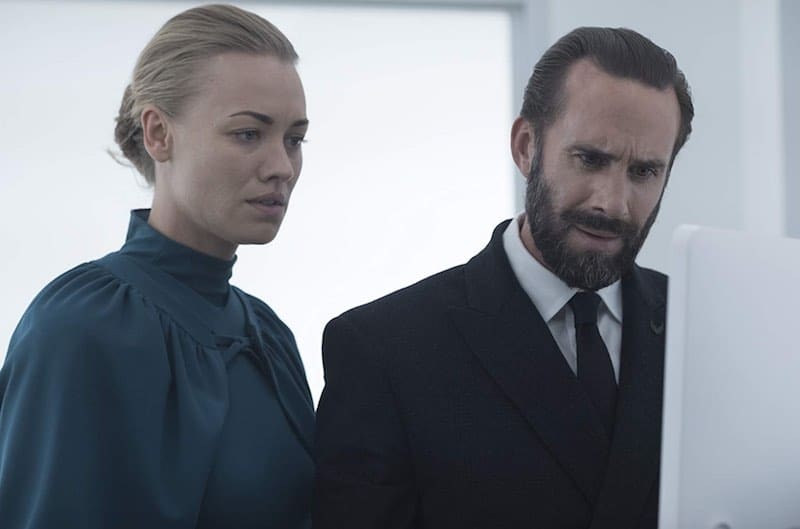 When the pregnant Offred/June is caught and returned to the Waterford's house, Serena Joy (Yvonne Strahovski) grows progressively meaner about everything and mad as hell that she has to cater to Ofglen and her pregnancy. Fred (Joseph Fiennes) joins the patriarchy in every way this season. He slaps his wife around, hits Offred, and becomes one of the most evil of men.
Fred'll do something horrible like rape an 8 1/2 month pregnant Offred while she screams for help in Serena's arms. Then he'll arrange for Offred to see her daughter Hannah (Jordana Blake). Typical abuser. And Serena is no better.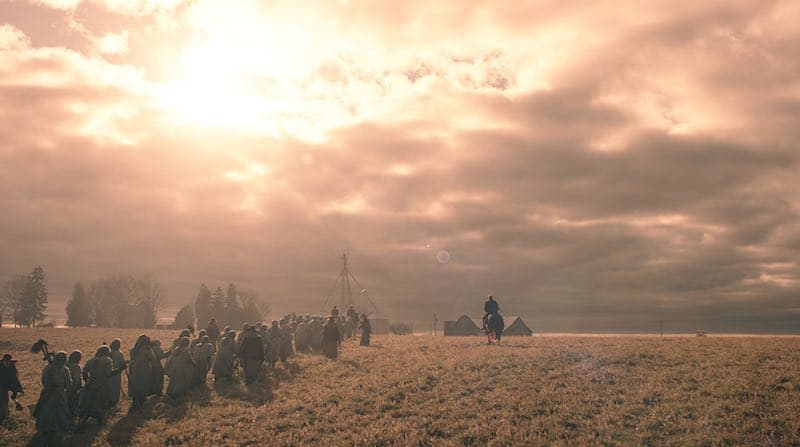 In episode 2.2, "Unwomen," we go to the colonies with Emily (Alexis Bledel). The colonies is a slag heap of radioactive waste the women dig through day after day with no protective clothing. They die after a short stay. I didn't understand why still fertile handmaids were sent here, but Emily was a rebellious problem. When one of the Wives (Marisa Tomei) showed up, Emily poisoned her.
And you know what they say, once you get a taste of blood  . . .
While in the colonies, we see flashbacks of Emily and her wife (Clea DuVall) and son as they tried to escape to Canada. Her wife and son made it out, Emily did not. Later, Emily is returned to Gilead to serve as a handmaid for the unusual commander played by Bradley Whitford. He was a surprising character.
Another place we spend time in season 2 is "Little America" in Canada. There Moira (Samira Wiley), June's husband Luke (O-T Fagbenle) and many other refugees from Gilead are given sanctuary. We see some of Luke and Moira's current life, and we see them often in flashbacks during various episodes.
Commander and Mrs. Waterford go to Canada on a state visit. They are not particularly welcome there. Nick meets Luke and takes home the news to Offred/June that her husband is alive. They also see Moira, so June knows her best friend also made it out.
Aunt Lydia (Ann Dowd) takes care of Offred/June during her pregnancy. When the baby is born, June is alone in very unusual circumstances. During this lonely ordeal, we see many flashbacks of June with her mother  (Cherry Jones) and flashbacks to the birth of June and Luke's baby Hannah.
When Offred/June gets back to the Waterford's with the baby girl, Serena puts Offred out of the house immediately. Because of various nursing issues she's brought back later.
Offred and Serena both love the baby girl. Both are willing to do anything – anything – to see that she has the best opportunity for a good life. By the end of the season, Serena begins to realize that Gilead isn't the best place for either little girls or grown women.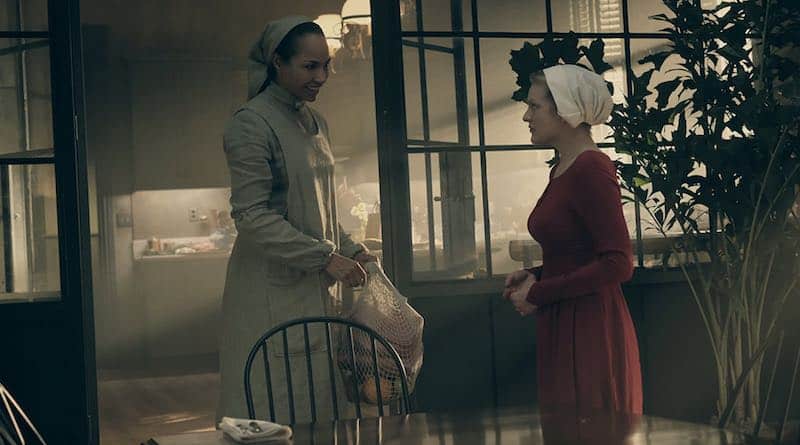 Amanda Brugel as the Waterford's Rita never had enough lines or enough personality to suit me. Near the end of this season, she finally gets to do more. The 'more' is a big deal, too. The 'more' is going to be a huge element in season 3.
There's some hope at the end of season 2. Some of the characters manage to escape. Offred/June might have escaped but she decided to stay and fight. Of course, she had to choose to stay and fight or there would have been no lead character for the coming season. Is that too technical a comment?
June spends most of season 2 seething with rage. Elisabeth Moss is so good at expressing emotion with just a silent look – rage, gloating, victory, defeat, fear, love – she's brilliant at it. It's a good thing, because much of the time the camera is about 6 inches from her face.
The other women feel the rage too. Even Serena and some of the wives feel it. Whatever happens in season 3, it will be the women burning down the house.
Women directors in season 2 were Kari Skogland with 5 episodes and Daina Reid with 2. That's 7 out of 13 episodes, so over half. Bruce Miller created the series and did much of the writing. However there are many women in the list of writers.
For many reasons, I'm not as driven by excited praise for season 2 as I was for season 1. But The Handmaid's Tale is still powerful and important television. I'll be watching for season 3.
What did you think of season 2?
Emmy Nominations
The 2018 Emmy nominations came out this week. The Handmaid's Tale received nominations including Best Drama, Elisabeth Moss for Best Actress, Ann Dowd, Yvonne Strahovski, and Alexis Bledel are all up for Best Supporting Actress, Joseph Fiennes for Best Supporting Actor, Kelly Jenrette, Cherry Jones, and Samira Wiley all up for Guest Actress in a Drama, Kari Skogland is the only woman up for Best Director for the episode "After."
With three women from The Handmaid's Tale filling both the Best Supporting Actress and Guest Actress in a Drama categories plus Elisabeth Moss for Best Actress that makes 7 women from The Handmaid's Tale nominated for acting awards this season. That's pretty amazing.