The Spy Who Dumped Me was not perfect. Still, it has several things going for it: Mila Kunis and Kate McKinnon star. That's only two things. Okay, how about Susanna Fogel as director. That's several things.
The Spy Who Dumped Me is an action thriller spy chase mixed with a best friends relationship story between two women.
Mila Kunis as Audrey and Kate McKinnon as Morgan gave it their best shot as the best friends. They did the action sequences like pros, they looked scared and vulnerable on cue, they delivered the jokes beautifully.
In the beginning, Audrey is dumped via text message by her boyfriend of a year, Drew (Justin Theroux). She texts him back approximately 100 times to no avail. Finally Morgan grabs Audrey's phone and texts that she's going to burn all his stuff.
We see Drew in Europe, dodging bullets and running from an endless number of people who want to kill him. He phones Audrey and asks her not to burn his things. He says he'll see her the next day. She was just about to toss a small, cheap looking trophy in the fire, but she stopped. The trophy held something everybody wanted, but Audrey knew nothing about that.
Drew comes back, killers still chasing him. He gives Audrey the trophy and tells her to take it to Vienna and give it to someone at a cafe the next day. Bullets are flying through Audrey and Morgan's apartment as this conversation takes place.
Off the two friends go. They run all over Europe. They soon learn that Drew was a spy. Every other spy in Europe, including Sebastian (Sam Heughan) wants the trophy. Sebastian is super cute and he saves them a couple of times, so maybe he's a good guy. Hard to tell.
Morgan and Audrey hit all the famous spots in Europe carrying the flash drive they found inside the trophy. Don't ask where they carried it. They are in gunfights, car chases, explosions, warehouses, circuses, ball gowns – the works.
The experience taught Morgan and Audrey that they were good at this spy game stuff. Audrey was a good shot and drove like Mario Andretti. They had each other's backs.
In one scene Morgan was in a fight to the death with the Russian assassin Nadedja (Ivanna Sakhno). The fight took place on a flying trapeze. How's that for setting a new standard in action hero fight scenes?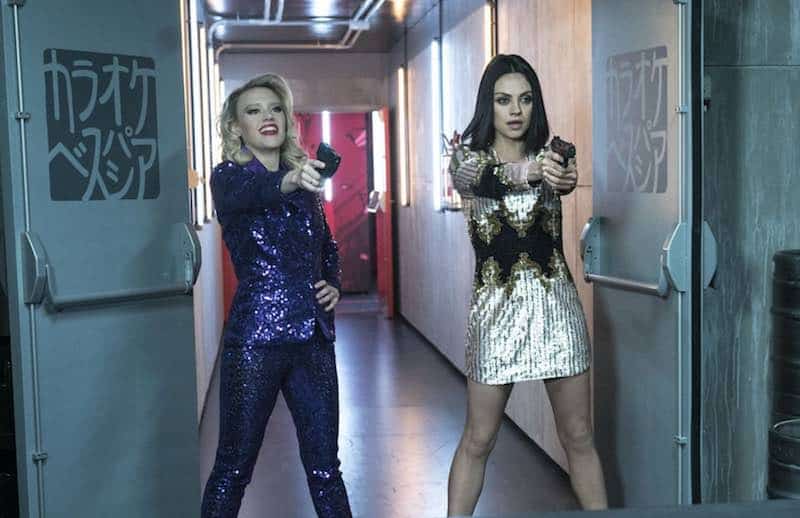 They went from bumbling comedians to full-on action heroes. They developed their mojo and their swagger. They decided to trust Sebastian. The best thing Sebastian did was take them to headquarters to meet his boss, Wendy (Gillian Anderson).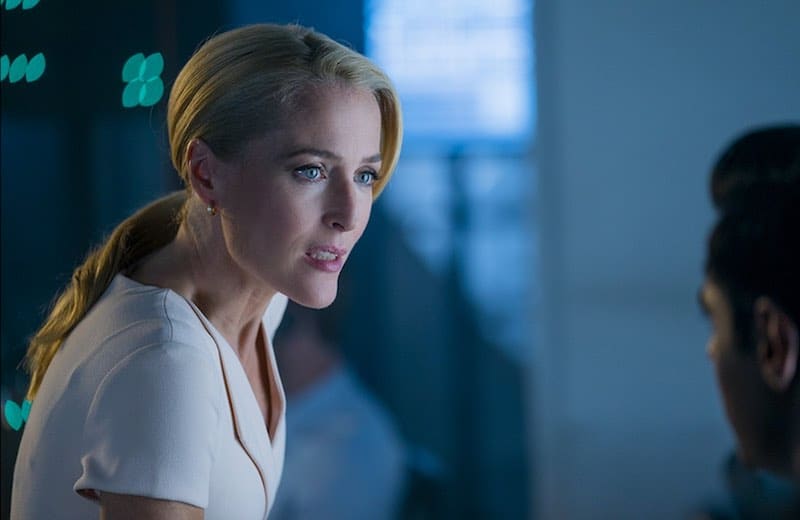 The reaction of Kate McKinnon to Gillian Anderson's arrival in the movie was worth the price of a ticket. It was perfection. It happened twice, so keep watching after the first time. I would pay triple the admission to see a movie with only Kate McKinnon and Gillian Anderson engaged in whatever flimsy plot you might imagine.
Men kept hitting on Morgan, who wasn't interested. One of them was Roger (Fred Melamed). The two women thought he was Morgan's father's friend and they were safe at his house. Until they found Morgan's father's friend dead in the bathtub.
Morgan's parents –she called them every single day – were played by Jane Curtin and Paul Reiser.
Spies kept hitting on Audrey, who may have developed some affection for Sebastion. It was clearly ladies' choice in The Spy Who Dumped Me once our heroines found their swagger.
The Spy Who Dumped Me was funny. Very funny. It was also violent. Many of the jokes were off-color. In summary, I would say it worked, but unevenly. It is definitely worth going to see.
What did you think of it?