Transparent took a trip to Israel in season 4. The Pfefferman clan continues to struggle with issues of identity, gender, sexuality, trauma, family, belonging, and home. Beware the spoilers.
The Plot
The season begins with a noisy Pfefferman gathering over dinner. Sarah (Amy Landecker), Josh (Jay Duplass) and Ali (Gaby Hoffmann) escape the noise on the roof. They take a magazine quiz designed to tell them if they are sex addicts. The quiz says yes.
The three of them attend a 12 step meeting for sex addicts. Two important turning points in the plot happen at the meeting. Josh hears another man say, "An erection is not consent." This speaks to him and his past abuse at the hands of his babysitter Rita (Brett Paesel).
Sarah notices a young woman named Lila (Alia Shawkat). She is mightily attracted to Lila. You always pick up a new love interest at a sex addicts meeting, right?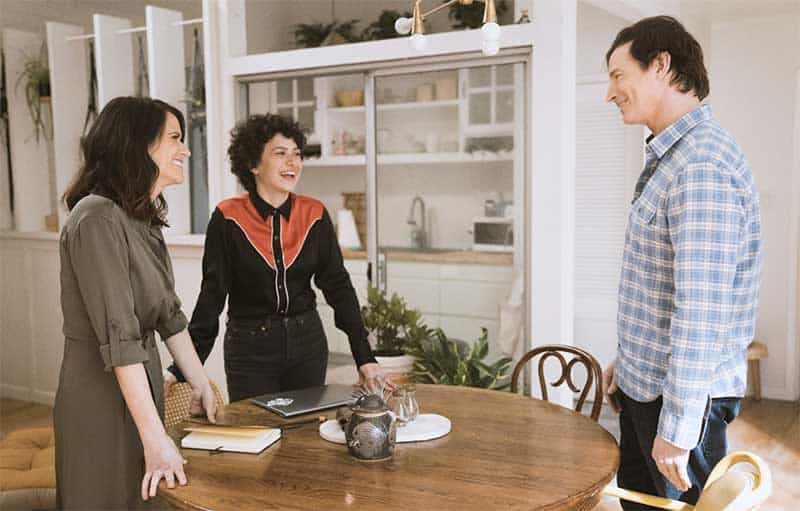 The problem is Sarah is kind of back together with her ex-husband Len (Rob Huebel). The solution is a series of noisy, sweaty, threesomes. Sarah's not asking to be whipped like she did last season, but she does ask Len to pull her hair during these threesomes.
With that season-long arc of sex addiction underway, Maura (Jeffrey Tambor) is invited to speak at a conference in Israel. Ali begs to go with her.
When they arrive, people sing a TV ad jingle to them about an air conditioning salesman named Pfefferman. It is Moshe Pfefferman (Jerry Adler). Moshe is Maura and sister Bryna's (Jenny O'Hara) supposedly long dead father. He wasn't dead, he was simply absent. Maura and Ali meet him.
As if meeting her father wasn't enough of a shock for Maura, she learns from him that Gittel (Hari Nef) was also transgender. This news settles over Maura like a warm cloak.
They send word home about Moshe and the whole family shows up: Bryna, the other 2 Pfefferman children, Len, and Shelly (Judith Light). Moshe welcomes them, introduces them to his 2 Israeli daughters, and charters a bus to take them all over Israel.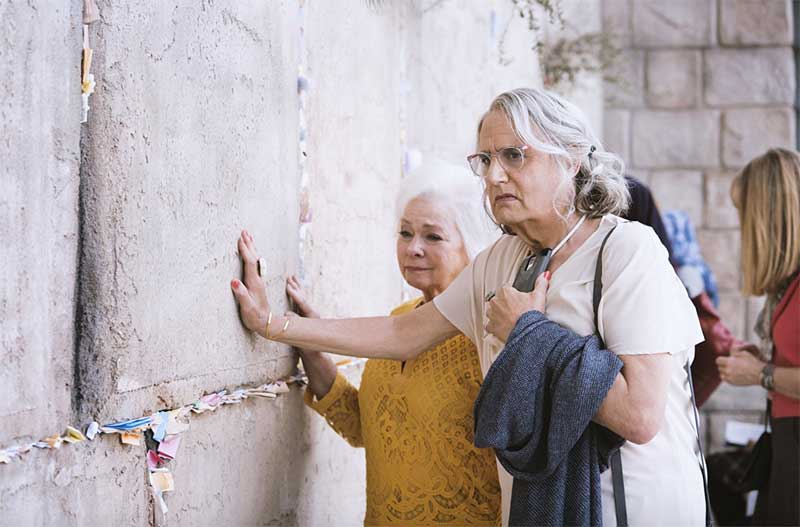 Jenny O'Hara doesn't get to do a lot in Transparent. Certainly not what she's capable of doing. But the expression on her face when she's about to meet her father is pure gold. Pure gold.
Maura, Bryna and Moshe don't really connect. They try, but they leave thinking they probably won't ever see each other again.
The Underlying Stories
For Maura, much of what happens in Israel is a conversation with her younger self. (Several apparitions have roles in this season, including Zoe Van Brunt as young Maura.) Maura seems more at peace with who she is. She's more settled about everything now, but she has some coming to terms with her past to do.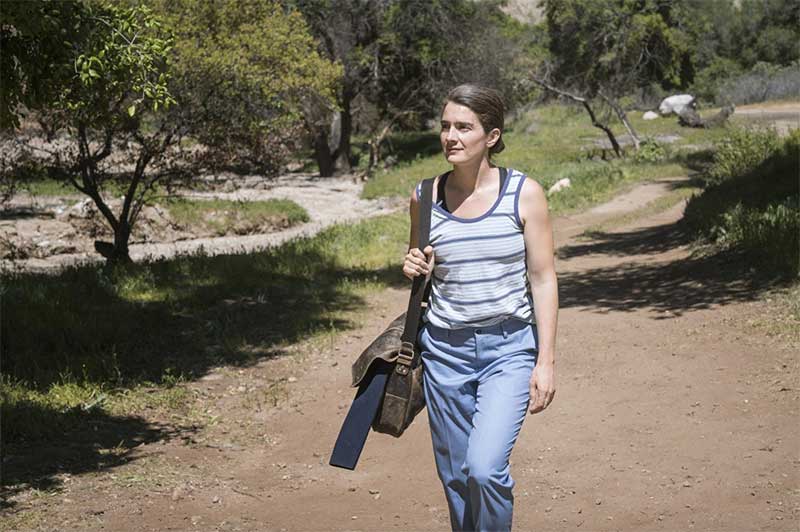 Ali feels strange in Israel. She's wearing masculine clothing, keeping her hair tied tightly back. When they are at the wailing wall, she goes to the men's side and puts on a yarmulke.
Ali meets Lyfe (Folake Olowofoyeku) and goes to a farm where Palestinians tell her about their cause. Ali falls for Lyfe, but when it comes to having sex with her, she's hesitant. Ali isn't feeling at home in her own body, but she doesn't know why. She spends most of season 4 with red rimmed eyes on the verge of tears and struggles to understand her own feelings. Ali also talks to an apparition, Dr. Gunderson (Paula Newsome), who isn't God but offers the godlike advice to build a shelter and sit still. Ali does. When everyone else goes back to the U.S., she's still sitting.
The rest of the family, while floating in the Dead Sea, decide that Ali's struggle means she is gender non binary and they will use they, them, and their pronouns for Ali henceforth.
Shelly channels her inner "Mario," a character she discovers in an improv class. Mario serves her well when she needs to be tough. Shelly's the only one tough enough to toss out the Airbnb guest taking up space in the house when they get home and Maura needs her house back. The most significant event for Shelly while in Israel is to finally tell her family she was molested by her music teacher.
Jeffrey Tambour may win the awards for Transparent, but Judith Light is magnificent in every scene.
Josh holds long conversations with the apparition of Rita as he comes to terms with the idea that an erection is not consent, and that he was indeed a victim. Of the three Pfefferman children who were knocked for a loop by Maura's transition and all the revelations following it, Josh is coming the closest to where he needs to be.
Maura is dating a man now, Donald (John Getz). He is introduced to the family when they return home from Israel.
Davina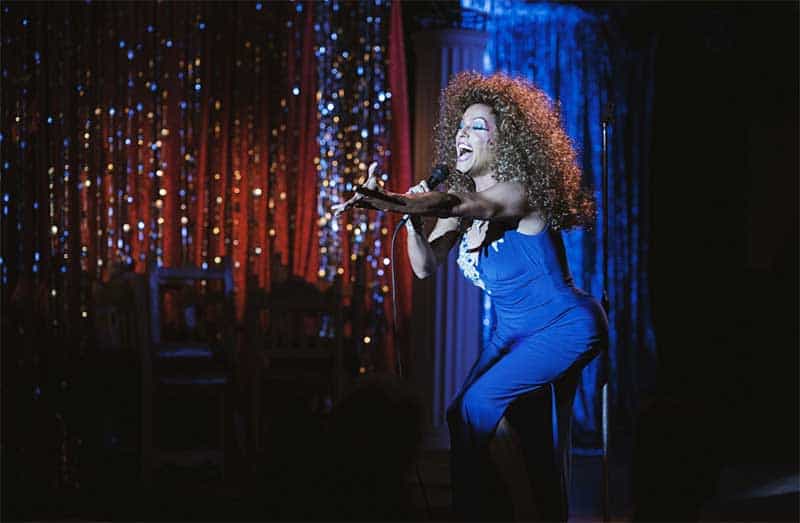 Maura's friend Davina (Alexandra Billings) has a big arc in this season of Transparent. It begins with her full nude, getting a back rub from her boyfriend (sorry, I've spaced out on his name). They talk about how her medication is destroying her kidneys. At first I thought they meant hormones, but later when the story explored Davina's past, it became clear the conversation was about HIV medications.
Davina and her fella fight and he kicks her out along with all Maura's belongings for good measure.
At the end of the season, Davina and Maura are living together in Maura's big Airbnb-guest-free house.
I thought it was daring of Alexandra Billings to do a nude scene. Alexandra Billings is a powerful role model and a leader among transgender actors. Her willingness to show it all is praiseworthy in this series about what it is to be transgender.
The Bothery Parts
A few things bothered me. I found it hard to accept Jerry Adler as Maura and Bryna's father. He's in his late 80s, but he looks younger than Jeffrey Tambor who is in his early 70s. Someone in their 90s would have made more sense to my logical monkey mind. I kept losing willing suspension of disbelief over the age difference. (I know, actors in their 90s are hard to find.)
It bothered me that things got too "arty." Shots of the water around Davina as she swam in the pool and discussed her past with her friends seemed odd. Close up images of sand, rocks, and cracked and dry earth in the desert felt forced and pushy.
The Pfefferman family knows no boundaries. Still, I would prefer to let Ali figure herself out for herself. If she is undergoing a gender issue and will identify as gender non binary or gender queer or gender fluid or any other label that requires they, them, and their pronouns, the decision should come from Ali. Since series creator Jill Soloway is in this place now, Ali will probably get there, too. But it didn't happen in season 4.
In almost every episode, one or another of the Pfefferman family sing "Everything's Alright" from Jesus Christ Superstar. I found that an odd song choice for a family of Jews in Israel. It carries a level of catchy joy, but it's so Christian.
The Last Word
There were several women directors in season 4, including Gaby Hoffmann. The new season is streaming now on Amazon Prime Video.
Here's the trailer.