Unbreakable Kimmy Schmidt season 2 has 13 short episodes of the same madcap buffoonery we saw in season 1. It does move the story along and show character growth and some hidden depths. You must dig through the comedy to find the message, however.
There are spoilers ahead.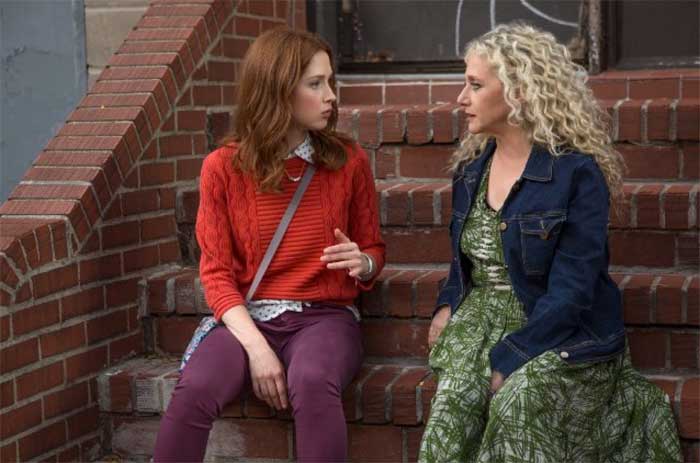 Kimmy (Ellie Kemper), Titus (Tituss Burgess), Lillian (Carol Kane) and Jacqueline (Jane Krakowski) still make up the main cast, as they did in season 1.
Noteworthy guest stars include Jon Hamm as the reverend who kidnapped Kimmy for 15 years, Ki Hong Lee as Kimmy's sort-of boyfriend Dong, Mike Carlsen as Titus' boyfriend Mikey, Tina Fey as Kimmy's therapist Andrea, Amy Sedaris as Jacqueline's friend Mimi, Suzan Perry as Dong's get-a-green-card wife Sonja, David Cross as the rich guy Russ, Anna Camp as rich bitch Dierdra, Jeff Goldblum as TV host Dr. Dave, Josh Charles as Russ' horrid brother Duke, and Lisa Kudrow as Kimmy's mother. Plus dozens more. There is no shortage of actors who want to be in a Tina Fey & Robert Carlock production, even for a few seconds.
Here are a few of the developments in season 2.
Kimmy exhibits PTSD symptoms and seeks help from a therapist. The therapist is always drunk but somehow offers good advice.
Kimmy tries to lose her virginity with Dong in an abandoned hotel, but hits him with an old dial telephone every time he tries to kiss her. I did mention PTSD, right?
Titus finds a boyfriend and wins a role on a cruise ship that would take him away from said boyfriend for 4 months. What to do?
Titus sings a lot, which is great because he has fantastic pipes. But this is Unbreakable Kimmy Schmidt so the lyrics to the songs are ridiculous.
Jacqueline wants to raise money to help right the injustices to her people – the Lakota Sioux – and squanders the $12 million she got in her divorce trying to do that. Even flat broke, humility eludes her.
Lillian doesn't like the yuppies invading the neighborhood and takes measures to try to keep them out.
Kimmy finds her mother (on Facebook, of course) and tracks her down to Universal Studios in Florida where she's trying to break her own record for the most rides on a roller coaster. Yes, mom's a coasterhead.
The humor is the basest slapstick, cornball, over the top zaniness as ever. But if you stick with it, under the goofy there is substance. As soon as you get close to that substance, something silly happens. Yet the substance manages to accumulate slowly and you see character growth and depth over the 13 episodes.
Kimmy gets stronger (even though she was already unbreakable) and understands some of her triggers. (Velcro! Beards! Helping!) Titus realizes how much his fear of failure has held him back in both love and a career and does his best to overcome. Jacqueline actually cares about someone and something other than herself. Lillian's protests against yuppification bring some new people into her life.
Here's my review of season 1.
Are you a fan of Unbreakable Kimmy Schmidt? What did you think of season 2?