Unhook the Stars is from 1996, and it's a gem. I completely recommend it to you.
The film features Gena Rowlands as Mildred, the widowed mother of two adult children and the neighbor of Monica (Marisa Tomei) and her son J.J. (Jake Lloyd). When the film begins, Mildred is a buttoned down suburban housewife with a well-ordered life in spite of her two imperfect offspring.
Monica is a mess. Her life is a mess, her marriage is a mess, and she's a mess of a mother. Mildred ends up babysitting for young J.J. and comes to regard him as her best friend.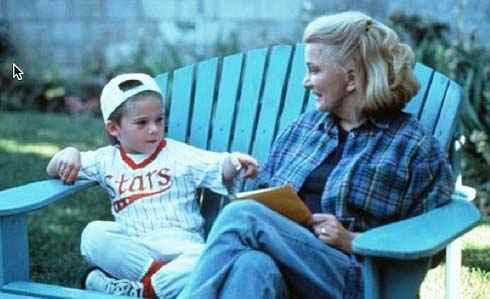 Mildred's daughter Annie (Moira Kelly) is an angsty mess herself, caught in the midst of a rebellion to separate herself from her mother. Mildred's son Ethan (David Sherrill) is Mr. Success and mom's clear favorite child.
Monica and J.J. have an effect on Mildred's life in her empty nest of a suburban home. One effect Monica has on her it to take her out drinking where Mildred meets a truck driver named Tommy, played by Gérard Depardieu.
Unhook the Stars is a character study – a portrait of Mildred. Mildred is beautifully written and played to perfection by Gena Rowlands. Mildred is so clearly drawn and her evolution through her relationship with her children, her neighbors, and her potential suitor in the form of Tommy is masterfully done. I loved the story about how a woman comes into her own, finally, after what she thought for years was her real life as a wife and mother ends. It's a tale of reinvention.
To a lesser degree, the film is also a portrait of Monica. Marisa Tomei just kicks ass in this part as a disorganized, inept, boozy mom and wife.
The film is a bit of a family affair. Rowlands' son Nick Cassavetes co-wrote and directed the indie production.
I'm old enough to have reinvented myself a couple of times, and it is pure joy to watch Gena Rowlands go through a similar process in this film.
Image Credits: Unhook the Stars ©1996 Miramax Films.