Awkwafina is Nora from Queens is a comedy series about Awkwafina's own life from the time before she became well-known. It's available on its home channel of Comedy Central and also on HBO Max, which is where I binge watched all 14 episodes of season 1.
I almost quit watching Awkwafina is Nora from Queens after the first two episodes. They seemed really silly and built on overused jokes that made fun of people and culture rather than situations.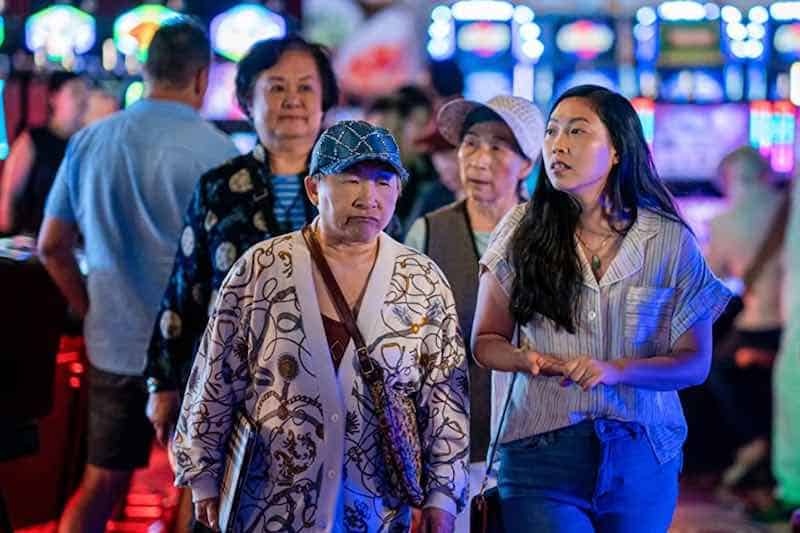 I decided to give it one more try. Something in the 3rd episode when Nora goes to Atlantic City with her Grandma (Lori Tan Chinn) finally caught me and I kept going. By the end I was impressed with the creativity and humor that went into making this unique series. Awkwafina and Teresa Hsiao created the series.
At age 27, Nora still lives with her Grandma and father, Wally (BD Wong). She makes a little money driving people around in her flame-embellished car. Most of her time is spent playing video games, smoking pot, and sleeping. Her cousin Edmund (Bowen Yang), by comparison, is a big success in the IT world.
Events in Nora's life (or in her Dad's and Grandma's lives) are told with raunchy humor, animation, or goofy sound effects, a big cast, and numerous locations that suggests Comedy Central put plenty of money into this series.
On the one hand, Nora is a complete idiot who doesn't even know her own social security number. On the other hand, she's creative and brilliant about the most unexpected things. She doesn't realize she's good at anything. Thematically, the series is about how Nora slowly discovers her own worth and talent as she helps others accomplish their goals.
The guests and supporting characters were very good. An amazing number of excellent people came on and did a few scenes. Some of these actors were Jamie Chung, Michelle Buteau, Simu Liu, Ming-Na Wen, Natasha Lyonne, Harry Shum Jr., and Bella Heathcote. Don't forget Laverne Cox as God.
Asian actors were the majority of the cast. There were also a number of women directors: Lucia Aniello, Jamie Babbit, Anu Valia, Natasha Lyonne, and Laura Murphy. A big writing team only included one man.
The series is full of explicit language, which seems to be the stock-in-trade of Lori Tan Chinn. There are gross jokes about sex, but no sex. Drugs and alcohol are everywhere. Pop culture references are abundant. To put it another way, your 8 year old Asian American daughter who is longing for representation on TV might not be the right audience for this one.
Take a look at the preview.
Are you an Awkwafina fan? Have you watched this comedy series?