Black Bird tells the true story of how the FBI used a convict named James Keene (Taron Egerton) to gather incriminating evidence against a serial killer named Larry Hall (played with creepy intensity by Paul Walter Hauser).
Black Bird is a thriller and full of suspense. The main action takes place in prison between James Keene and Larry Hall as Keene tries to gain Hall's trust and hear the stories of how he murdered numerous young girls. For his effort, Keene's sentence was commuted completely.
Keene was approached by two FBI agents, Lauren McCauley (Sepideh Moafi) and Edmund Beaumont (Robert Wisdom) and asked to go into the maximum security prison where Hall was housed. Keene would act undercover and be unprotected from the mostly insane criminals there as he tried to get info from Hall.
The FBI liked Keene for the job because he was charming, attractive, a good listener, and smart. He made friends easily and they thought he could befriend Hall and get him talking. They were right – Keene came through – but at great danger and cost to himself.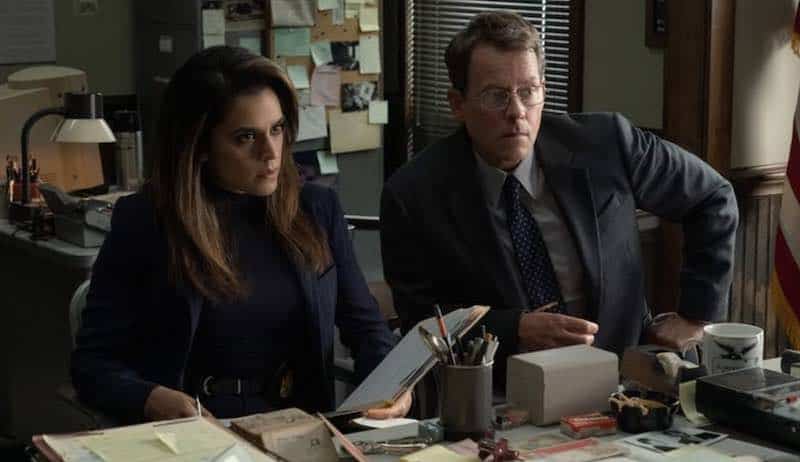 While Keene was in prison with Hall, Agent McCauley was working with a local police officer who grabbed onto the serial killer idea in relation to Hall early on. He was Brian Miller (Greg Kinnear). These two combed for any kind of evidence to connect Hall to other murders before he could get out of prison on technicalities.
The story is from the late 1980s and early 1990s, when the FBI was just coming to grips with ideas about serial killers. In many ways, it reminded me of Mindhunter because the police and Keene had to sit and listen to Hall's horrific stories about murder with a straight face.
It was also similar to Mindhunter in that a female agent was crucial in the case. Sepideh Moafi's role in the series was the reason I watched Black Bird – I'm aiming to see all her work. She was excellent in this, as was the entire cast.
The two leads Taron Egerton and Paul Walter Hauser gave superb performances. Ray Liotta as Big Jim Keene, James Keene's dad, was excellent in one of his last roles.
Dennis Lehane developed this nail biter of a six part series. It was well written, dark, and compelling. It's on Apple TV+ and has been available for a while so all the episodes are already online. If you like true crime or just enjoy seeing an evil man get justice, I think you'll find this series a must watch.