Last week on Glee it was Shirley Maclaine singing along with Darren Criss. They sounded terrific together.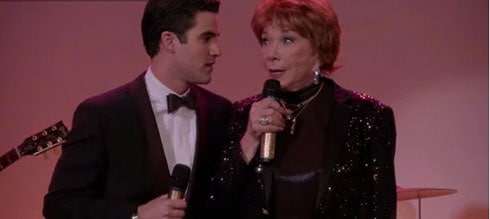 They sang of "Piece of My Heart."
This week June Squibb was there, singing and dancing with Chris Colfer. The woman can belt! Not only was June Squibb there, but Tim Conway and Billy Dee Williams were also in the cast.
I cannot find a video of last night's show, but you can give a listen to June and Chris singing "Memories."
There are a lot more images Chris Colfer's Instagram account, where he commented that Tim Conway was so funny it made him mess up hundreds of takes.
I don't know how you feel when you see legendary elders like Shirley Maclaine and June Squibb singing along with the young folks on Glee, but it thrills me in many ways. They're old, but they ain't dead! The elders still have it, whatever it is. Age does not hold them back from being fabulous. It's brilliant of Glee to honor the musical theater stars of yesterday and the traditions from which a show like Glee springs.
A hallmark of Glee's success is it's ability to be inclusive. Gay, staight, trans, differently abled, young, and old – we all celebrate the joy of music and performance and everyone can be part of it. Thank you for going elder, Glee!