Brook Soso. She's a new inmate on Orange is the New Black. She's played by Kimiko Glenn, who is at least part Asian. The only other Asian inmate is Chang (Lori Tan Chinn) who was mostly nonverbal in season 1, but does have lines in season 2.
Brook is VERY verbal. Nonstop talking. If she ever shut up she might have to listen to what was going on inside her own head. Not something she's willing to do.
She's not good material for a close friendship with Chang. She doesn't fit in with the black inmates or the Spanish inmates. The white inmates tolerate her badly if at all.
She's not disruptive like Vee, although she does inspire some good behavior. I'm looking forward to getting to know her as time goes by because she feels like a permanent addition to the cast.
I want to talk about her mostly because she adds another Asian to a cast that is diversity on steroids.
Incessant chatter is her coping mechanism. Because she talks all the time we learn quickly that she's a flaming liberal, that she is up on all the latest liberal causes, and that she has the liberal agenda down and wants to tell you all about it. She's in prison for some sort of political protest, but we don't know what yet. She's optimistic and bright-eyed and cheerful. I hope it doesn't get beaten out of her by the system.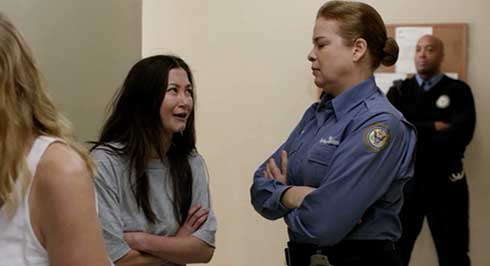 When she first arrives at Litchfield, Soso's scared of the showers. To be fair, the shower drains do urp up raw sewage on a regular basis. She goes unshowered for so long that everyone notices and complaints are filed about her stink. Bell (Catherine Curtin) gets the job of making her take a shower.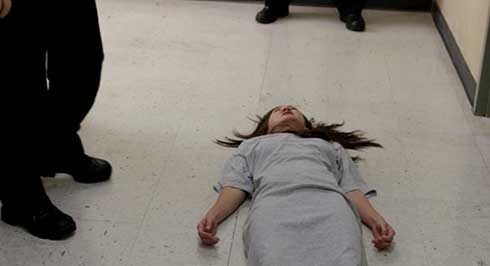 Soso tries passive resistance in protest to the forced shower, but she's quickly picked up and carried to the showers. When she's finally forced into the shower, she cries.
Soso, upset with her treatment, decides to go on a hunger strike. Passive resistance didn't work so well for showers, but it may work better where eating is concerned.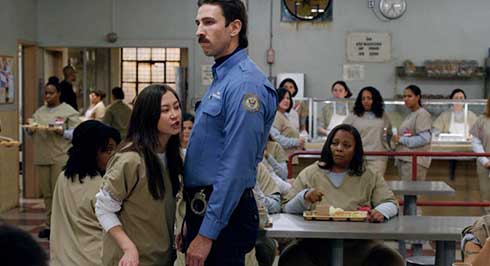 Mendez (Pablo Schreiber) tangles with her in the cafeteria, where she announces loudly that she's on a hunger strike in protest of the deplorable conditions in Litchfield. She wants others to join her.
As time goes by, she does get some people to join her hunger strike. That has some interesting consequences. Unfortunately, none of the consequences result in a lessening of her verbal diarrhea. One member of the cast does find a way to shut her up, but I don't want to mention how, just in case you haven't seen that part yet.
I'm glad they added an Asian character to the mix. When I reviewed August: Osage County, I suggested that the Native American actress Misty Upham be added to the cast of OITNB. I still think a Native American character would be a good idea. In fact, how about more than one Asian addition, and more than one Native American addition? We are, after all, peering into a multiplicity of women on this show.