The first episode of Outlander had such high viewership numbers that the series on Starz has already been renewed for a 13 episode second season.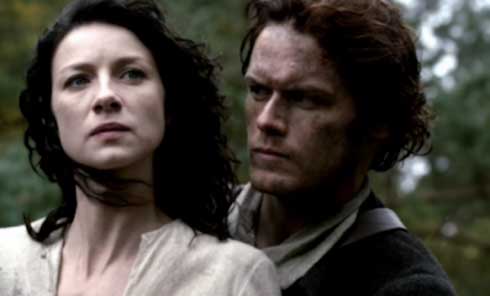 Based on a very popular series of novels by Diana Gabaldon, Outlander has material to spare. If you've read the novels, you know they are very long and extensive. Based on the original book, also called Outlander, season one consists of 16 episodes. Season 2 will be based on the second book in the series Dragonfly in Amber.
Caitriona Balfe as Claire Randall and Sam Heughan as Jamie Fraser as relatively unknown names right now, but I suspect this series will make them famous.
The series is hard to categorize. It might be called sci fi because there is time travel involved. It might be called a romance because it's very much a love story.  It might be called historical fiction, because Claire travels back in time from the 1945 to 1743 and we live through all kinds of historical events with her. To keep things complicated, she occasionally returns to modern times and her modern life. I've read all the books and can guarantee that the stories and the characters are compelling and always interesting.
I saw the first episode when Starz offered it free, but I don't have Starz so I won't be commenting on futher episodes of the series until they become available somewhere else as well. If you have Starz, I urge you to watch Outlander.