This is Caroline and Gillian's episode. It's the rainy evening when Alan (Derek Jacobi) and Celia (Anne Reid) are trapped in the spooky hall they scouted as a wedding location. Gillian (Nicola Walker) is outside with firemen who responded to her flaming Land Rover. She returns to the house, anxious because her dad isn't home yet and isn't answering his phone.
Paul (Sacha Dhawan), in all his bloody, beat-up glory on her couch, asks how the fire started. She says they don't know, but he says someone torched it.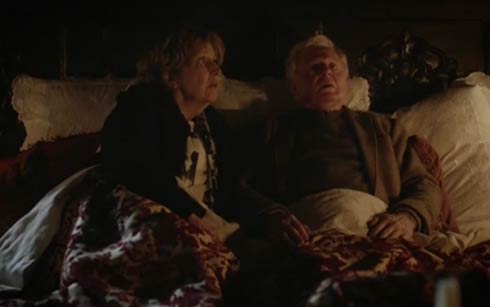 In the old hall, Celia and Alan found candles, food, a deck of cards and a bed. They are on the bed, still wearing their coats. They sing and talk to the creaking noises that might be a ghost. Alan is having chest pains, which he hides from Celia. Alan says, "Do you think anyone's realized that we're missing?"
Indeed, pretty much everyone will know they are missing before long. Gillian calls John (Tony Gardner)  looking for the two tardy lovers. John gives the phone to Caroline (Sarah Lancashire), who takes note of the fact that John has Gillian's number and she has his while talking to Gillian about calling her mother. Celia doesn't answer her phone either.
Gillian mentions that her dad doesn't have his heart pills and shows her worry, which gets through to Caroline.
Celia flushes a noisy toilet in the old hall, while Alan stands guard with candles and a guide book to the age of this ancient structure they're stuck in. Drafts and noisy spook them a bit.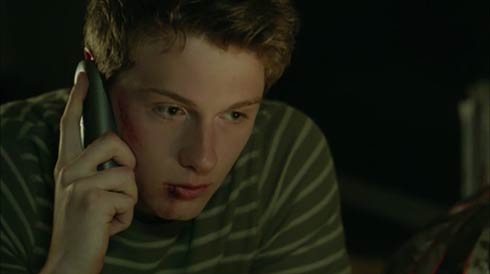 Gillian calls her son Raff (Josh Bolt) looking for Alan. Robbie (Dean Andrews) offers his usual trash talk about Gillian and Raff actually stands up for her. Raff offers to go to the farm and to help find his grandad.
Caroline sets off for the police station, as the fears about the missing parents have infected her too.
The fearful spookiness of the hall is making Celia angry and she's talking about suing. They climb back into the big bed as candles move around and doors open themselves.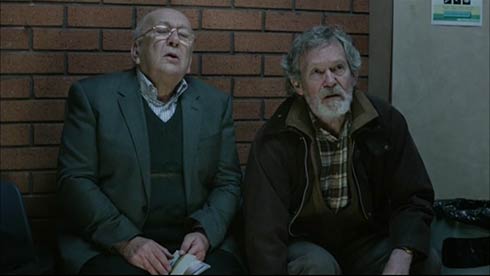 Raff and Robbie reach the farm. A couple of Alan's friends show up, mainly for comic relief. At least they notice Paul sitting on the couch, which is more than Robbie and Raff have mentioned yet.
In the car, Caroline is on the phone with Kate (Nina Sosanya), who brings up Caroline's suggestion that they go away for the weekend. Kate is looking at a web site about Barcelona and is ready to book a getaway. Caroline says, "Can we talk about it later?" When she reaches the police station, the two old buddies of Alan's are still about, still bringing the comic relief. Robbie explains that police cameras will tell them where the car was last seen. Gillian suggests they all go home.
Caroline goes with them to the farm. Caroline points at Paul on the couch, asks who he is. Robbie and Raff explain that he's Paul, an idiot, who was beat up because he's "not popular."
Robbie follows Gillian into the kitchen and they finally have the conversation they've needed to have for days about what she's doing with Paul. She says, "It's been 10 years, do you seriously think I haven't slept with other people?" He stumbles around and finally admits that all his lashing out was because he likes Gillian himself, a fact obvious to everyone but Gillian all this time. He basically apologizes and she says she appreciates it.
A phone call informs them the car was seen driving on Godley Lane. There's a discussion about what's on that road. Nobody knows why they are there, until Paul says, "You can get married at South Whatever Hall." (I still can't get the name.) They realize then that Alan and Celia were there looking for a wedding venue.
Cops arrive outside the hall where Alan and Celia are now sleeping peacefully. The cops find the empty car parked there but don't think to look inside the hall because the manager of the place tells them the Hall was closed all day.
John, home with his boys, talks about not wanting to get a divorce. The younger son gets quite upset over the idea of a divorce.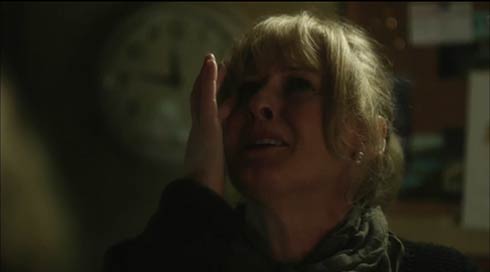 Caroline and Gillian are cleaning up the kitchen at the farm, washing dishes. They talk. Really talk. They talk about Raff, Paul, John, themselves. Caroline isn't holding it together very well and welcomes the offer of brandy with enthusiasm.  They are starting to care about each other. If two women ever needed a friend, it's these two. Happy as I am that Alan and Celia found each other, I'm even happier to see these two connect – they both desperately need someone to talk with.
A phone call tells them they've found the car, but not Alan and Celia. The police think Alan and Celia have killed themselves, to which Gillian answers, "They're in love. They've never been happier." Robbie reassures everyone about the situation and offers to go to the hall.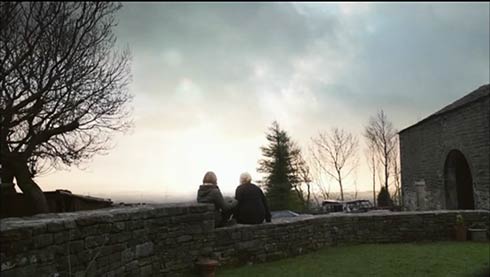 Morning comes and Caroline and Gillian sit outside drinking coffee (tea?). Again, they have a meaningful conversation. This time about Gillian's husband's death, about how beautiful what their parents feel for each other is. Gillian talks about how much it bothers her that her mother didn't pass on the message from Caroline's mum. Caroline tells her that her mother was a teenager then, and it shouldn't be held against her. Gillian's parents were happy. Caroline's were not. They talk about that, laugh that they might have been sisters.
Celia and Alan wake up, snuggled deep in the covers of their borrowed bed. Celia complains about being stiff but is in a hurry to get out of there. When they get downstairs there are people there who tell them that you have to dial 9 for an outside line and the door was open yesterday for a delivery. Celia wants to call home and finds out the police have been looking for them.
Caroline talks to John about how things are at home with the boys as the phone rings at the farm. It's Celia calling to say everything is fine. Caroline runs outside with Raff to tell Gillian. There are happy hugs all round, including Gillian and Raff, who definitely needed the shared moment.
John tells his boys they can stay home from school and he heads off for the "supermarket."
Caroline and Gillian help Paul up the stairs and into bed. This removes him from the living room, but, alas, installs him in Gillian's bed. Gillian tells him he'll be out on his ass sooner than he can say compound fracture if he says anything vulgar to Celia.
Alan's first thought on getting home is for the Land Rover. They go in for tea and Alan's pills. Gillian explains why Paul's car is in the yard.
John's in a coffee shop, where he gives Judith (Ronni Ancona) money for her rent. She wants to be a writer and thought he was going to be a help to her. He tells her she has to put in the work or it won't happen. She's mad. He's busy trying to dump her for good.
Tea in hand, Celia still wants to sue. Caroline points out that you can't accept the very classy venue free of charge for the wedding and sue at the same time.
In the kitchen, Alan, Gillian and Raff have a family discussion about Paul. Alan says, "You always did pick 'em." To Raff, he says, "You can't be stopping with Robbie." Raff answers he doesn't mind his mom having a boyfriend but why can't she pick on somebody who, A, isn't a dickhead; B, isn't 300 years younger than she is; and C, isn't engaged to somebody else. After this most excellent speech he exits. This gives Alan the opportunity to say he wants to go to the doctor. He makes light of his condition, but Gillian knows it's serious. She makes him promise to call immediately.
When Caroline leaves Gillian hugs her and tells her not to be depressed. Instead of going straight home, Caroline stops for coffee. She watches a happy family and smiles – some decision made, she relaxes visibly.
Alan tells Celia he's poured her a bubble bath. She says he's spoiling her. He gives her a kiss. He offers to have coffee ready when she gets out of the bath and heads for the kitchen, where we see him stunned by more chest pain.
Caroline arrives home where John is being cloyingly nice. He brags that he promised himself never to lie to her again, and tells her about giving money to Judith. Everyone is exhausted from being up all night, but John is invigorated by his honestly. Caroline says, "This can work. We can be civil for the boys. I'm seeing someone." Boom! She won't tell John who it is. John yells and rages. William comes in and John asks who Caroline could be seeing at school. William instantly realizes it's Kate, but doesn't tell his dad that. He's been so angry with his dad for cheating on his mom. I hope he doesn't transfer that anger to his mom, because I think his little brother really needs him now. John won't take finding out about Kate well and Caroline isn't the best at explaining herself to her children.
Whee! What did you think of this week's developments?