Arthur Newman stars Emily Blunt and Colin Firth. When I noticed it on Netflix, I saw it didn't have a very high rating. I would watch Emily Blunt in just about anything so I gave it a chance. I'm glad I did. My opinion of the film turned out to be higher than others.
The chief complaint from other reviewers was Arthur Newman was boring and slow. I didn't find it that way at all.
Two people meet under odd circumstances and end up on a road trip. He is an inhibited, tired, lifeless man searching for some spark, some reason to keep walking through his days. She is completely uninhibited and worried she's crazy. She needs a reason to face up to her own situation. Coming together helps them both.
Firth plays Wallace Avery, a man with a 13 year old son (Lucas Hedges) who resents being neglected, an ex-wife (an underused Kristin Lehman) who reports him to the police for spying on her house, and a live-in girlfriend (Anne Heche) who bores him.
One day Wallace fakes his death, takes his newly bought and paid for identity as Arthur J. Newman and drives off in a convertible he purchased for his getaway. He's headed to a new life and a new career as a golf pro in a Terre Haute, Indiana, country club.
His first night on the road he rescues Mike (Blunt) from a suicide attempt. When she's out of the hospital and he's in his car ready to hit the road again, she installs herself in the passenger seat and doesn't leave.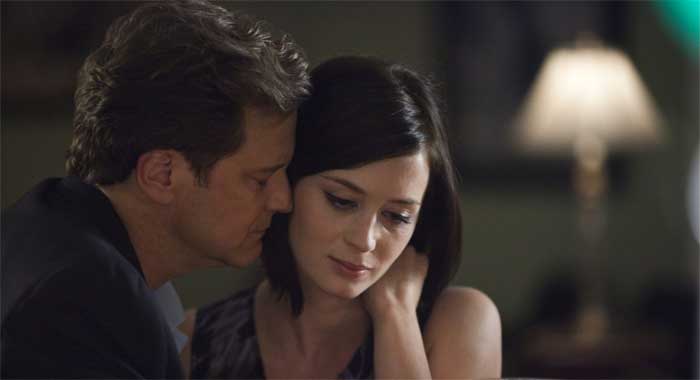 Mike drags Arthur into a series of crazy escapades. They follow people to their homes. When the house is empty they go inside, put on the other people's clothing, pretend to be them, and have sex in their beds. It's strange and disturbing behavior, but the excitement of it – the weirdness of it – breaks Wallace/Arthur out of his frozen monotone of behavior.
As they travel on, sleeping in separate beds when in motel rooms, Mike reveals that she's really Charlotte. Mike is her twin, now confined to a mental institution as a paranoid schizophrenic, a condition her mother also had. Mike/Charlotte is afraid she'll end up like her mother and sister. I see her crazy behavior as an ill-conceived prevention plan.
These two disastrously misguided and opposite people help each other see the value in their real lives, their real situations. They love each other in a broken, ungainly way. It opens them up.
An interesting subplot is the relationship that develops between the son Kevin and his dad's girlfriend Mina. They bond over the missing man in their lives, although he's been missing from both their lives either figuratively or literally for some time.
Firth and Blunt were brilliant in their roles. Yes, Arthur Newman is a strange, quiet little film. That doesn't mean it's not worth watching. A film does not need the exciting action of a video game to tell a good story.