The concert film Barbra: The Music…The Mem'ries…The Magic! from Barbra Streisand is a wonderful treat for her fans. I've been a fan since she first came on the scene in the late 1960s. I loved it.
Fifty years of music and movies with a number 1 selling album in every decade of her career. Imagine. She's out on tour in her 70s celebrating that history. This film is about that tour. There are a few behind the scenes shots, but it's mostly Barbra singing and talking in front of a huge audience in Miami.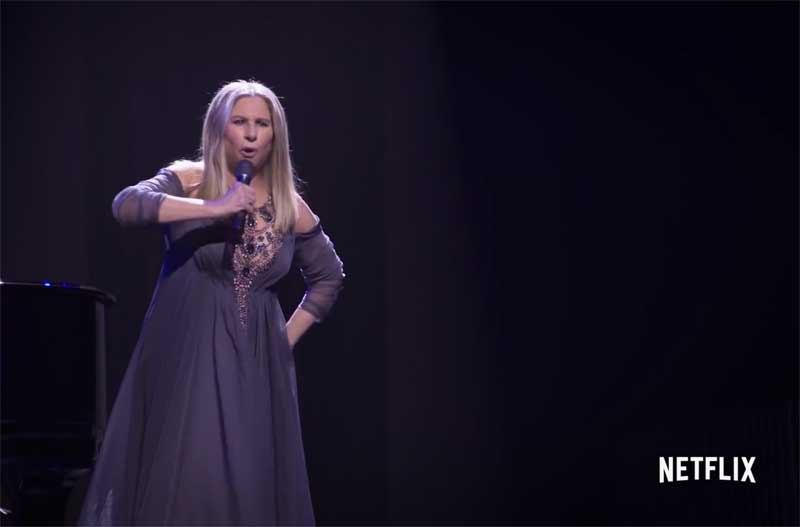 She played around a bit, did a bit of acting, promised not to be political but used songs and images to be political anyway. Her chief topics in the political arena were climate change and the need for love for all people. As she pointed out, no matter where we were born, where we came from, or what labels are used for identity, our DNA is 99.9% identical for every person on the planet.
Her voice isn't exactly what it used to be. It's even better. She sings like silk, like warm butter, like velvet. I don't have the musical knowledge to explain how it's different. Maybe she sings in a lower register or has adapted the melodies to include fewer high notes. But it's still obviously Barbra.
I think about other performers from her generation (my generation). Joan Baez has gone from a soaring soprano to an alto. Joni Mitchell has gone from a soaring soprano to a smoker's growl. Maybe Barbra still sounds exactly like Barbra because she was never that soaring soprano. She was a powerhouse with a gigantic range, and she still is. But smooth. So smooth.
A huge screen behind her was used to great advantage. It allowed her to talk about albums, Broadway shows, and movies. It brought in images of some of the people who sang duets with her on her last album. One of those people, Jamie Foxx, showed up on the stage and did a duet with her. She used the video screen to sing with older versions of herself from Funny Girl and Yentl as well as people she'd worked with over the years.
Her husband James Brolin was there with her, but she never introduced him. However, we saw a lot of her dog, who got his own special love song eulogy.
Barbra Streisand produced and directed this concert special, with help from a few others. It was 100% perfection, just what Barbra wants. If you're a lifetime fan like me, it's a must see.