Bed of Roses is an Australian comedy/drama series. It consisted of 3 seasons, running from 2008 until 2011. AcornTV now has seasons 1 and 2 streaming in the US. This is a review of season 1 only.
The theme song brings you into the story immediately with the lyrics I fell asleep on a bed of roses, I woke up on a bed of nails.
Kerry Armstrong stars as Louisa Atherton. She lives in Melbourne, where she creates terrible sculptures. One weekend she tells her husband goodbye thinking he's gone off on a business trip. He actually planned to spend the weekend in a Melbourne hotel with another woman. But, plot twist, he dies in his lover's arms.
Louisa soon learns that he was not only cheating on her, he'd bankrupted his business. She had to sell everything and move to the small town of Rainbow's End with her mother, a firebrand of the highest order, Minna Franklin (Julia Blake).
Louisa's teenage daughter Holly (Hanna Mangan Lawrence) moved with her mom. I emphasize teenage. Holly was all the things teenage girls normally are, plus she was devastated about losing her father. Louisa also had a 24 year old son named Shannon (Dave Thornton) who played professional football. He should have had money to help his broke mom, but he was broke, too.
The one thing Louisa did have was a tumbled down shack that her father left her. The shack was a wreck but the land was valuable. Louisa decided to fix it up and sell it so she could go back to Melbourne and her former life of ease.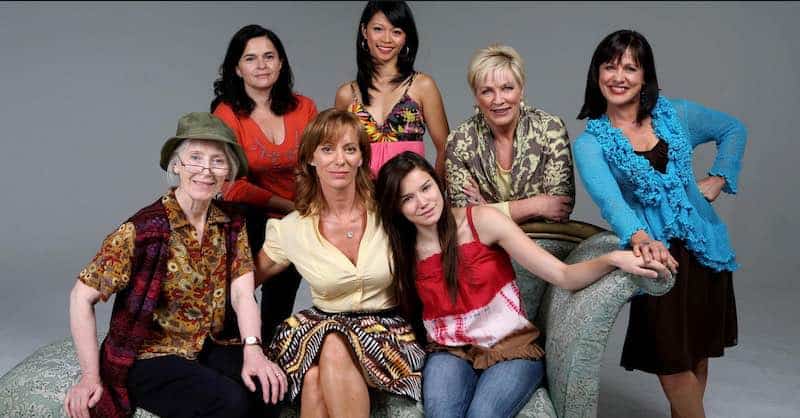 I loved the femaleness of the cast. One important cast member in season 1 who isn't in the photo is Kallista Kaval as Wendy. Wendy owned the local newspaper and gave Louisa a part time job as a photographer.
There were some important men around. Jay Laga'aia played Nick, who owned a garage and kept Louisa's clunker of a car running. Andrew S. Gilbert played Gavin – he was Marg's ex and shared custody of their cat George Clooney with her. Tim Phillipps played Sean – his dad was the undertaker. He and Holly became good friends.
Geoff Morrell played Tibor, Louisa's neighbor. He owned a miniature pony named Houdini and had an inviting bed. Cameron McKenzie played a young cop who gave Louisa a very expensive traffic ticket at least once a week.
Many of the people in Rainbow's End were old friends and knew her and her husband from their school days.
Although the series is basically lighthearted, there are some definite substantive themes running through it. The relationship between mothers and daughters was a constant theme. Grief was a theme. The anger and pain of betrayed wives was a theme.
Louisa was a likeable character, and grew more likeable as the season advanced. She was also unbelievably incompetent at everything you would expect a wife and mother in her 40s to know. She couldn't vacuum. She couldn't clean. She was a complete klutz. I haven't seen Kerry Armstrong in anything before, and don't know if physical comedy is her forte. She did plenty of it as the klutzy Louisa, and very well.
Louisa couldn't cope with being an adult who had to figure out money on her own. She couldn't get a job except as a cleaning woman and a part time photographer. She hired terrible contractors to help resurrect the shack. She was like a babe in the woods when she was first left a broke widow. Her daughter Holly was almost more mature.
Thank goodness, by the end of the season Louisa had gotten her act organized a bit and worked really hard at putting her life and her daughter's life back together. Rebuilding the shack and having to earn money helped bring her into a proper adulthood.
The real woman in the family was Minna, the matriarch. She had it going. She was a member of the Heritage Society and fought everyone in town to preserve history – she fought over trees and parking lots, she fought Louisa's plan to sell the historic shack. She was calm and practical and I loved her best.
I like the diverse cast. There were white folks in many roles, but there were several Chinese characters and Nick looked like a native Australian (Jay Laga'aia is actually a New Zealander). I liked the character growth among the cast. I liked the humor.
The setting was beautiful. The series was mostly filmed in Foster, which is about 100 miles from Melbourne.
Season 1 had 6 episodes. Season 2 had 8 and season 3 had 12. The show seems to have gained in popularity the longer it stayed on Australian television.
I enjoyed season 1 and plan to review season 2 very soon.