Belle tells the story of a mixed-race woman raised as an aristocrat in 18th Century England. The political overtones of the story are as relevant today as they were then.
Before I saw Belle, I was interested in it for several reasons. It was directed by Amma Asante. It stars Gugu Mbatha-Raw as Dido – the Belle of the title. It had ecstatic reviews when it came out in 2013.
I've been waiting to see it since. It's on Amazon Video, but there was a charge to see it. It wasn't available free with Amazon Prime. Since I figure I pay enough to Amazon for Amazon Prime videos, I refused to pay the extra cost to see it. But, true story, my kids got me a larger TV for Christmas. While trying to learn how the new remote works, I accidentally ordered and paid for Belle. What could I do but watch it?
When this film was released in 2013, nobody knew a narcissistic juvenile would be in power in the U.S. by 2017. It made all the legal and human rights issues raised in the film urgently topical. The lines John Davinier (Sam Reid) spoke related to a law case involving the murder of dozens of slaves are issues back in the public discourse in today's political situation. Class and racism remain as eternal problems.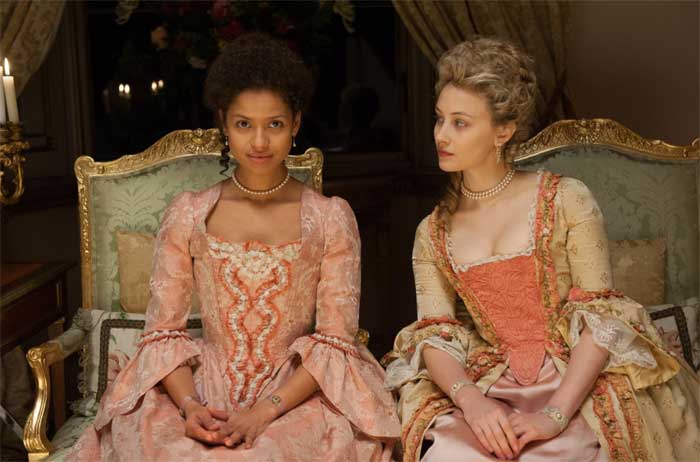 Dido was raised in the home of Lord Chief Justice Mansfield (Tom Wilkinson). She was taken there by her father John Lindsay (Matthew Goode), who insisted she be treated as his blood and a member of the family. Her cousin Elizabeth Murray (Sarah Gadon) was her playmate. The two were as close as sisters.
Because of her color, Dido was only a partial member of the family. She was educated and trained as a lady, but she could not eat at the table with guests or speak out as a lady would.
When her father left her a fortune, local men arrived to court her. Chief among them was Oliver Ashford (James Norton), a gentleman in need of a fortune. For a while Oliver's older brother James Ashford (Tom Felton) courted Elizabeth, but when he discovered she had no fortune he abandoned her without a word. Felton is terrific as the nasty, hateful James.
Dido became engaged to Oliver. But she was more interested in the lawyer-in-training John Davinier, who came to her home to learn from Lord Mansfield. Davinier was the poor son of a vicar – a man as scorned in that class-ridden society as a mixed race woman.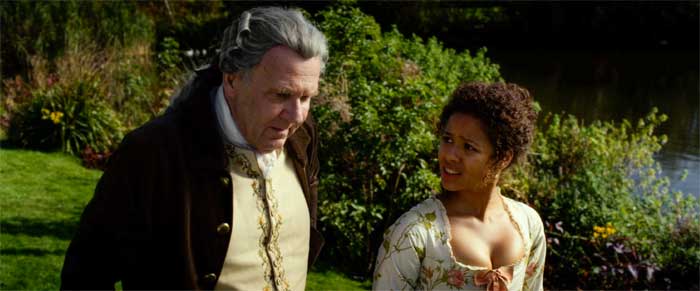 Lord Mansfield worked on a case involving an insurance claim from a ship owner. He wanted money for dozens of slaves who were chained together and thrown from his slave ship – ostensibly because the fresh water supply was low. Davinier and Dido both took an interest in the case and badgered Lord Mansfield about it. Tom Wilkinson, who is always excellent, was indeed excellent as Lord Mansfield.
The cast as a whole was outstanding. Emily Watson played Lady Mansfield. Penelope Wilton was Lady Mary Murray. Miranda Richardson was Lady Ashford.
The idea for the movie came from a painting. See the painting and learn about the true parts of the story in Portrait of the mystery lady: The incredible story behind the 18th-century painting that inspired a new movie.
Belle was a lush, visual treat. The costumes and the palatial surroundings of the British upper class made a beautiful background for the action. Gugu Mbatha-Raw showed one more time why she is one of today's finest actresses.
If, like me, you've waited a long time to watch Belle, I recommend you do it. On purpose.