The English Teacher has potential, I think, as I'm thumbing my way through Netflix on a Friday night. Julianne Moore, Greg Kinnear, Nathan Lane. It looks like a romantic comedy that could work on an otherwise long evening.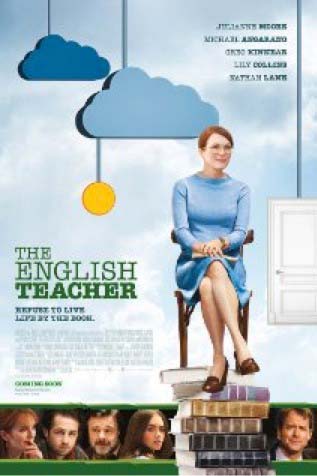 I took a chance. I enjoyed it. I watched it all the way through. It wasn't so terrible that I had to quit 10 minutes in, but it was definitely not as good a film as you might expect from Julianne Moore and the other exemplary members of this cast.
The plot was fine. Julianne Moore is an English teacher – one of her former students returns to town feeling like a failure because his play was rejected – she decides to get the play produced at her high school. Nathan Lane is fantastic as the high school drama coach. Michael Angarano is perfect as the talented but immature playwright. Greg Kinnear, who of course we know will be Julianne Moore's love interest simply from reading the cast list, does a fine job as the father of the young playwright and eventually makes it to love interest category. The play gets produced with a few bumps along the way.
Maybe "bangs" along the way would be a better term. Michael Angarano and Julieanne Moore have a moment on the desk in her classroom which adds complications to the plot. Especially when he then moves on to the high school girl leading the play, Lily Collins. And, of course, there are the complications involved in getting Moore and Kinnear together after they get off to a rocky start.
Predictable plots are a romantic comedy staple and new approaches to the various plot changes are always appreciated. This film does fine at that.
No, it wasn't the plot.
It was the cute.
There was too much cutesy voice over. (Voiced by Fiona Shaw, by the way.) That grew annoying. Also, there was the cutesy way the teacher graded men like they were an English essay and we saw her "notes" plastered on the screen as she talked to them. If I could magically sweep away the cute, I'd recommend this as a great representative of the romantic comedy genre.
Alas, I can only recommend it as an average representative of the romantic comedy genre. Which, of course, is why I watched it all the way through and found it entertaining. Let's face it, if you're into rom coms, you're used to average.
Check out the trailer.
If you watch The English Teacher, I'd love to hear your opinion of the cute. Was it as annoying to you as it seemed to me?