Master is a story about racism made into a horror movie. Regina Hall stars in this film, written and directed by Mariama Diallo. Set in a fictional ivy league college where women of color are rare, we see what happens when two newcomers arrive.
Master begins with the arrival of a new professor and a new freshman. Gail Bishop (Regina Hall) is the new faculty member. She is the "master" of a house, or dorm. She's given a big house to live in with a spooky attic and remnants of slavery everywhere.
The new freshman is Jasmine Moore (Zoe Renee). She's put in the college's haunted room with her white roommate Amelia (Talia Ryder). The college is supposedly home to the ghost of a witch who makes horrible things happen at exactly 3:33 AM to anyone who lives in the haunted room.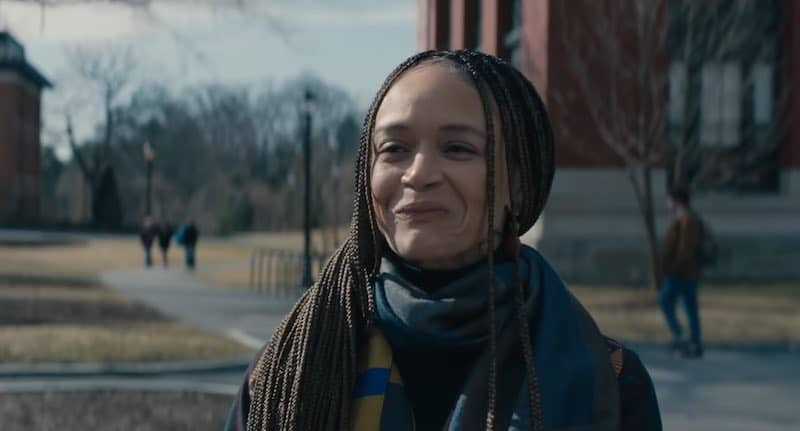 A third woman of color is on the campus, Liv Beckman (Amber Gray). She's been there a while and is up for tenure. She clashes with Jasmine immediately, discounts her contributions in class and gives her an F on a paper about "The Scarlet Letter." It seems racial on Liv's part, but, on the other hand, she and Gail Bishop quickly become friends.
It's obvious that the issues affecting the two newcomers are racial but no one will admit it. Instead there are inter-scene cards saying things like It follows you everywhere and You can't get away from it and I hate you. The faculty members are all creepy and many standard horror tropes come into play. Speaking of which, tell me why Gail Bishop didn't take those damn bells down off the wall and throw them in a dumpster?
I want to note that Ella Hunt is here in a bit part as another student. Joel de la Fuente plays the only other nonwhite person on the faculty.
Some of the main characters wake up and get outta there. Others stay put with tragic results.
This film is done in an hour and 40 minutes, just enough time to efficiently and effectively illustrate the lingering horrors of racism in today's society. Regina Hall is fabulous in this. You can see Master on Prime Video.