I've seen the other Ocean's movies. What I remember about them is there was a heist and the actors seemed to have a wonderful time. That's also what I'll remember about Ocean's 8. There was a heist and the actors seemed to have a wonderful time. They had a good time, so the audience did, too. It was infectious.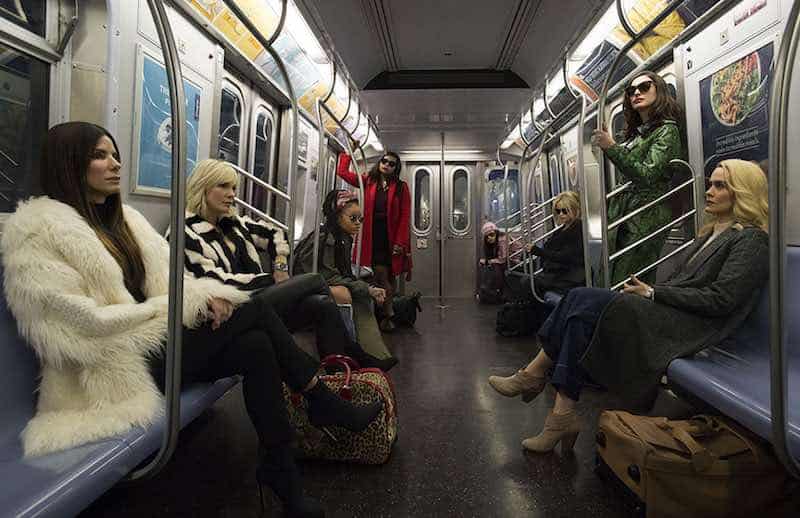 The added benefit of Ocean's 8, however, was the sheer joy and delight that came from watching 8 women (plus a lot of other women, too) in starring roles in a heist movie. Fantastic, fabulous, brilliant actors in the form of Sandra Bullock, Helena Bonham Carter, Rihanna, Cate Blanchett, Anne Hathaway, Mindy Kaling, Sarah Paulson, and Awkwafina. What riches.
The plot centered around a scheme dreamed up by Debbie Ocean (Sandra Bullock), who just happens to be Danny Ocean's sister. Clever heists run in the family.
The plan was to steal a $150 million Cartier necklace right off the neck of celebrity Daphne Kluger (Anne Hathaway) at the Met Gala. Debbie's personal plan for the evening included framing Claude Becker (Richard Armitage) for the theft. He sent her to jail for 5 years, which is why she had the free time to plan the elaborate heist.
To carry out her plan, Debbie enlisted the help of her old partner Lou (Cate Blanchett). Lou dressed in leather and rode a motorcycle. If attire and her quasi-butch behavior were meant to suggest there was more to Debbie and Lou than business, it was too subtle to detect. Unless you count Debbie feeding a bite of her lunch to Lou. Was that a scrap or was it nothing?
They brought in Tammy (Sarah Paulson) – a fence turned surburban housewife, Amita (Mindy Kaling) – a diamond expert, 9 Ball (Rihanna) – a hacker extraordinaire, and Constance (Awkwafina) who had very fast hands. To make it all happen, they managed to get Daphne Kluger to want a washed up designer named Rose Weil (Helena Bonham Carter) to "dress" her for the gala.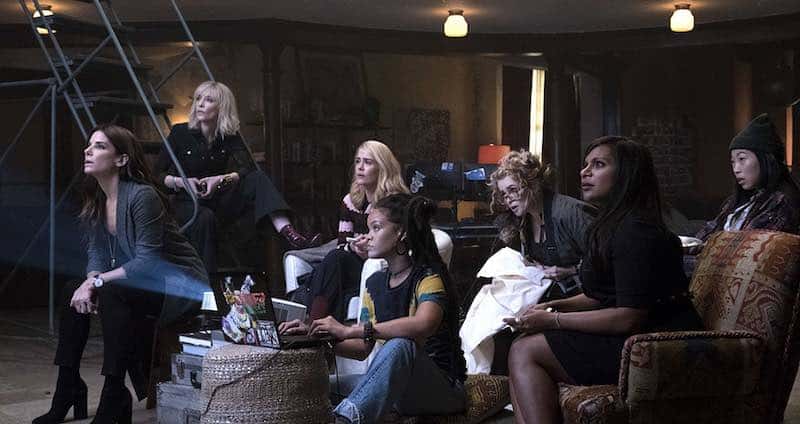 After the heist, an insurance investigator named Frazier (James Corden) arrives and somehow becomes part of the action. Bit of a surprise there. Anne Hathaway as the unsuspecting neck around which the $150 million necklace was to be hung turned out to be a surprise, too. There were other surprises as well. Clever schemes, talented thieves, and surprise plot twists make a good heist movie.
Ocean's 8 isn't a great movie, but it's a fun movie and I totally enjoyed every second of it. I could watch it numerous times and be pleased with my decision every time.
If these ladies want to rob something else, I'm in for it. Bring them all back for another film very soon; I'll put my money down again.