Episode 2 of season 2 of Orphan Black, "Governed by Sound Reason and True Religion," launches a brand new day, to quote the new character Henrik. New plot lines, new characters, and new developments everywhere you look. I'm going to mention a few key points.
One of the more interesting developments in this episode is the expansion of Mrs. S's (Maria Doyle Kennedy) character. I've been eager to learn more about the mysterious Mrs. S, partly because Maria Doyle Kennedy is such a strong actor with a very strong persona and we haven't seen behind the curtain on her very much. In this episode, we learn she can be a stone-cold killer and that she will do just about anything to protect Kira (Skyler Wexler). It's also looking a bit like Mrs. S. might be Sarah's monitor and that she has known about Sarah since her birth.
Skyler Wexler is a terrific choice as Sarah's daughter. Physically she and Tatiana Maslany look enough alike to be convincing as mother and daughter. Skyler Wexler is as precocious as an actor as Kira is as a character. There's something special about Kira, we don't know what yet, but she has an unusual ability to see things and understand things.
The religious group called Prolethians seem in on the clone secret as well. Peter Outerbridge joins the cast as Henrik Johanssen, the leader of the Prolethians. Religious leadership aside, he's also a stone-cold killer. Helena is snatched from her hospital bed and taken to the farm where the group lives. As she's recovering from her wounds, we learn that the reason she survived the gunshot is that she is a mirror – all her organs are on the reverse side from that of her twin Sarah. Helena's heart is on her right side, not her left.
Cosima joins Dyad where she gets her own lab. As she's setting it up, she meets the clone Rachel for the first time. Rachel wants her to figure out why Sarah is different from the rest of the clones – meaning why Sarah can have children. Rachel seemed surprised to learn that Cosima is a lesbian. Her reaction to catching Cosima and Delphine in a kiss felt a bit off to me. She should have known already because she knows that Delphine (Evelyne Brochu) is Cosima's monitor and how Delphine managed to get close to Cosima. This is one of the first off moments I've noticed in the writing of this series, unless it's foreshadowing something about the clones that Rachel knows but none of the rest of us know.
Allison finds out at Aynsley's (Natalie Lisinska) funeral that her husband Donnie (Kristian Bruun) has been her monitor all along because she reads his text messages. This means she let Aynsley die a gruesome death by garbage disposal for no reason. Neither of these pieces of information are sitting well with Allison who is popping pills and downing drinks in a paroxysm of guilt. Methinks Donnie better be careful, too – like maybe he shouldn't wear a scarf in the kitchen.
We learn about a program called Project Leda in this episode, which may be where all the clones originated. Sarah knows about it and apparently so does Mrs. S.
With Project Leda, the Prolethians, and the neolutionists from the Dyad Institute, we have three potential sources of danger for the clones. Are they all bad guys?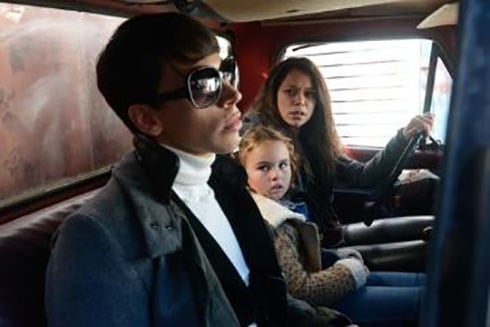 Much of the episode is about Sarah's search for Kira. By the end of the episode, Sarah manages to get Kira back, collect Felix (Jordan Gavaris) and make ready to run.
An interesting side note on the title of this episode. According to Entertainment Weekly, the title is a quote from Francis Bacon's book The New Organon: Or, True Directions Concerning the Interpretation of Nature. The book, written in 1620, is an early reflection on nature, science and religion.