This episode of Orphan Black, "Mingling Its Own Nature With It" starts with Sarah (Tatiana Maslany), Kira (Skyler Wexler), and Felix (Jordan Gavaris) sleeping in the woods in the stolen truck. We see Sarah struggle to find safety for Kira, Allison crack under pressure, Cosima do an autopsy on a new clone, and Helena get married. What an episode!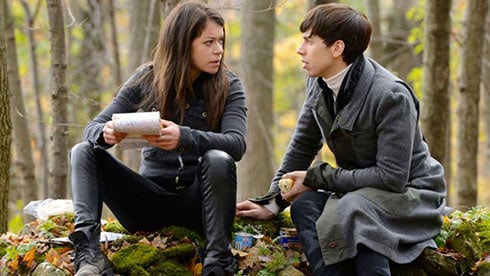 The clones each conducted their own lives without mixing together much in this episode, so I'll summarize the stories clone by clone.
Sarah
Sarah, Kira, and Felix make the mistake of stealing food from a convenience store in order to feed Kira. This puts a local cop and Rachel's henchman Daniel (Matthew Bennett) on their trail. Sarah leads Felix to a house in the woods, seemingly empty, where they break in to spend the night. The homeowner shows up and turns out to be Cal (Michiel Huisman), who knows Sarah. Kira, in her prescient way, pegs him immediately with an, "Are you my dad?"
Yes, he is Kira's dad, and even though Sarah stole $10,000 and his car the last time she was there, Cal lets them stay.
Sarah tries to explain to Kira why she was gone so much, and Kira talks about Mrs. S protecting them and comments that she likes Cal's beard. Women from Nashville and every other show Michiel Huisman is on fall for his unkempt, bearded look – now even Kira likes it – I guess I should give up wishing he'd get a shave and a haircut.
Felix sees what's going on and decides there is no place for him there. He leaves to be with Allison at her theater performance.
When the local cop shows up, Sarah is ready to take Kira and go.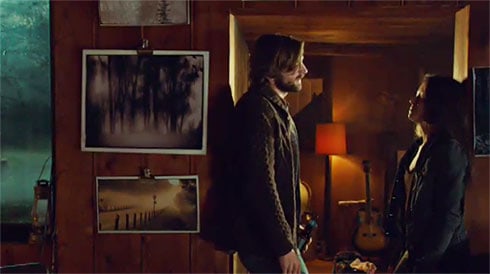 Cal says, "Can't you stop running for a minute?" and the look on Sarah's face tells a story of wanting to do just that. They end up in bed together. (She must like the beard, too.) Their idyllic morning after is interrupted by the arrival of Daniel who tries to grab Kira, shoots the local cop, and leaves with Sarah driving the car at gunpoint. Kira is with Cal. Daniel making off with Sarah comes at the very end of the episode. The big cliffhanger is that they are t-boned on the road – a hit to the passenger side where Daniel sits – and we don't know what happens to either of them.
Allison
Allison snipes at Donnie (Kristian Bruun) now that she knows he's her monitor. The guy will never get any again, I can promise you that. She's drinking and popping pills. She calls Cosima, but Cosima cannot do much to help her because of her own drama.
Detective Angie Deangelis (Inga Cadranel) simply won't drop the case, as her partner Art (Kevin Hanchard) keeps telling her to. Angie stalks Allison, trying to befriend her and get information from her. Allison thinks she's another monitor. Angie admits to being a cop and Allison and tells her to get lost. Detective Deangelis is going to prove to be a wild card in this story, I predict, because she's relentless in her quest to find out more about Sarah and her former cop friend Beth, and because she's the mama succubus – oh, wait, wrong show for a succubus.
By the night of the community theater performance of "Blood Ties," Allison's spaced out on pills and booze. She can't remember her lines or sing in tune. (Tatiana Maslany is a pretty good singer if the few notes of real singing we hear are any indication.) Allison falls off the stage at Donnie's feet and gets taken to the hospital.
Cosima and Jennifer
Cosima follows Delphine (Evelyne Brochu) into Dr. Leekie's office, where she does a killer imitation of Matt Frewer's Dr. Leekie by threatening to put an electric eel in a tank so Dr. Leekie will come along and say, "Great Scott! I've created life." A hilarious moment in a very serious episode. The fact that Tatiana Maslany can do a perfect imitation of Matt Frewer reveals something about why she is so masterful at creating so many different women in Orphan Black.
Delphine has other things on her mind. She brought Cosima there to show her videos of another clone, Jennifer Fitzsimmons, teacher and swim coach at Sheldon High, who made a video diary of her illness after polyps were found on her lungs. Delphine says Jennifer was the first clone to show symptoms. When Cosima asks how Jennifer is, Delphine says she died 3 days ago. Cosima is the only clone who knows about Jennifer at this point (unless Rachel does). Cosima watches every video, horrified, seeing Jennifer slowly die of exactly what she herself has.
Delphine and Cosima do an autopsy on Jennifer's body to try to understand more about the auto-immune disease that apparently killed her. Cosima is partly terrified of cutting into a woman with her face, and partly clear about needing to understand the biology of what's going on in the clone's bodies.
Helena
Helena is still in bad shape, but recovered enough to sit up in bed and talk to Gracie Johanssen (Zoé De Grand Maison), Henrik's (Peter Outerbridge) daughter. Gracie is not with her dad's program to fertilize and breed Helena. She's another wild card who may gum up the works later on. Her dad thinks he has Gracie under his control, but he may be in for a surprise.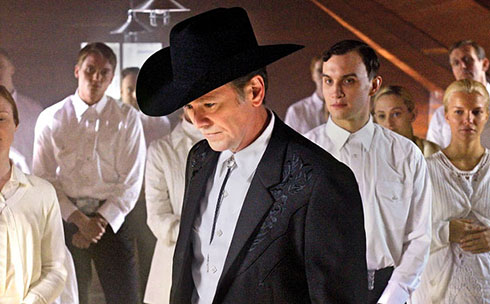 Henrik has Helena dressed in a white wedding dress, even though she lays in bed stupified by drugs, and marries her in a strange ceremony involving tying their hands together with ribbons while talking about God's will. Then Henrik carries his bride off to begin his fertilization program. Helena is too drugged to fight back. If she ever gets clear headed, Henrik better watch out. At this point, we have no idea what Henrik has in mind as a fertilization technique. We did see him artificially inseminate a cow in the last episode.
The title is another quote from Francis Bacon:
"The human understanding is like a false mirror, which, receiving rays irregularly, distorts and discolors the nature of things by mingling its own nature with it"

 Francis Bacon, Sr. quotes (English Lawyer and Philosopher. 1561-1626)
All photos by Steve Wilkie via IMDB