For some reason I didn't review season 1 of Marvel Runaways. Odd, because I watched it with interest. Season 2 takes the runaways on a complex adventure as they try to gain their freedom from parents they consider evil.
A fast summary of season 1 will give you the storyline for season 2 as well. A group of teens discover their parents engage in evil doings through an organization called PRIDE. They leave home and stay together while fighting back against their parents sins.
PRIDE is tied up with a religious organization headed by the Dean family. The church is run by Leslie Dean (Annie Wersching), her husband Frank (Kip Pardue), and a light filled man named Jonah (Julian McMahon) who requires constant human sacrifices.
The teens who make a break for freedom in Runaways are Chase (Gregg Sulkin), Gert (Ariela Barer), Nico (Lyrica Okano), Karolina (Virginia Gardner), Molly (Allegra Acosta), and Alex (Rhenzy Feliz).
These are not ordinary teens. They have powers. Chase is a mechanical genius with super powered gauntlets. Gert can communicate with her pet dinosaur. Yes, dinosaur. Nico is a powerful witch. Karolina contains an otherworldly light that she can power off and on at will. Molly is strong as Supergirl. Alex is a genius hacker.
Gert and Molly are sisters – adopted, not biological. Gert and Chase are a couple. Nico and Karolina are a couple. Alex has a girl outside their circle for a while. Her name is Livvie (Ajiona Alexus). Molly is only 14, so she doesn't get a love interest yet. When she turns 15 her friends throw her a crazy quinceanera. That was a fun event – mostly.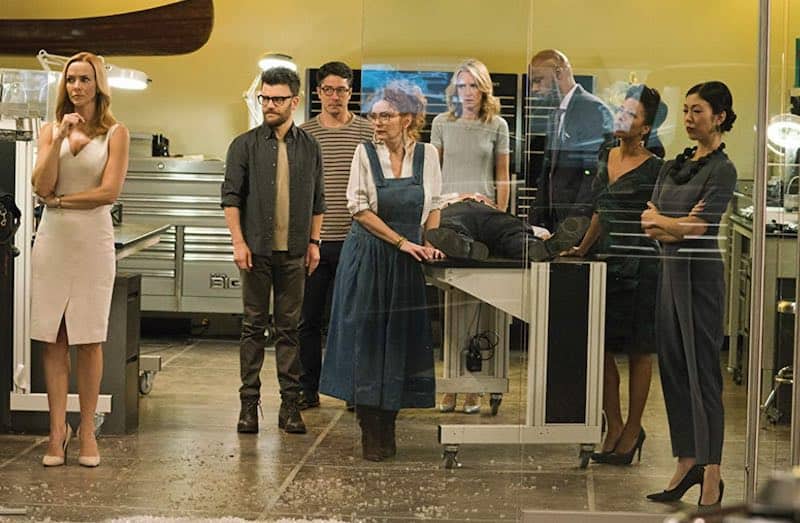 Ever Carradine and James Marsters play Chase's parents. They are scientists. Angel Parker and Ryan Sands play Alex's parents. They are tech geniuses. Brigid Brannagh and Kevin Weisman play Gert and Molly's parents. They are the scientists who created the dinosaur. Brittany Ishibashi and James Yaegashi play Nico's parents. Nico's mom Tina is also a witch. Karolina was raised by her mother Leslie Dean and her husband Frank, but Jonah is actually her bio-dad.
Karolina is half-human, half whatever Jonah is. She doesn't require human sacrifices to keep going like her father. I hope that remains true as the series progresses.
There are 13 episodes in season 2. Many twists and turns happen to the young heroes and heroines in 13 episodes. They find a place to live, they learn more about who they are, they fight against their parents in many ways.
Some of the things they do are misguided. Some are based on incorrect thinking. Their parents try to find them and take them back home. They have successes and failures, but they never lose sight of their main goal. They want to be better than their parents. They want to do no evil. That isn't as easy as it sounds.
The series is well written. Many plot twists are well planned and lead to an interesting impasse at the end of the season that leads perfectly into what will come next if there is a season 3.
About that season ending: here's what one of my Twitter pals said.
I like the consistency of the characters. The teens and the adults are all well written. The series manages to develop both the teen characters and the parents as interesting people. I like the inclusive cast. I like the special effects. Marvel Runaways is a well done series.
The series has women in roles as creators, writers, and several episodes were directed by women. Any series with that sort of cred gets extra points from me.
Have you seen this series? What did you think of it?