Sassy Pants is a coming of age story starring Ashley Rickards as the very sheltered, home-schooled Bethany. Bethany suffers under the heavy hand of her prudishly dysfunctional mother, played by Anna Gunn. Bethany dreams of going to fashion school. But in her closet there is nothing but pink – because her mother decided pink is her favorite color. 
Bethany never talks back to her mother, never openly expresses what she herself wants to do with her life. Instead, at 18, she runs off to try living with her gay father (Diedrich Bader). Bader is the only one of several gay characters in the film who doesn't completely ham up the gay. Dad's living with his young boyfriend, Chip (Haley Joel Osment).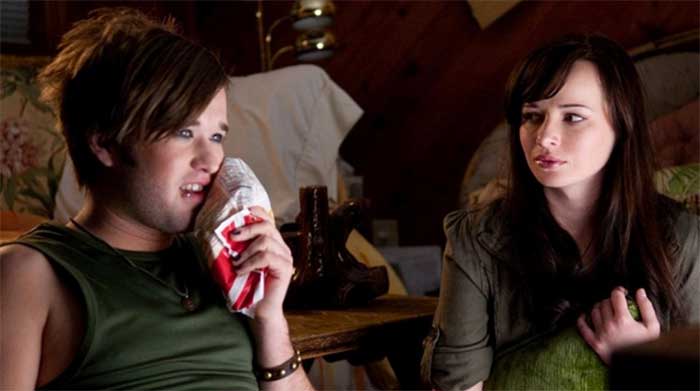 Life with Dad isn't perfect either. A positive step Bethany takes while with her dad is get a job in the mall at a women's clothing store. Her mother finds her there and tells her that her grandmother (Jenny O'Hara) is dying so she will come home.
Soon Bethany is back with mom, making eyes at the boy next door (Rene Rosado) just as she did before she left.
Again, Bethany gets a job in a women's clothing store run by yet another gay man (Drew Droege). He lets her sell her own designs and keep the money. As you might guess, Bethany's designs are a big hit. She starts saving for fashion school.
As usual, the fecal catastrophe hits the fan with all the variously dysfunctional people in this story. I've been rooting for Bethany the whole time and she pulls off a win at the end. Nothing but a happy ending would do for this film.
The film is saved by a delightfully naive performance from Ashley Rickards and a credible overbearing mother from Anna Gunn. Sassy Pants is overly sweet but likable in spite of itself. The girls Bethany works with in the mall, the gay men, the horrid mother, the mean grandmother, the rebellious little brother – all are on the verge of being caricatures. Maybe they are caricatures, but the fact that you want Bethany to succeed in getting away from these people keeps you emotionally invested in the outcome.
I think I've become a fan of subtlety in acting. The broad strokes seem overdone. But how much time to you have to be subtle in 90 minutes? It's not like you have 6 hours they way you would in something like Happy Valley or 13 hours the way you would in something like Jessica Jones. In a movie you get in and get out. Even Meryl Streep has been known to go big. (See August Osage County.) Sassy Pants isn't a perfect movie but it's a heartwarming movie about a young woman coming of age. I liked it.
Written and directed by Coley Sohn, the film was released in 2012. It's currently available on Amazon Video and iTunes but not Netflix.