If I had seen Seeking a Friend for the End of the World before I heard Bo and Lauren talk about being so happy to be together for the end of the world, I would have made a comment about this film in that Lost Girl post. I don't think it's really the end of the world on Lost Girl, but in Seeking a Friend for the End of the World, a 70-mile in diameter asteroid is hurtling toward earth, and it really is the end of the world.
Spoilers ahead.
What would you do if you knew the exact minute the earth would blow up? This 2012 film written and directed by Lorene Scafaria shows some answers to that question.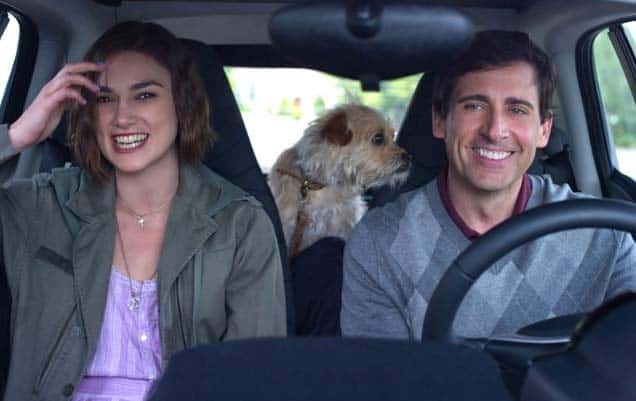 The two main characters in the story are Dodge (Steve Carell) and Penny (Keira Knightley), who didn't know each other before the news of the approaching asteroid made life fall apart for the entire planet. Dodge's wife runs away when she hears the news. Penny dumps her boyfriend for the umpteenth time. They meet on the fire escape of their building on a night when most of the world is out getting drunk and going crazy.
Dodge's drug of choice is codeine-laced cough syrup. He passes out from it one night in the park and wakes tied to a dog. A note saying "Sorry" is on his shirt. Penny's drug of choice is weed.
The responses to the end of the world are varied. Some people carry on as normal – going to work, mowing the lawn. Some people kill themselves in advance of the big kaboom. Some people do all the stuff they never did – sleep around, take heroin, burn buildings. Some people party all day with orgies and odd moments of togetherness thrown in. Some batten down in their survivalist bomb shelters filled with guns and potato chips.
Dodge and Penny share their stories and try to help each other.
Penny wishes she could see her family in England again. Dodge wants to find his one true love, his high school sweetheart. Each tries to help the other achieve that last wish. They go on a road trip together to that end, and fall in love with each other just in time for the end of the world. These two, at least, manage to reach the end of the world happier than they have ever been.
The cast of minor players who appear in the course of Dodge and Penny's big adventure is truly impressive. Adam Brody, Connie Britton, Rob Corddry, Melanie Lynskey, Amy Schumer, Patton Oswalt, William Petersen, Derek Luke, Martin Sheen and many others cross paths with them.
Seeking a Friend for the End of the World is funny and full of charm and whimsy. It's available now on Netflix and Amazon Instant Video.