Strangers is a series with 7 short episodes all available on Facebook. It's one of the most charming things I've seen in a long while.
Much of the credit for the charm of the first season of Strangers goes to its star, Zoë Chao. She is wonderful as the confused and stuck Isobel. Isobel lives in L.A. She's in her 30s.
The basic plot is that Isobel's long term boyfriend breaks up with her. She needs cash and begins renting her spare bedroom on Airbnb. Each of the 7 episodes deals with the new guest in the bedroom that week.
Those guests are a wildly interesting lot. Guest stars in these adventures with strangers include Breeda Wool, Shiri Appleby, Leisha Hailey, Matt Oberg, Eka Darville, Jemima Kirke, and others.
Some of the guests bring stories outside the binary heteronormative mode. Isobel herself is exploring the idea that she is bisexual, but other characters bring a full spectrum of sexuality.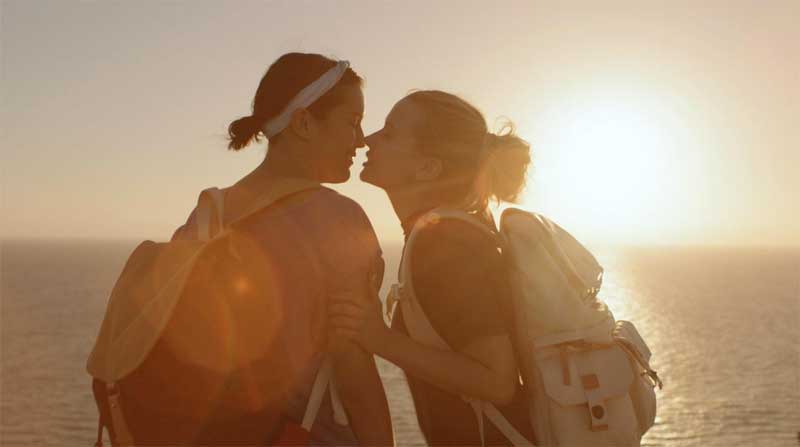 Isobel tries being with a couple of women, most especially Hailey (Isabelle McNally). She also has a quick one-off with Jake (Langston Kerman) in her search for some clue about who she is.
Always there is her best friend Cam (Meredith Hagner). Cam is part of everything. Cam may turn out to be her most enduring relationship from among all the relationship options Isobel searches through.
Isobel hates her job. She's an assistant for a mommy blogger (Bridget Ragen). She could probably write something far better than her boss, but she doesn't take the chance on herself to do that.
Everything about this story is so female. The way the characters talk and interact, the things they do together, the way they argue, the way they make up. I love the unapologetic femaleness of Strangers! It's so refreshing.
Mia Lidofsky as director, creator, and writer – along with Jim Strouse as writer – wrote an outstanding script and filmed it beautifully.
Many web series, or Facebook series since Facebook Watch is now a thing, look like they were filmed on zero budget. Strangers doesn't have that look. It's clean and open, almost crisp. The sets, while limited, look good.
Strangers is a production of Refinery 29. I'd never heard of Refinery 29 before, but I've learned that they promote the work of women. So, I love Refinery 29 and Strangers.