The Crown season 2 is as lush and grand as season 1. It provides a view of the world in the late 1950s from inside the vulnerable but unbreakable British monarchy. Claire Foy as Queen Elizabeth II and the rest of the pitch perfect cast continue the story behind the facade. Peter Morgan, creator of the series, has given us 10 more fascinating episodes to savor. Spoilers ahead.
The first few episodes are tense. Prince Phillip (Matt Smith) heads off on a 6 month tour of the world with his friend and assistant Mike Parker (Daniel Ings) at his side. Phillip leaves behind a fuming Elizabeth, who suspects him of an affair with a ballerina.
Phillip and Mike and the sailors on the yacht have a good old time wherever they visit. They grow beards and do all sorts of manly things. Unfortunately, Mike can't resist writing home and bragging to his men's club about all the women they encounter on their travels.
Mike's wife Eileen (Chloe Pirrie) picks this time to divorce her wandering husband. It causes a crises in the royal household, because Eileen charges Mike with adultery. She has his bragging letters as proof. It would not look good for Queen Elizabeth if the scandal rubbed off on Phillip and the royal marriage.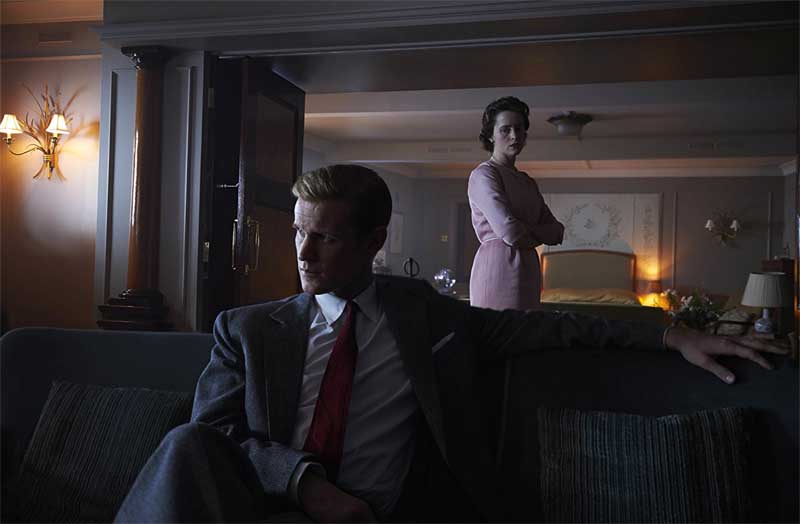 A beautifully filmed  confrontation we see twice – once at the opening of the series and again in episode 3 – shows Elizabeth and Phillip discussing what has to happen for him to get his mind right and act like a proper member of the royal household.
Phillip doesn't like his secondary role and all the restrictions on his conduct. They reach a agreement.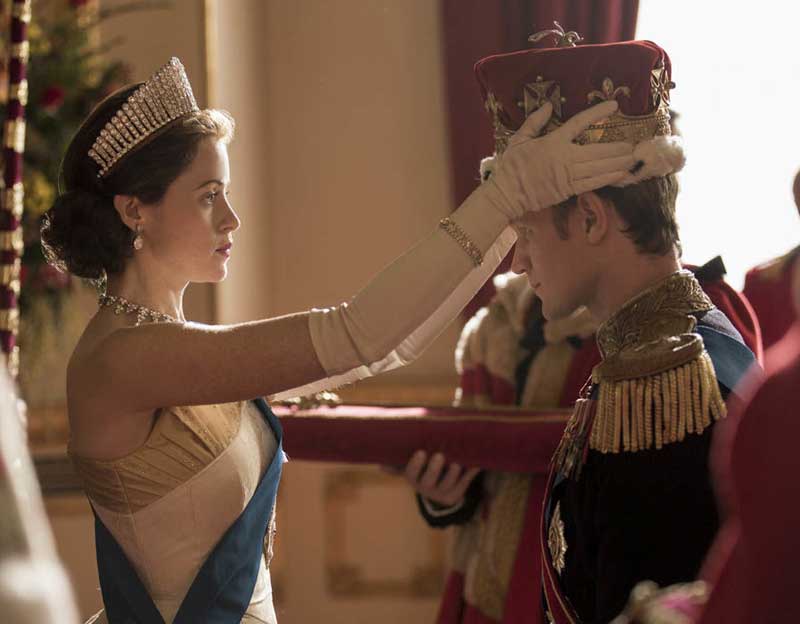 Phillip is crowned Prince and given a more equal status with Elizabeth. Whether it's that or the fact that they reach the 10th anniversary of their marriage, he seems to settle into his role more comfortably.
I love Claire Foy with her chin up and her stiff upper lip, but I  have to confess my favorite scenes between her and Matt Smith are the human ones where they have sex and act like a married couple. There isn't as much of this as in series 1, but there is some. The wonder of Claire Foy is that she makes Elizabeth a real woman, never more so than when she and Phillip can be lovers.
The other tense situation in the early part of series 2 is Prime Minister Anthony Eden's (Jeremy Northam) handling of a crisis in the Suez. All sorts of chaos and crises ensue. I didn't realize Eden was such a twit, but he certainly seems one here. Within weeks, Eden is forced to resign and Harold MacMillan  (Anton Lesser) is Prime Minister.
Episode 4, "Beryl," about Princess Margaret (Vanessa Kirby) was a favorite. Coincidentally, it was the only episode written by a woman: Amy Jenkins.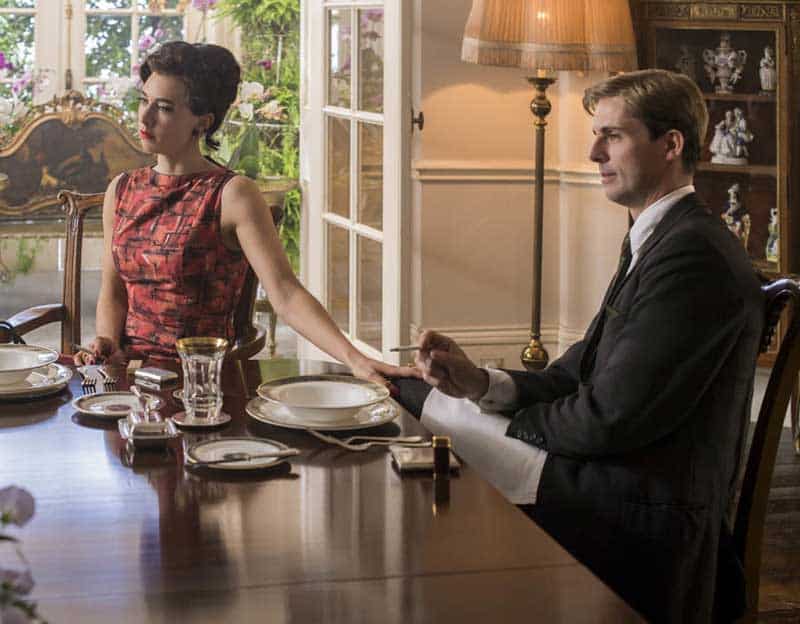 Margaret is miserable. Depressed. She goes to a dinner party where no one is impressed by her royalty. How refreshing! She meets Tony Armstrong-Jones (Matthew Goode) at this party and sees some of his photographs. Since she's just been through a deadening photo session with the palace photographer, she agrees to let Armstrong-Jones photograph her.
By the time Armstrong-Jones is finished photographing Margaret she's fallen for him. She's also sent one of the photos, in which she seems nude but isn't, to be published in the press. That causes a stir!
That brings us up to the middle part of the series. Intermingled in this period are bits about Lord Altrincham (John Heffernan), Reverend Billy Graham (Paul Sparks), and the Duke of Windsor (Alex Jennings).
Billy Graham brings his religious crusade to England. Elizabeth is struck by his message and invites him to the palace. She is reevaluating her life as a Christian and seeks his counsel. The Queen Mother (Victoria Hamilton) and Prince Phillip both see him as a charlatan.
In the midst of Elizabeth struggling with her role as a Christian, the Duke of Windsor asks to be readmitted to England. He is looking for meaningful work and is offered some jobs as a diplomat. Elizabeth is thinking of forgiving him and allowing it to happen.
At the same time, the Marburg Files are discovered. These files (and real photos, which we see at the end of episode 6, "Vergangenheit") implicate the former king as a Nazi sympathizer. He claims he was only working for peace for England, but the letters to Hitler and photos with Hitler are damning.
Elizabeth again seeks advice on forgiveness from Billy Graham. In the end, she banishes her uncle, the former king. She says, "There is no possibility of my forgiving you. The question is, how on earth can you forgive yourself?"
Lord Altrincham comes into the story when Elizabeth delivers a horrid tone-deaf speech. The speech was written by Michael Adeane (Will Keen) and read by Elizabeth without even a read-through first.
Altrincham created a scandal by criticizing the Queen – one does not criticize the Queen – about how out of touch she was with the modern world and the changes in society since the end of WWII. He complained that equality was on the rise, and Elizabeth needed to act like one of the people. Elizabeth actually listened to him.
She conferred with Adeane and Tommy Lascelles (Pip Torrens), who she often called on even though he was retired. They devised a plan where Altrincham's ideas were implemented. Elizabeth began appearing on television looking more approachable. No more wooden speeches on the radio. She and the Queen Mother allowed select groups of ordinary citizens into the palace and greeted them personally. The Crown began baby steps into the modern world.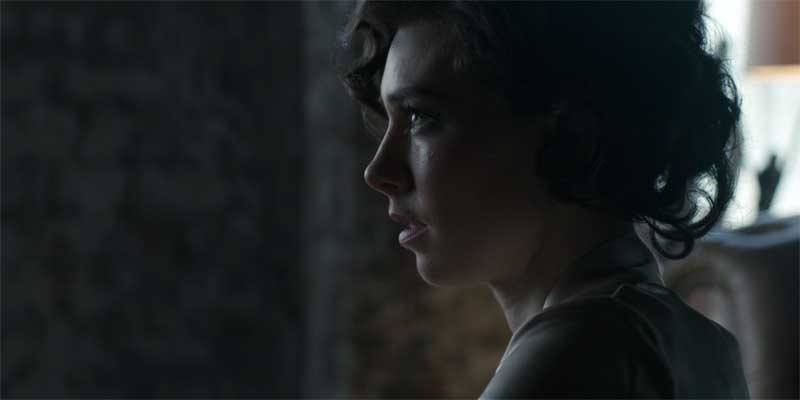 Episode 7, "Matrimonium," features the birth of Prince Andrew followed by the marriage of Princess Margaret and Anthony Armstrong-Jones. Elizabeth tried much too subtly to warn her sister that Armstrong-Jones was having 4 simultaneous affairs, one with a man. But since Elizabeth didn't come right out and say it, Margaret married him with great pomp and ceremony in Westminster Abbey. Margaret was besotted with him and having a happy moment for once in her troubled life.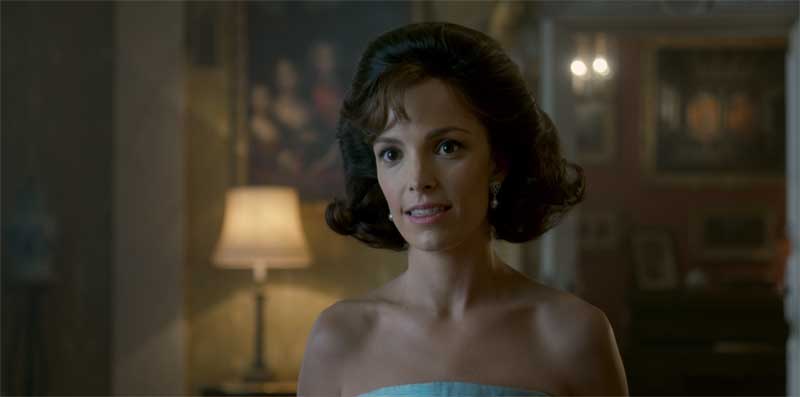 I enjoyed the episode "Dear Mrs. Kennedy" very much. Michael C. Hall and Jodi Balfour played the Kennedys. In a series with such perfect acting from everyone, Michael C. Hall missed it a bit. I'm not sure why. Perhaps because he didn't have the accent or the vocal cadence quite right.
During the Kennedy's visit to England, Elizabeth and Jackie Kennedy had a couple of private visits. Although Elizabeth could see how unhappy Jackie was, she was jealous of her anyway. The world loved her. Prince Phillip loved her. Everyone was in awe of Jackie.
To upstage Jackie, Elizabeth impulsively planned a trip to Ghana to visit President Nkrumah (Danny Sapani) in hopes of persuading him to allow Americans, not Soviets, to built a dam in Ghana. Her trip worked, but the accolades in the press were not the perfect victory over Jackie Kennedy that Elizabeth hoped.
Shortly after Elizabeth and Jackie spoke for the second time, John Kennedy was assassinated in Dallas. Everyone in the royal family watched television and listened to the radio avidly, just as we were doing in the U.S. Hearing recordings of Walter Cronkite's voice reporting the story took me right back to 1961 and that awful time. Elizabeth ordered the bell in Westminster Abbey rung every minute for one hour in Kennedy's honor, something never done before for non-royalty.
Moving on into the 1960s, it was time for Prince Charles to go away to school. Because Phillip insisted that  Charles attend his alma mater in Scotland, we see some of the childhood trials that Charles faces. Through flashbacks, we learn about Phillip's troubled childhood as well.
Series 2 winds down with the prostitute Christine Keeler (Gala Gordon) and Secretary of War John Profumo (Tim Steed) scandal of 1963. The man at the center of the scandal Steven Ward (Richard Lintern) killed himself. When the police searched his apartment, they found hand drawn sketches of Phillip, implying that Phillip was involved with prostitutes as Profumo was.
After publicly supporting Profumo, PM MacMillan wanted to resign when the truth came out. Elizabeth asked him to stay. She was supposed to spend time resting in Scotland due to her 4th pregnancy, which was complicated, and she needed a familiar hand.
MacMillan stayed, but shortly had a benign tumor and surgery. After that, he resigned in spite of Elizabeth's request to stay. I so loved the scene where she stands before him, heavily pregnant, and says, "I've been Queen barely 10 years. And in that time I've had three Prime Ministers. All of them ambitious men, clever men, brilliant men. Not one has lasted the course. They've either been too old, too ill, or too weak. A confederacy of elected quitters."
Elizabeth and Phillip have another confrontation over the suspected weekends with prostitutes Steven Ward organized. Phillip convinced her he wasn't involved, although the way the final episode was filmed, he was accused by the camera again and again.
The final scene has everyone in the family posed together for an official portrait. Elizabeth and Phillip and their 4 children. Margaret and Tony and their baby. The Queen Mum and several other relatives. A flash popped and season 2 of The Crown was over.
Claire Foy was absolutely the best thing about The Crown. She did everything perfectly. She's great at thinking. She's wonderful as the steely eyed leader. She's perfect as a mother, although we didn't see many scenes with the children. She's convincing as a jealous wife and as a loving wife. I've never been a fan of British royalty and most of the English history I've acquired has happened accidentally through osmosis. Claire Foy made me love Elizabeth and her trials and tribulations, love the struggles she went through for the sake of crown and country.
Olivia Colman will play Queen Elizabeth II when The Crown jumps ahead more decades to bring us season 3 of this saga. Without doubt, I believe The Crown is television at its very best.
Two episodes of series 2 of  were directed by a woman: Philippa Lowthorpe. A small step up from zero in the first series. Creator Peter Morgan deserves a great mountain of credit for making The Crown gorgeous, meaningful, and fascinating.