The Electric Horseman is streaming on Netflix. This 1979 film stars Jane Fonda and Robert Redford. Since I just watched them in a 2017 film called Our Souls at Night, it seemed like the perfect time to reacquaint myself with the younger Fonda and Redford in a movie I remember fondly.
I saw The Electric Horseman back in '79. It's a great movie and it stands the test of time. But I especially remember it because of a woman seated in the row behind me.
During the opening credits several images of a smiling Robert Redford winning World Champion Cowboy award after World Champion Cowboy award flash on the screen.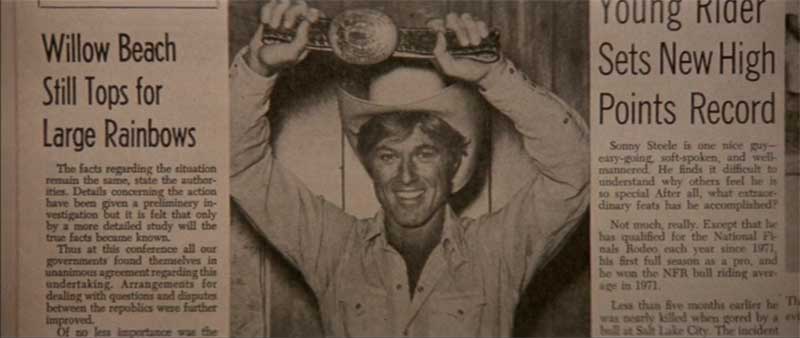 The woman behind me looked at those images of Robert Redford, such an absolutely gorgeous man with a smile 10 feet tall right in front of us, and she made this noise. It was a sigh, or a moan, or a groan of sexual ecstacy.
I remember the plot of the movie: stealing the horse, the trek through Utah to freedom, Jane Fonda tagging along, the love story. But I remember that moan because it expressed so much about why Robert Redford is a star.
Redford plays Sonny Steele, a washed up and mostly drunk rodeo champ who now sells breakfast cereal. He gets trussed up with flashing lights atop a horse and appears at rodeos, mall openings, state fairs and all kinds of venues to talk about cereal. One day he's in Las Vegas where he's supposed to ride a champion thoroughbred out on a stage filled with dancing girls. He sees that the horse is drugged up and miserable. And he snaps.
Sonny rides the horse off the Las Vegas stage, down the strip, and out into the desert where his friend Gus (Will Hare) loans him a camper. Horse in camper, he takes off for Utah.
Fonda is Halle Martin, a New York TV reporter who chases after him, and finds him when no one else can. Before he throws her camera equipment into a lake, she sends off a clip of him talking about the horse that gains him massive support from the entire country.
The police are after them. When Sonny sees the police roadblock in St. George, Utah, he takes the horse out the back of the camper and gallops away. In one of the best and funniest car chase scenes ever filmed, he leads patrol cars and motorcycle cops through town and out into the desert. He escapes them all.
Halle brings the camper along to a designated spot, but they know the camper has been made. They go the rest of the way on foot.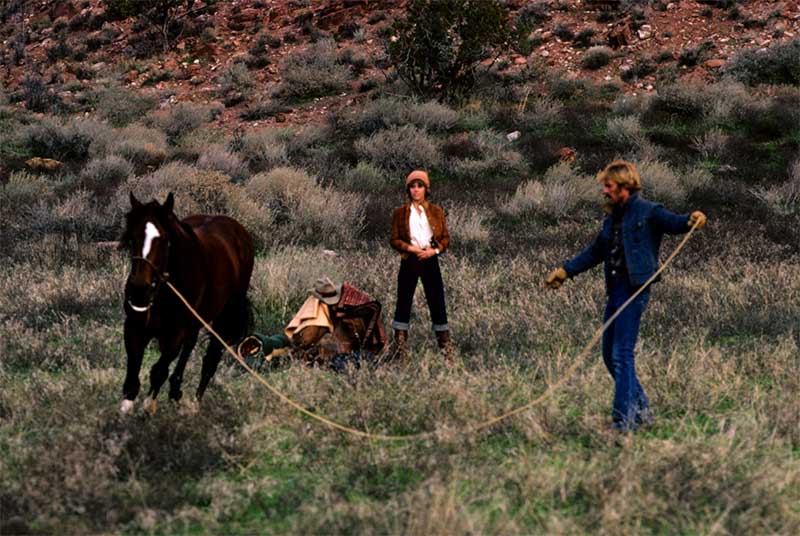 Sonny nurses the horse back to health as they travel. They walk over a mountain range, sleep on the ground, and manage to fall in love.
Fonda and Redford have endured over the years because of talent. Maybe good looks got them in the door, but talent kept them going. You can see it in this almost 40 year old film. They are so natural, so believable, so real. Such great actors, then and now.
The film is about freedom, about finding yourself, about finding your strength. It doesn't hurt that there's a romance in the process.
Other actors in the film include Willie Nelson and some you have to be as old as I am to remember: Valerie Perrine, John Saxon, James Sikking, and Wilford Brimley among them. The soundtrack includes several Willie Nelson songs you probably know well.
Sydney Pollack directed this classic. If you haven't seen it you need to catch it now while it's on Netflix.
The trailer is so old fashioned it makes me laugh. Do you think they mentioned the stars' names enough times? The film itself is timeless and wonderful.
A Barefoot in the Park Footnote
As part of my Fonda and Redford retrospective, I also rewatched 1967's Barefoot in the Park, a Neil Simon comedy. The difference between 1967 and 1979 in feminist terms really showed in these two films. Where The Electric Horseman still feels contemporary, Barefoot in the Park fails. It's funny, but the pre-feminist attitudes irked me throughout. I'm not going to publish a full review of Barefoot in the Park for that reason.