Unorthodox is a German mini-series about an ultra-Orthodox Jewish woman who escapes her community in Brooklyn's Williamsburg district. She goes to Berlin, a place simmering with the spirits of dead Jews, where she finds help and acceptance.
Unorthodox is a mix of English, German, and Yiddish. The timeline jumps between Esty's (Shira Haas) beginnings in her rule-ridden Williamsburg community and her escape to Berlin.
At a very early age, 17 by my best math, Esty was married to Yakov (Amit Rahav). The film is wonderfully rich and detailed in showing the lifestyle, ceremonial practices, and marital rules and prohibitions of the ultra-orthodox.
Sex was a problem for the young married couple. After many months their marriage still had not been fully consummated. Considering the way they were required to go about it, it's no wonder. Soon, Yakov asked for a divorce. Not long after that, Esty ran.
One of the many practices the film explored fully was the mikveh. It's a ceremonial cleansing for Jewish women. That scene was mirrored beautifully by Esty on her arrival in Berlin.
When she reached Berlin, the first people she spoke with – in a coffee shop – were musicians. Esty loved music and had a talent for it. But orthodox women were not allowed to sing or play an instrument. She followed the musicians to a rehearsal. Their playing brought her to tears.
The musicians accepted her as part of their group. They took her swimming in a lake, asked her to dinner, to a club. She learned that the school they attended had scholarships for needy musicians. She applied immediately.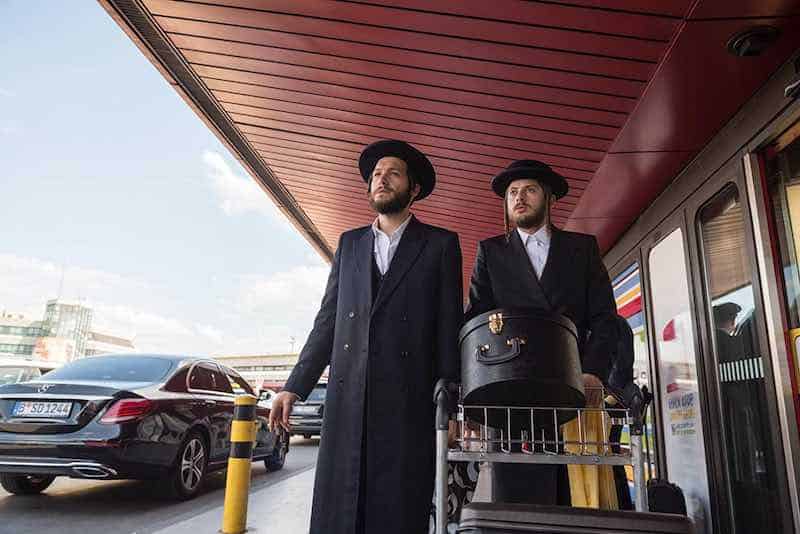 The rabbi sent the rather dissolute Moische (Jeff Wilbush) and Yakov to Berlin to bring her back. They began by harassing Esty's mother Leah (Alex Reid), a gay woman who had been rejected from the community. Leah didn't even know Esty was in Berlin at first.
The rabbi was played by Eli Rosen, who was the series advisor on Jewish matters. He's also the person who taught Shira Haas and Amit Rahav to speak Yiddish.
The sheer courage it took Esty to leave the only life she had ever known was inspiring. She knew how to do almost nothing. She didn't know how to use the internet or find a job. She didn't know how to live in a modern 21st Century social environment. She didn't know how to act or think critically.
The series is loosely based on Unorthodox: The Scandalous Rejection of My Hasidic Roots
by Deborah Feldman (affiliate link). Deborah Feldman contributed to the writing of the series. Series creators Anna Winger and Alexa Karolinsky were also on the writing team. The series was directed by Maria Schrader.
The series consisted of only 4 episodes and ended too quickly for me. I wanted to know more about Esty's life. She showed so much grit and courage, I wanted to know how she did later on. I also wanted more glimpses into the world of this particular Jewish community in Brooklyn. Both aspects of the story are fascinating.
Have a look at the trailer.
Have you seen this dramatic series? Do you think you'll watch it?
Update: Making Unorthodox
Netflix added a featurette detailing how the locations, costumes, traditions, and other intricacies of Unorthodox were created. It's called Making Unorthodox, and I recommend watching it after you've seen the mini-series.