Veronica Mars, season 4, is available on Hulu. Creator Rob Thomas keeps the cast of characters true to their beginnings and puts them in the middle of a series of bombings in their small beach town.
Over the years, so many people have cycled in and out of the cast of Veronica Mars. A Hollywood who's who. It's nice to see who is still around after all this time.
This is a no spoiler review. Avoid Twitter spoilers if you can.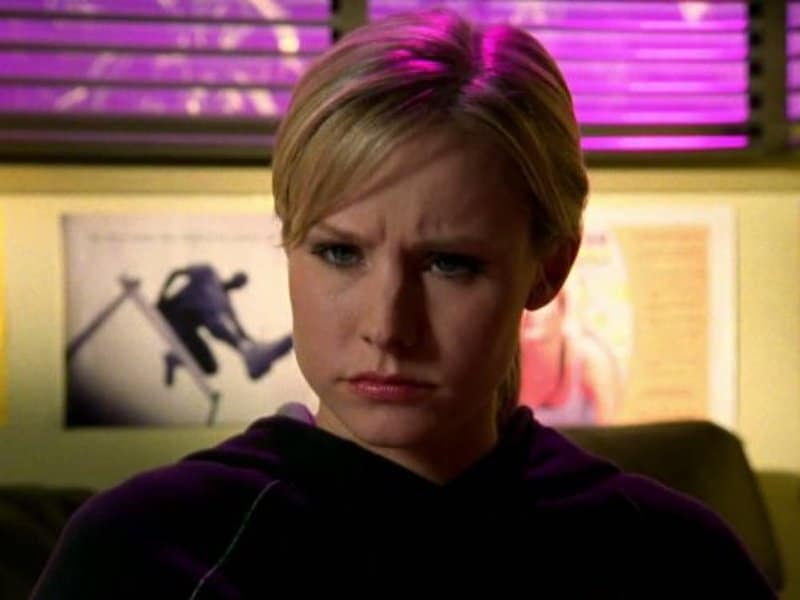 Kristen Bell is back as Veronica Mars. She makes this series. She always has. Her interactions with everyone in the cast are spot on and well done. She's the fuel and the spark that drive the engine of the show. Rob Thomas continues to write clever one-liners for her (and everyone else) and she delivers them with the perfect irreverence.
Veronica's dad Keith (Enrico Colantoni) runs Mars Investigations along with Veronica. He's recovering from a car accident. He's carrying a cane, taking lots of meds, and concerned that he's losing his mind because he forgets things. Things that put both him and Veronica in danger.
Logan (Jason Dohring) and Veronica live together now. Some of the time he's gone doing Navy things, but he's mostly around. He's settled down and grown up. Veronica misses the wild bad boy he used to be. There's a ring and some talk about marriage between them. Are they THAT grown up?
Old favorites who show up in season 4 include Wallace (Percy Daggs III), Eli "Weevil" (Francis Capra), and Leo (Max Greenfield). Leo is now in the FBI and comes back to Neptune to investigate the bombings.
The new Sheriff Langdon (Dawnn Lewis) definitely needs tips from the Mars investigators and Leo to do her job.
Other new faces this season include Mexican mobsters Alonzo (Clifton Collins Jr.) and Dodie (Frank Gallegos). These two may or may not be involved in the bombings the plot revolves around.
Penn Epner (Patton Oswalt) is the pizza guy. He may or may not be involved in the bombings. And, when you get Patton Oswalt, there is always some comedy built in.
Veronica befriends Nicole (Kirby Howell-Baptiste). She runs a local bar and may or may not be involved in the bombings. I especially liked Veronica and Nicole together – they had great chemistry.
A recently released con, Clyde Pickett (J.K. Simmons) is another suspect as a bomber. Clyde and Keith develop a nice rhythm for a while.
Joining the cast as a bombing victim and potential addition to the Mars Investigations team is Matty Ross (Izabela Vidovic). Veronica becomes her mentor.
There's plenty of sexy times, plenty of danger, plenty of action, plenty of crime solving, and plenty of clever conversation. Season 4 is true to form. This series stayed consistently good over the years, even though there are great gaps between the pieces and parts of it. The cast keeps coming back. (Here's why Tina Majorino isn't back.) The writers maintain the tone and pacing that made it so popular in the beginning. Some of it was even fan financed.
I was happy to see that a couple of women directed episodes in season 4: Rachel Goldberg and Amanda Marsalis.
If you've never seen any of the Veronica Mars material, Hulu has everything now. You can start at the beginning and keep going through season 4. Veronica Mars is certainly one of my all time favorite characters.
Pin This Veronica Mars Poster
Watch the season 4 trailer
Are you a fan of this series? How did you like season 4?