We Have Always Lived in the Castle, adapted from a Shirley Jackson novel, is a Gothic horror tale of insanity and paranoia. The slow moving story is marked by mounting dread.
Eighteen year old Merricat Blackwood (Taissa Farmiga) lives in a big house on a hill with her older sister Constance (Alexandra Daddario) and her wheelchair bound uncle Julian (Crispin Glover).
All three are damaged and deranged, partly because of the poisoning of the Blackwood parents and Uncle Julian and his wife over dinner one night about 7 years ago. Uncle Julian survived. Constance was tried for the poisoning and found innocent.
Since then, Constance won't leave the estate, Uncle Julian relives the deaths over and over as he attempts to write a novel about it, and Merricat treks into town once a week to buy supplies.
The level of psychological tension in the film is a constant low level hum with an occasional explosion of emotion.
Constance is a kind of Stepford wife, turning on the smiles at will, cooking and managing the household. She survives by denial.
Merricat practices witchcraft and creates spells that are meant to protect the family and the estate from the hate-filled townspeople. She barely survives her weekly trips into town where she faces taunting and bullying from the men and boys she meets. The local women are more sympathetic and supportive, but powerless.
The Blackwood women have a safe piled high with cash and so many silver coins that Merricat places them around the grounds in spell-protected burial spots without even considering their value.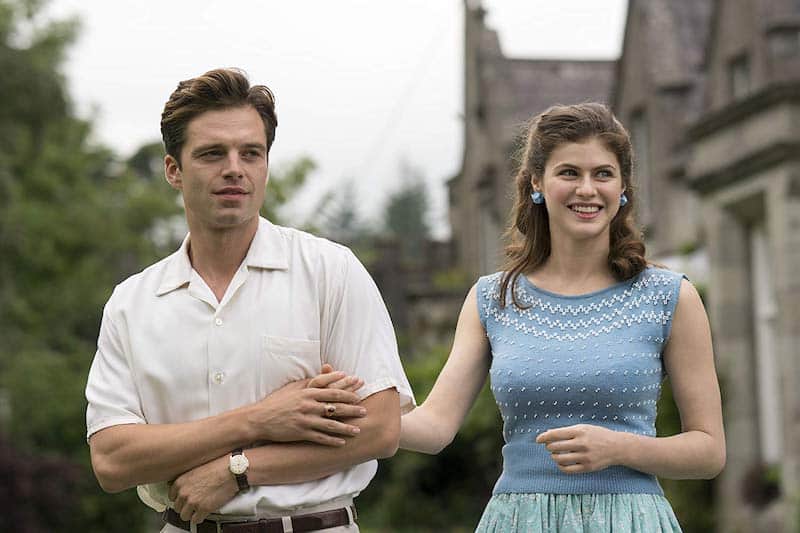 Into this barely functioning world comes cousin Charles (Sebastian Stan). He's handsome, he has a red sports car, he talks about Italy. Constance is drawn to him. Charles takes advantage of her attraction. He demands attention and is quite concerned about the contents of the big safe.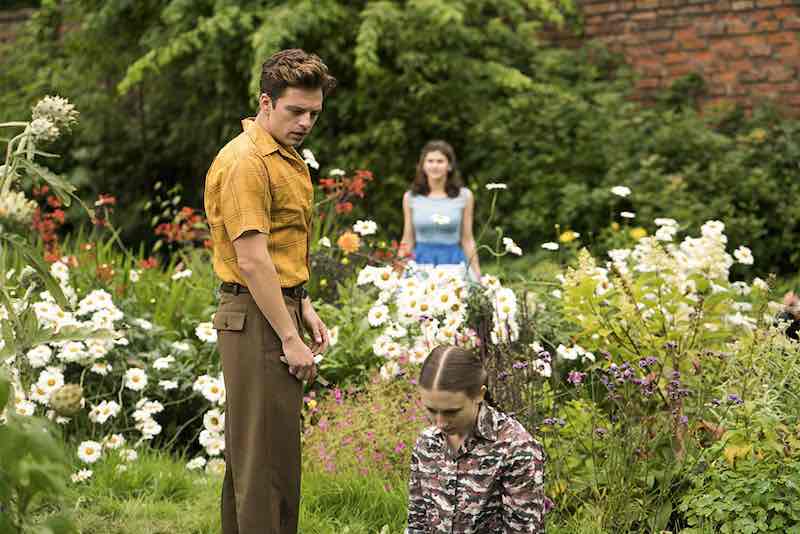 Charles upsets whatever precarious balance there was. Merricat doesn't like him and wants him to leave. He convinces Constance that Merricat's behavior must change.
Merricat doesn't like her world being upended by a man. Especially a man who reminds her of her father. Merricat will be the one to take action to try to right the situation. Solutions coming from her warped brain aren't the best.
In the climactic scenes danger surrounds them, while the townspeople gather outside their house and beset the place like the hounds of hell.
I'm not a great fan of horror, but I thought Shirley Jackson's The Haunting of Hill House was brilliant. We Have Always Lived in the Castle retains that literary feel of Shirley Jackson, but as a film it doesn't inspire the same degree of admiration.
Stacie Passon directed We Have Always Lived in the Castle. She handles the slow reveal of the big secret effectively. The buildup of dread is well done. The level of psychological tension in the film is a constant low level hum with an occasional explosion of emotion. The performances are eerie and creepy and crazy all at once.
Have a look at the trailer. The film is streaming on Netflix, Amazon Prime Video, YouTube and elsewhere.