ABC's Live in Front of a Studio Audience with its iconic episodes of All in the Family and The Jeffersons brought up a lot for me.
Before I get into personal reactions, I have to say a few things about the cast of this live performance. Marisa Tomei as Edith Bunker and Jamie Foxx as George Jefferson were both brilliantly perfect imitations of the original characters. That's in spite of Jamie Foxx flubbing a line.
He handled it with humor. ABC shared the clip.
Wanda Sykes as Mrs. Jefferson was wonderful. Marla Gibbs came on in her original part. The only actor who felt off in the part they had was Woody Harrelson as Archie Bunker.
Mostly the new faces were fine stand-ins for the originals. And you can't beat Jennifer Hudson at anything.
Jimmy Kimmel and Normal Lear organized the live performance and celebrated with the cast at the end.
What All in the Family and The Jeffersons did to me
The two recreated episodes came from 1973 and 1975. Back then, they came into our homes every week and did their magic. Looking back now, I see what they did to me.
That was before I heard the idea that representation matters or the idea that you can't be what you can't see. But something was soaking into my brain from these two Norman Lear productions in spite of me just viewing them as entertainment.
The blustery, bigoted, blowhards at the heads of the Bunker and Jefferson families were alike in many ways. Ignorant bullies who clung to what little power they had as head of a family. Power granted to them by the patriarchy. Nobody had to say, "Hey, look at how stupid these guys are," it was just there. Archie was the worst.
The feminist rantings of Gloria (played here by Ellie Kemper) and the liberal rantings of her husband Meathead (played here by Ike Barinholtz) soaked in by osmosis. Subliminally.
The Willis couple (played here by Will Ferrell and Kerry Washington) – one black and one white – were just there. Two people in love and in the Jefferson's lives. That put them in OUR lives, too. It soaked in by osmosis. Subliminally.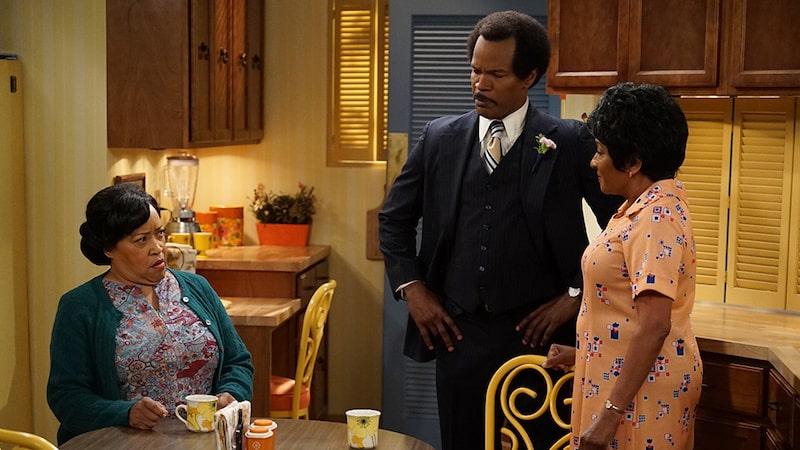 I look at how I've changed since the 1970s. I've become more and more liberal, more and more feminist, more and more interested in inclusive casting. Creators like Norman Lear got to me, subliminally.
My husband at the time, however, stayed as much like Archie Bunker as a man clinging to the power of the patriarchy could be: a blustery, bigoted, bully.
Over the years, as the rest of society moved on, many fearful white men who think they are in charge of everything are still trying to rule with bluster and bullying. That may work some of the time, but it isn't going to work in the long run. People like Norman Lear knew it 50 years ago. He deserves every recognition as a television pioneer and an influencer of society.